BUZZ PHRASE IS DRIPPIN' IN FINESSE
She's always fierce. She's a star. She's the queen bee. If you have yet to come across one, allow us to fill you in and put into words everything that is this supreme being. Rumor has it their hair's insured for at least USD 10,000. If you have locks that can rival Rapunzel's, then go do you. We heard through the grapevine that these queens also do car commercials, in Japan is what they say. No objections here. They also occasionally run into stars on a plane, John Stamos being one of them. And more often than not, their flawlessness gets acknowledged.
From gorgeous looks, admirable physique, to confidence, the queen has it tee all down to a t. Though painted as the human form of evil in the cult classic Mean Girls, she's actual more than the movie gives her credit for. Over the years she's even become a villain we all can't help but love. I might even like the idea of her knuckles landing on my face. Not that would happen.
So what makes a queen bee good? She's a leader. It's not everyday girls would follow you around and take what you say as their truth. That's pure power—not from being exposed to radioactive waste or growing up with Amazons. She is so confident that she's able to draw attention and command it. She's very frank, which is not always a good thing, but comes handy when an annoyance needs to be shut down. She's a strict follower of rules that she set. Admittedly, their confidence tend to paint them as being standoffish, but they're actually accommodating once you're able to tickle their curiosity.
If you identify with this glamorous clique and desire to channel your inner queen bee in her glorious youth, here's a list of what should be in your essentials.
iPhone X
No queen bee ever steps out of the house without her phone. With her polished and decked out nails, the iPhone X is a natural match with its streamlined, sophisticated design and all-screen OLED display. The phone's dual 12 MP rear cameras perfectly captures her most iconic wears and moments. At home, she would play around with Animoji and without a doubt make it a thing among her group of friends. It is also expected for Siri to compliment her good looks, any time of the day.
iPad Pro 12.9 (2017)
You won't see a queen bee lug around a laptop, she has minions for that. The productivity device she'll have on her is an iPad Pro 12.9. Stylish and slim enough to be stacked with books, it's a sure confident woman item. Paired with a sleek chiclet keyboard, you'll see her typing away or watching her favorite movie Varsity Blues on its generous Retina display. With a bountiful 64 GB configuration and an Apple Pencil, she will be kissing her burn book goodbye and start scribbling colorful thoughts on a stunning slate instead.
Michael Kors Sofie Smartwatch
A worthy accessory to wrap around a queen bee's wrist is the Michael Kors Sofie smartwatch. This timepiece powered by androidwear comes with sparkly embellishments that would make any girl ogle in envy. With customizable watch faces and interchangeable straps, it's like she has a new watch every day. To lose the weight given by Kalteen bars, she makes progress on her fitness goals and tracks development via this modish tech on her wrist. She is also able to keep tabs on updates as she is notified as they come.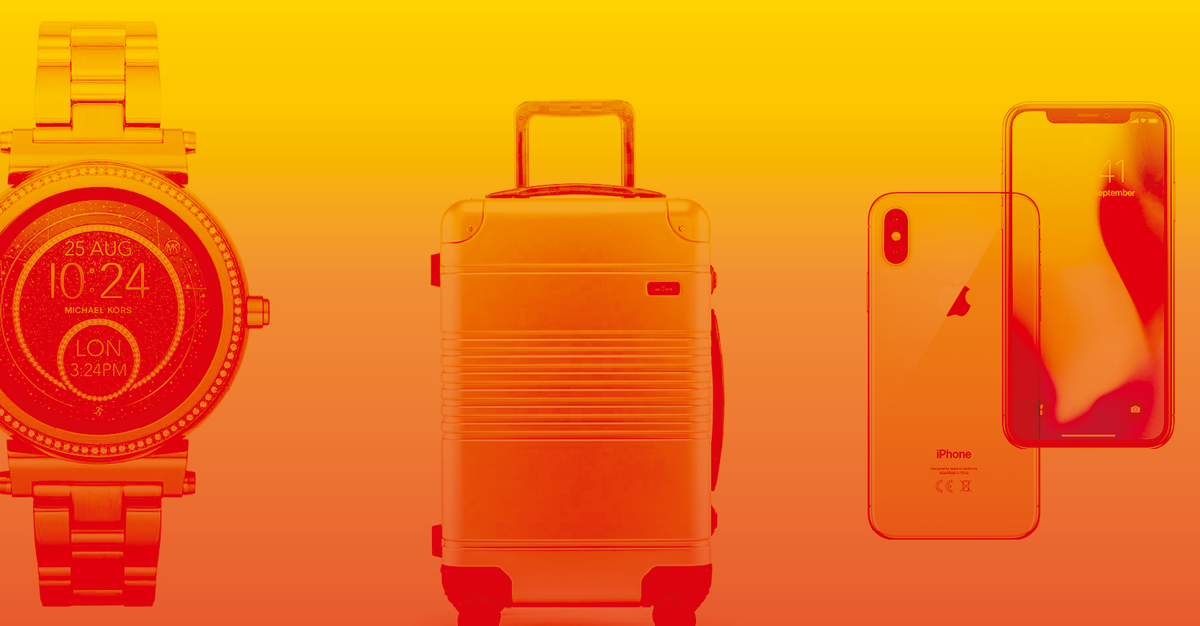 Arlo Skye The Aluminum Carry-On
A queen bee travels in style with this premium luggage. Housing her pinks is The Aluminum Carry-On's 38 L capacity with an anti-odor lining and TSA-approved locks. She stays connected without turning to unsightly power banks with the luggage's built-in fast charger. It also has no finicky outer zippers and rolls with whisper quiet wheels befitting of a queen.
Uber
A convertible is not a great option when in a city that doesn't have the nicest weather and is infamous for traffic. She ditches her silver Lexus for more comfortable travel care of Uber—Uber Black in particular. Booking a ride with just a tap on her phone, she arrives at parties still with her make up pristine and perfume still fragrant. With a driver taking her from point a to b, she just sits back and relaxes like the queen she is.
Social Media Accounts
A queen bee is most likely a social media influencer with millions of followers in tow. She'll post her gorgeous selfies on Instagram and teeny glimpses of her lavish lifestyle through carefully curated photos. On Snapchat, she'll update her followers on her whereabouts by posting her activities by the minute, of course making use of the dog filter profusely. And on Twitter, she turns into a guru on friendship, beauty, and fashion, which she relays in 280 characters or less.
Now that you've got the queen bee essentials, go and make the world your oyster.
Also published in Gadgets Magazine March 2018 issue
Words by Mia Carisse Barrientos
Art by Theresa Eloriaga