The west has always been the center of the global entertainment industry. From colorful theatrical performances of Broadway to the glitz and glamour of Hollywood, that side of the world has always had the limelight. The orient, however, has its own creativity to offer. Japan, in particular pioneered their particular style of animation which led to the rise of the legendary Studio Ghibli in the 80s. Fast forward to today, we see revolutionary, globally lauded films from the likes of director Makoto Shinkai.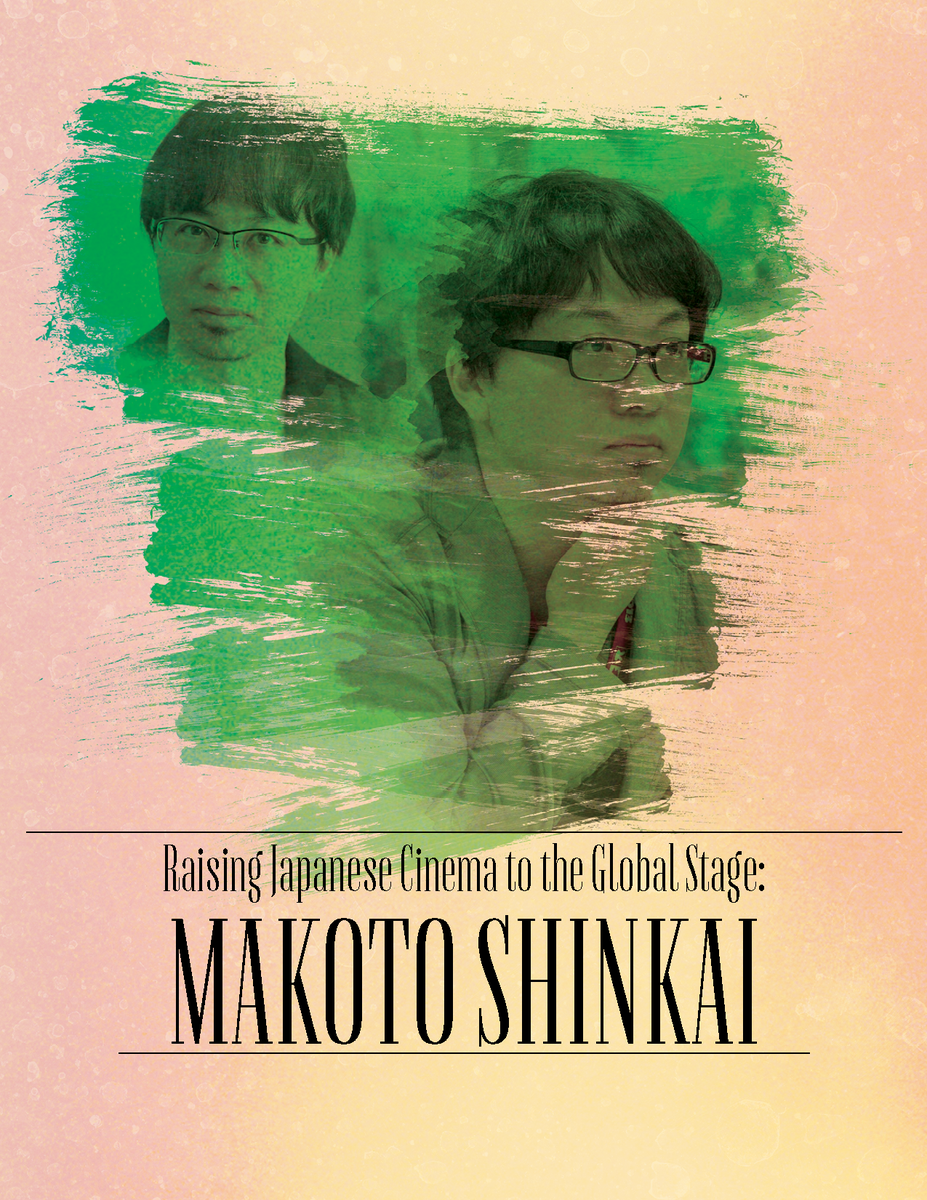 Humble Beginnings
Born Makoto Niitsu, the bespectacled director came from the alpine province of Nagano prefecture, where he draws much of the inspiration for his films. Even before entering college, Shinkai already exhibited a passion for the arts after being exposed to various manga and novels as was common for teenagers his age. In his time as a Japanese literature student at the prestigious Chuo University, he participated in the literature club where he worked as an illustrator. After getting his university degree, he started his career as a graphic designer in the video game company Falcom, and stayed for five years from 1994. Gaining the experience in his chosen field, he took a leap of faith and courageously moved to animation with the release of She and Her Cat, a five-minute indie monochrome cartoon. To his surprise, it won several awards in Japan, including the grand prize at the 12th DoGA CG Animation contest in 2000. Encouraged by his success, he continued in his new field, while simultaneously keeping his day job. It was at this time that he came up with his first original video animation (OVA), Voices of a Distant Star, and the start of his popularity.
Trademarks
In his journey both as an animator, writer, and director, the 45-year-old always injects vivid and detailed scenery inspired from real-life landscapes. Compared to other artists, Shinkai's work can easily be identified by his use of vibrant colors, from bluish violet skylines, and forests bursting with the green of spring, or orange of fall. To make it more realistic, most of his characters use smartphones to incorporate a glimpse of the Japanese society's technological dependence. As a self-confessed fan of his films, I must say that Shinkai is a unique narrator who knows how to weave stories and steer clear of clichés. He infuses old traditions with contemporary concepts and structures to create remarkable masterpieces. There's also profound use of metaphors from the environments that he turns to dialogue that his characters speak, all of which can pique your interest and tease your mind. Mainly targeted at millennials, the central themes that he usually explores are romance, with a few science-fiction or fantasy elements. The man is also not fond of making hour-long films. Shinkai aims to make his films short and simple, so that people can easily grasp his message, and leave with a few new insights and emotions.
Notable Works
With the Otaku gene running through my veins, I can't help but unleash my inner fangirl with the characters that he brought to life. The mecha-drama Voice of a Distant Star in 2002 launched Shinkai's career as a director, producer, and writer. Two years later, he produced the war-drama The Place Promised in Our Early Days, which follows the life of two childhood friends who grew apart during the Soviet occupation of Japan. Thanks to its award-winning cinematography and plot, the movie garnered several local and international awards, including the Special Distinction for Feature Film Category at Seoul Comics and Animation Festival in 2005, and Best Animated Film at Mainichi Film Awards in 2004. With fans around the world, the Japanese genius left everyone craving more. He then released the romantic drama 5 Centimeters per Second. Cut into three episodes, the poignant full-feature is Shinkai's first attempt to present real world struggles like time, space, people, and love from a different perspective. Underrated yet melancholic, The Garden of Words tackled loneliness and lingering emotions at a whole new level, leaving the audience glued to their seats and astounded. But what really catapulted him into stardom was the blockbuster hit Your Name in 2016. The movie was critically acclaimed around the globe thanks to a mind-blowing tear-jerker of a plot, infused with Japanese culture, and a touch of the trademark Shinkai sci-fi. The movie went on to become the second-highest grossing film of all-time in Japan. His career skyrocketed since then, with critics comparing him to the legendary Studio Ghibli founder and Spirited Away director, Hayao Miyazaki.
Future Plans
After the successful entrance of Taki and Mitsuha in the global theaters, the master storyteller is now on a two–year hiatus. In 2017, rumors circulated that he was in the middle of another project with another Japanese animator, Mamoru Hosoda—news which was later confirmed by the man himself. According to reports, the untitled feature film is slated for release this year. Unfortunately, fans like me need to wait until the end of 2018 for updates regarding the highly-anticipated collaboration. His trusted anime studio though, CoMix Wave, works with the China-based Haoliners for a new drama anthology entitled Shikioriori.
Also published in Gadgets Magazine July 2018 issue
Words by Jewel Sta. Ana
Art by Theresa Eloriaga