The industry of animation has grown tremendously for years, and I am living witness to it. As a child, I would watch plenty of action-packed Japanese anime and two-dimensional Western cartoons that were broadcast during afternoon slots on different TV networks. As time went by, animators became more creative and sophisticated, giving rise to an era of animated movies during the '90s. Animation giants like Pixar, Dreamworks, and Studio Ghibli finally conquered the silver screen, and the rest is history. We've seen their award-winning blockbuster movies yet there are still a lot of underappreciated from other production houses that you do well to appreciate. So sit down, relax, grab a popcorn, and enjoy this list of movies you may not have heard of!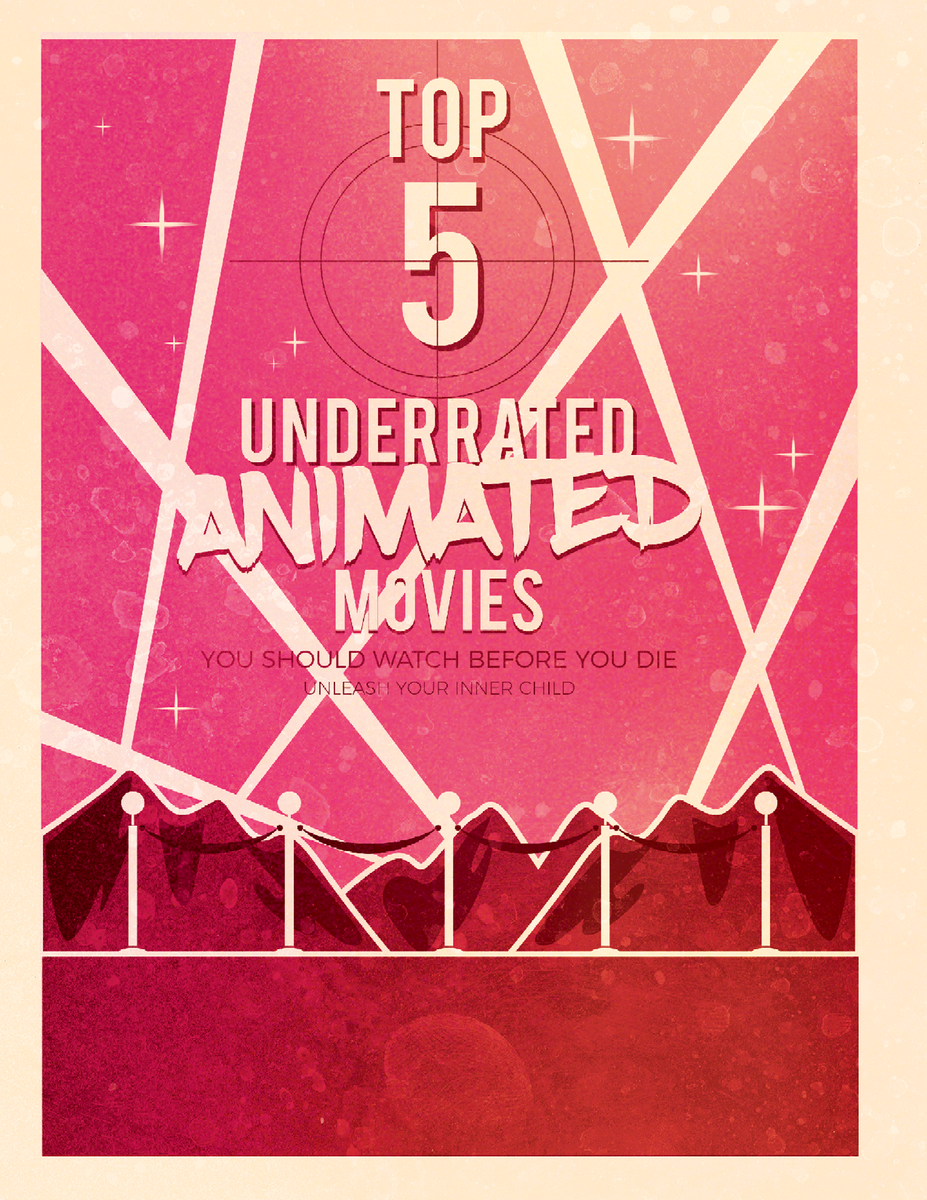 Atlantis: The Lost Empire (2001)
An oldie but a goodie, this first animated science-fiction feature from Walt Disney Animation is based from the eponymous mythical sunken city. Basically, the story is set in 1914 and revolves around Milo Thatch, a Smithsonian scholar, who goes on a quest to find the legendary lost empire.
Adapting the CGI technology and switching to a widescreen format, Atlantis: The Lost Empire was a massive a project for Disney at that time, with 350 animators working together across its three studios. It's also important to mention that the well-detailed settings were inspired by Mayan and Southeast Asian architecture. The team even devised an Atlantean language and writing system to make it more realistic.
Despite its all-star cast spearheaded by Michael J. Fox, the action-adventure feature barely turned a profit due to strong competition from Shrek and Lara Croft: Tomb Raider, both of which had strong marketing strategies.
Colorful (2010)
Everyone only lives once, but not for a mysterious and dejected soul named "I" who has no choice but to live as a 14-year-old boy named Kobayashi Makoto. Originated a manga of the same name, this coming-of-age film from Doraemon and Crayon Shin-Chan director Hara Keiichi received praise from viewers because of its simple, yet heartfelt premise, and socially relevant theme of depression and suicide.
Having premiered mainly on Japan and China, together with European and South America region, the movie was not able to reach other countries. Thanks to its highly-praised storyline, the Sunrise-produced animated feature received numerous awards in its home market. Among these are the Excellent Animation Award of the Year from Japan Academy Prize, an annual award-giving body for Japanese films, and Best Animation Film at the 65th Mainichi Film Awards. Colorful also bagged the Audience Award, and Special Distinction Prize at the Annecy International Animated Film Festival in 2011.
RPG Metanoia (2010)
Tagged as the first Philippines' first 3D full-length film, the action-fantasy film raised the local animation industry and showed the amazing talent of Filipinos to the mainstream. It portrays a shy and reserved eleven year old Nico, who is an avid player of Metanoia, an online RPG game. Using the game as an escape from his reality, he builds a strong character in the online world, who is his complete opposite.
Written and directed by Luis Suarez, RPG Metanoia took five years to complete its production. Thaumatrope Animation started its character conceptualization in 2006, with the movie's main producer Ambient Media. With the ambition to put a new concept in the mainstream media, Suarez partnered with Star Cinema and tried their luck for 2010 Metro Manila Film Festival. Their efforts were not put into waste as it bagged Third Best Picture, Best Sound Engineering, and Best Original Theme Song in the said prestigious competition. It even conquered the global scene and was nominated for Best Animated Feature at the 2011 Asia Pacific Screen Awards. However, it only garnered a total of 15.8 million pesos against its estimation production costs of 100 million.
The Garden of Words (2013)
From the director of the highest-grossing anime film of all time,Your Name, The Garden of Words is a melancholic slice-of-life film that will strike young millennials. The drama movie of Makoto Shinkai focuses on a young, aspiring shoemaker and a mysterious woman in her late twenties, who always meet coincidentally at a national garden during rainy mornings. As time draws them closer, the two eventually find solace in each other.
Famous for writing tales based on real-life experiences of people, Shinkai formulated his story with visually appealing graphics based on the real-life commercial district, Shinjuku. Just like his other works, the 46-minute motion picture presented a lot of metaphors, a meaningful theme, and Japanese culture through Manyoshu poetry.
Purposely made for casual viewing through mobile devices, the 45-year-old animator writer and animator did not want to make the film go on longer than an hour. It's a trend that the brilliant Shinkai always upholds in his films. Debuting only on Japan and other international film festivals, The Garden of Words did not share the same buzz and box-office record that 5 Centimeters Per Second and Your Name had. Nevertheless, it's still a touching, must-see full-length feature.
A Silent Voice (2016)
A brainchild of Kyoto Animation, the anime film adaptation of the manga Koe No Katachi has received very positive reception from both critics and audience. Director Yamada Naoko and writer Yoshida Reiko gives life to the deaf high school student, Nishimiya Shoko, and her struggling former classmate Ishida Shoya. It will make you reminisce on your good old days with your gradeshool friends and wonder where they are now. Beautifully crafted, and powerfully narrated, the movie discussed bullying like a punch in the gut.
Widely renowned for producing the original video animation of Violet Evergarden on Netflix, Kyoto Animation had been doing a lot of projects annually. With its polished and grand production of A Silent Voice, otaku were not disappointed with its outcome. Prepare a box of tissue though, you might find yourself crying well before its climax.
There's no more good way of relaxing on your own batcave other than watching a movie while munching with your favorite snacks. Animated films bring us to new and colorful worlds through our device's screens, and let us escape from reality. Old or young, these kinds of films capture our minds and hearts through their compelling messages.
So what are you waiting for? Schedule a weekend movie marathon now with your family and friends!
Also published in Gadgets Magazine June 2018 issue
Words by Jewel Sta. Ana
Art by Theresa Eloriaga