Last year we looked at the ASUS Vivobook Pro 14 OLED, a great midrange laptop with a gorgeous display and powerful specs. Now we look at its older sibling, the slightly bigger and equally powerful ASUS Vivobook Pro 15 OLED.
Design: 4/5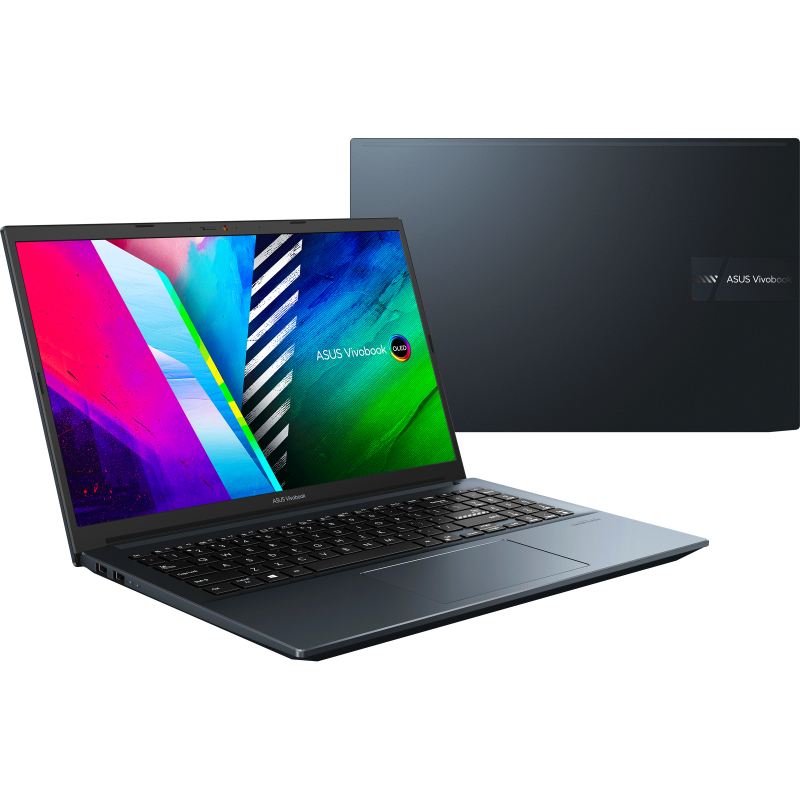 When you take the ASUS Vivobook Pro 15 OLED out of its box, you immediately notice that it shares the same design with its smaller sibling, the ASUS Vivobook Pro 14 OLED. It has the same metallic black cover, the same ASUS Vivobook logo on the cover, and the same I/O ports layout. The only major difference is the bigger body, it being a 15.6-inch display laptop compared to the Vivobook Pro 14 OLED's 14-inch display.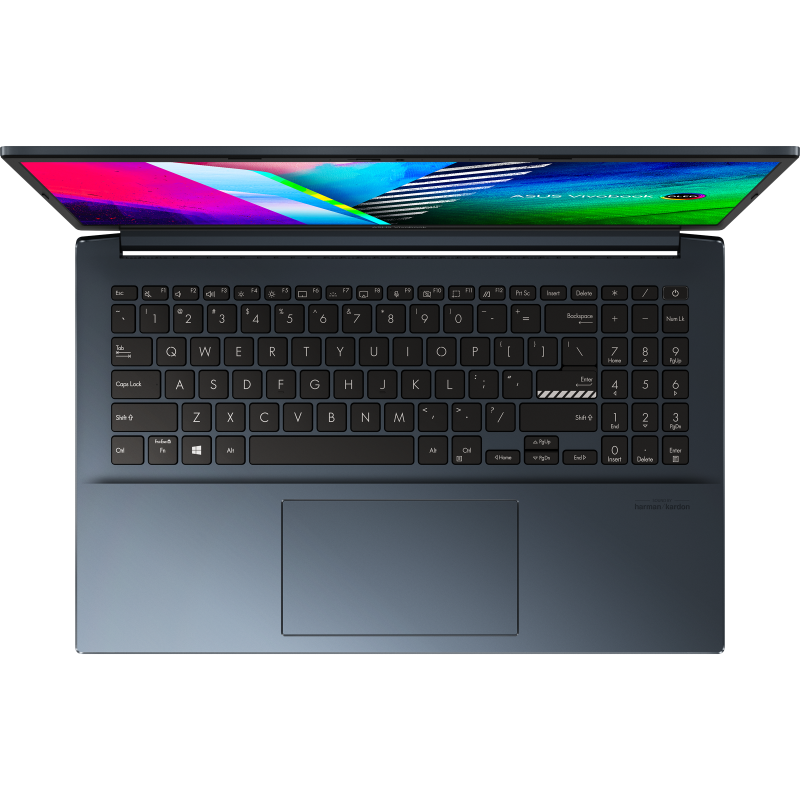 Opening the laptop is where you'll find the most noticeable difference. The ASUS Vivobook Pro 15 OLED has a full-layout keyboard, meaning you have a physical number pad instead of the NumPad 2.0 found in the smaller model.
Going back to the display, the ASUS Vivobook Pro 15 OLED has a 15.6-inch OLED display with a 100% DCI-P3 color gamut. It also has a faster 120Hz refresh rate, which is excellent for those who want to game on the side. On top of the display is the FHD webcam with the physical cover/shutter for extra security.
Like the 14-inch version, the Vivobook Pro 15 OLED has a lot of ports. On the left are two USB-A ports and the laptop's LED notification lights. On the right are the DC power, a USB Type-C with Power Delivery support, a microSD card reader, another USB-A port, a 3.5mm audio port, and the full-size HDMI port.
As the larger model, the ASUS Vivobook Pro 15 OLED is a bit heavier, weighing around 1.8kg. But surprisingly, it's a bit thinner, measuring 18.2mm thin.
Hardware: 4.5/5
The ASUS Vivobook Pro 15 OLED is powered by a Ryzen 5000-series processor, with our unit running on the Ryzen 7 5800H processor. It is similarly paired with an NVIDIA RTX 3050 graphics. Our review unit had 512GB of NVMe SSD as internal storage and 16GB of DDR4 RAM.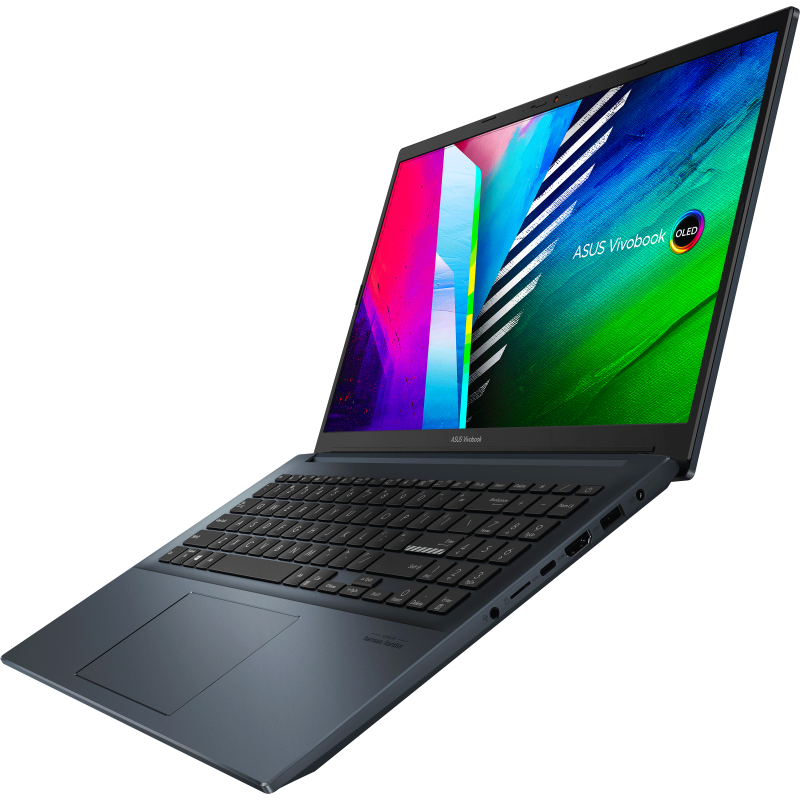 While it doesn't have a Ryzen 9 5900HX processor, the Vivobook Pro 15 OLED is still super powerful. It earned 4397 on 3DMark Time Spy and 30 873 for Night Raid. Geekbench 6 pegged it at 1815 for single-core performance and 7033 for multicore. Lastly, PCMark 10 scored it 5704 for overall performance, earning 8168 for productivity and 7036 for Digital Creation. Honestly not bad for a laptop of this size.
It also handles gaming quite well. It averaged 140 to 160FPS at Valorant on the high setting. Dota 2 pegged it at 84 to 92FPS at the highest setting. It can even handle AAA titles like CyberPunk 2077, averaging 41.26 at High settings with NVIDIA's DLSS enabled.
Battery-wise, it has a 70Whr battery inside. While I didn't run any battery benchmarks, I used the laptop on my trips to school. I found that at 60Hz and somewhat high brightness, the laptop lasted around 6 to 7 hours, depending on the workload. So you'll need to bring the power brick if you're expecting a long day. The included 120W power brick charges the laptop up to 50% in just half an hour and up to 82% at the hour mark.
Battery health measures kick in then, as it takes another 30-mins to charge up to 92% and fully charges at just over two hours.
If you don't want to bring an extra power brick, you can use a USB-C charger to top it up. You can even use a power bank to keep it running; just make sure your power bank supports Power Delivery.
User Experience: 4.5/5
The ASUS Vivobook Pro 15 OLED was made for someone looking for an all-around device. It can handle tough games and content creation with video and photo editing.
Writing this review was a bit challenging as I couldn't help comparing it to its smaller sibling the ASUS Vivobook Pro 14 OLED. Honestly, the specs and most of the performance were almost identical. Everything that I loved about the Vivobook Pro 14 OLED is still in the Vivobook Pro 15 OLED, just with a larger display and faster refresh rate.
The display was great, not only for Netflix and Disney binge-watching but also for gaming. The colors looked great thanks to the OLED display. What makes the screen even more appealing is the additional settings in the MyASUS app which include color temp and even OLED flickering and transparency settings.
The cooling is similarly great. Even during benchmarking and gaming, the laptop stayed cool. The fans were very quiet, allowing me to sneak in some game time at the library.
A thing I noticed was that I preferred the NumPad 2.0 on the smaller laptop compared to the physical number pad. I found the number pad to be a bit more cramped than regular keyboard number pads. This isn't really a deal breaker since I hardly use the number pad.
Another thing the smaller Vivobook Pro 14 OLED does better is portability. The added 400 grams may not look like a lot on paper, but you'll notice it when you're lugging it around.
If asked about a weakness of the ASUS Vivobook Pro 15 OLED, it would be the speakers. They're not the loudest, but the quality is still great. There's no muddiness nor hollowness whatsoever.
Value: 4/5
Starting at PHP67,995 for the Ryzen 5600 version, the ASUS Vivobook Pro 15 OLED is a great all-around laptop. Our review unit is priced at PHP74,995. Its powerful specifications rival mid-range gaming-oriented laptops with the added benefit of being more portable. The only drawback is that its price is similar to the highest spec'ed Vivobook Pro 14 OLED.
If you want a bigger screen, a faster refresh rate, and a physical number pad, then go for the Vivobook Pro 15 OLED. But if you're on the go and prefer a lighter laptop, then the Vivobook Pro 14 OLED would better suit your needs.
What's hot:
Powerful
Great OLED display
What's Not:
Speakers are not the loudest
Specifications:
Display: 15″ 2.8K 120hz 16:9 600nits OLED display, 100% DCI-P3 color gamut, certified DisplayHDR 600 True Black, PANTONE® Validated, and TÜV Rheinland
Processor: AMD Ryzen™ 7 5800H Mobile Processor
Graphics: NVIDIA® GeForce® RTX™ 3050
Memory: 16GB DDR4
Internal Storage: 512GB M.2 NVMe™ PCIe® 3.0 SSD
OS: Windows 11 Home
Ports: 1x USB 3.2 Gen 1 Type-A, 1x USB 3.2 Gen 2 Type-C support display/power delivery, 2x USB 2.0 Type-A, HMDI, 3.5mm audio port
Battery: 70Wh lithium-polymer battery. 120W Power adapter
Connectivity: Wi-Fi 6(802.11ax) (Dual band) 2*2 + Bluetooth 5.1
Dimensions: 359.8 x 234.3 x 18.9mm
Weight: 1.8kg
Bottomline
The ASUS Vivobook Pro 15 OLED retains its title as a great all-around laptop for everyone.
Reviewed by Gabriel Pe
Also published in GADGETS MAGAZINE March 2023 Issue