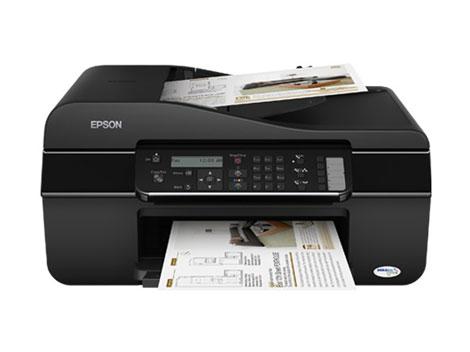 By Benjamin Arnold
I have always been a little picky when it comes to the tools or products I use for my artistic purposes. I always have to have a specific type of pencil, a certain kind of pen or a precise brand of paper. Even when it comes to the type of printers or ink that I use, I can be quite critical because I am always looking for something that can deliver the best results. So when it comes to printing out colored images, Epson has usually been on the top of my list.
The Epson ME Office 620F multifunction printer comes in the standard corporate black color and is quite big and boxy. But that is the usual case when it comes to these kind of printers, as they need the space to fit in all the varied features. This specific model has the usual functions of printing, scanning, copying and faxing, all of which faired quite well during testing.
In terms of printing, the Epson ME Office 620F prints beautifully clear, crisp images. Right out of the tray, the prints don't need extra time to dry as they used the Epson DURABrite Ultra ink that doesn't smudge, fade or smear with water. I also like the fact that the inks are in individual cartridges, making it more cost efficient in the sense that you only replace the inks that are used up. It also has an additional function that, when the black ink is running low, the printer offers to use all the inks to create a composite black that extends the ink life. This, however, makes the black printouts less vibrant, but if you are after quantity over quality, this is an ideal function. We were able to print around 200 to 250 prints before one of the ink cartridges emptied on us.
One issue I have with Epson printers is when one cartridge becomes empty, the whole printer seizes to function. This holds true with the Epson ME Office 620F. At least the scanning function still works even if the ink cartridge is empty.
Another issue is that the printer sounds like it is always angry, sucking in the paper and making a loud scary mechanical sound that constantly makes me turn my head to see if there was a paper jam, but only to find out that the printer naturally makes that kind of sound when printing.
In terms of scanning and copying, the printer does a fairly clean job. The scans come out clear without taking on the texture of the paper, which is quite a problem when using other scanners to scan illustrations.
With the Epson ME Office 620F scanner, the scans come out clean and smooth with no paper texture visible. For the copying, it comes out the same, dirt free and clear.
What I like about the set up of the scanner is that the scanning bulb runs vertically to the paper rather than horizontally like other scanners. Because of the vertical setup, scans are processed faster while being super quiet. In fact, it was so quiet that I thought that it wasn't scanning at all. This is a way better improvement compared with other scanners, not to mention the auto document feeder that can accommodate around 30 sheets, making copying quick and easy.
For faxing, the Epson ME Office 620F works to the level of other fax machines, with the redial and speed dial functions, making processing time shorter.
All in all, the Epson ME Office 620F multifunction printer is a reasonable addition to any office that desires quality prints with a high quantity output.
Specifications:
Functions: Print, Copy, Scan & Fax
Ink System: 4-colour
Print Speed: Black – Approx. 34 ppm (draft); Color – Approx. 15 ppm (draft);
Scanner Type: Flat bed color image scanner with auto document feeder
Optical Resolution: 1200 dpi
Scan Area: 216 x 297 mm (8.5 x 11.7 inch)
Type of Fax: Walk-up black-and-white & color fax capability
Fax Speed: Approx. 3sec/page
Connectivity: Hi-speed USB 2.0
Max Paper Size & Capacity: 8.5-inches x 44-inches; 120 sheets, A4 plain paper (64g/m2)
Price: Php 6,495
What's Hot:
• Clear smudge proof prints
• Clean scans
• Composite black option to maximize print outputs
• Fast and silent scanning
• Easy auto document feeder for quick copies
What's Not:
• Loud when printing
• Impossible to print when one ink cartridge is empty
Bottomline:
The Epson ME Office 620F is a valuable addition to any office that desires both high quality and high quantity outputs, with the added features of being multifunctional.
Buy Meter: 8.7
[This review originally appeared in the June 2011 issue of Gadgets Magazine]