I'm sure all of us have, at one time or another, been forced to make special arrangements in order to physically hand over keys to your home, car, locker, desk, etc. Either you set a time and place for the exchange, or you designate a trusted representative or caretaker to hold the keys for you. With its Keybox 2, igloohome addresses this issue with a smart solution.
Design: 3.5/5
The Smart Keybox 2 looks like a large, black lock. Made of zinc alloy and hardened carbon steel, it is reassuringly big and heavy. Once securely shackled to a knob or fence or bolted to a wall, you're sure that it's not going to be easily carried off by human or natural elements. It is IP65 certified, so a little rain or dust will not damage it.
The front part of the keybox is hinged and opens up to provide access to an inner storage area which, out of the box, contains a slim shackle, mounting screws and seal rings, screw anchors, rubber studs, and spare screws for the battery cover.
The battery well for four AAA batteries is located on the inner side of the front cover. In case the batteries go dead, there is an emergency jumpstart pin for a 9V battery at the lower part of the lock.
Hardware: 4/5
The Smart Keybox 2 has Bluetooth 4.0 connectivity, and can be unlocked with the igloohome app, provided you are within range. However, what makes it—and other igloohome devices—stand out is its proprietary AlgoPIN technology which generates OTPs (one-time-passwords) that work even without a WiFi connection. This makes the keybox an ideal solution for areas without reliable WiFi such as a remote farm house, beach property, etc.
User Experience: 3.5/5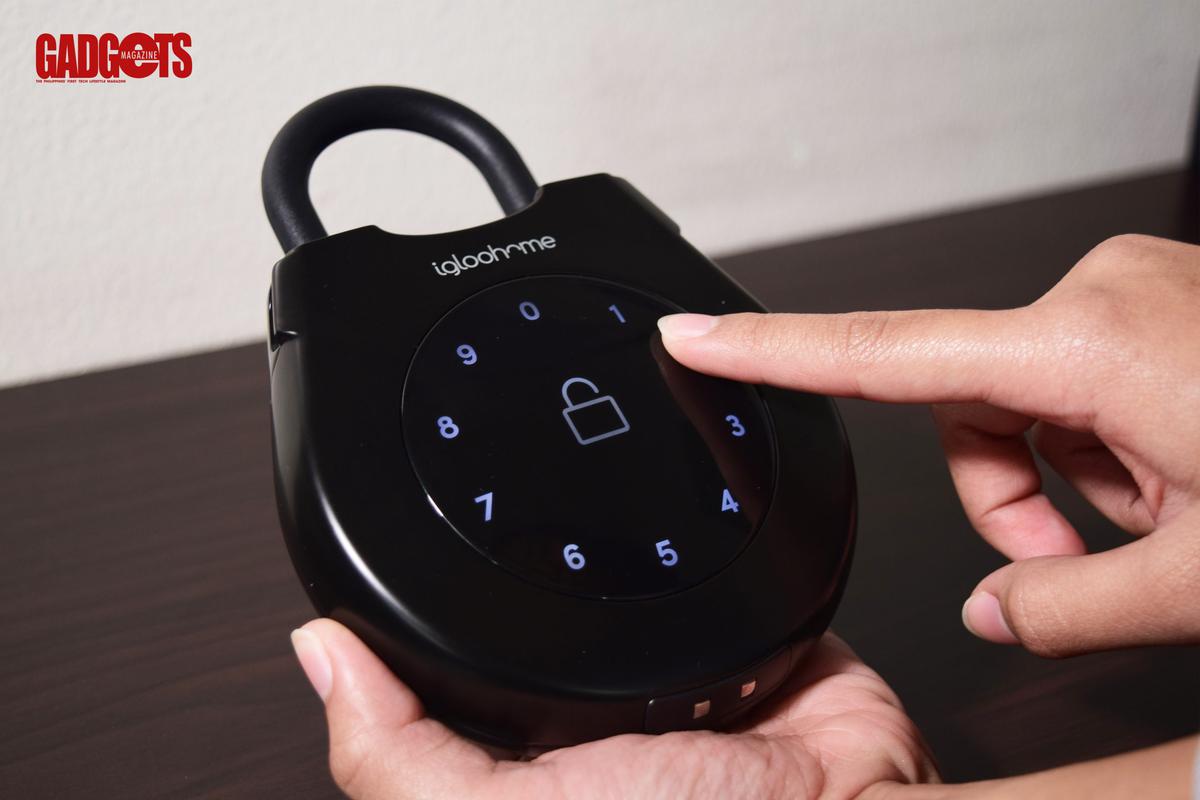 Right out of the box, the first thing you need to do is put in four AAA alkaline batteries (not included in the package) into the battery well located on the inner part of the lock cover. You also need to download the igloohome app onto your smartphone. Once the keybox is powered, you can start the pairing process following the instructions in the user guide.
Once configured, the keybox can be unlocked via Bluetooth through your smartphone app, or by keying in the PIN code and pressing the unlock icon. To lock, just close the keybox tightly and wait for the long beep confirming that it's securely latched.
To give access to other people, you can assign PIN codes that can be for one-time use, limited duration use, or for permanent use. The PIN needs to be "activated" within 6 hours for one-time use, and 24 hours for permanent/duration use. Otherwise the PIN expires and becomes inactive.
A Bluetooth key can also be created to give other users mobile access to the keybox. The users will need to have the igloohome app to receive the Bluetooth key, and must accept it within 1-hour of generation before it expires.
If you're using the keybox at an Airbnb property, you can actually link it your Airbnb and igloohome accounts, and your PIN codes can be automatically generated and given to your guests. Access logs let you know who opened the keybox and when.
The storage space inside the keybox has room for up to 6 physical keys or 7 keycards, and you can probably throw in a small note or SIM card in there.
Personally, I hate having to carry around keys and have an RFID sticker on my phone to open my front and side doors which have digital locks. I still do have physical keys for my bedroom and walk-in closet which I keep locked as that's where I have my valuables. The keybox is a perfect solution to my key aversion. I can mount it somewhere accessible and just leave my physical keys in there—no need to bring them along with me. When I get home, I open up the keybox and take out the keys I need. At the same time, I can create PINs and assign them to family members in case they need access, while being informed every time the keybox is opened.
I also like the decoy feature where you can enter up to 8 random digits before the actual PIN code to confuse whoever might be watching.
The four AAA batteries are supposed to be good for up to a year, and in case the power runs down, you can use a 9V alkaline battery to jumpstart and open the keybox.
Value: 3/5
The Smart Keybox 2 can be bought for around Php 14,500 (discounted) to Php 16,000 (SRP)—a bit steep for what is essentially a key holder. But what you are paying for is the convenience of being able to handover keys to guests without the hassle of being physically present, with the added assurance of its security features.
Specifications:
Material: zinc alloy, ABS, hardened steel
Color: black
Power: 4 x AAA alkaline batteries
Emergency Power: DC9V alkaline battery
Dimensions (WxHxT): 114 x 116 x 38 mm
Inner Storage Space (WxHxT): 108 x 75 x 16 mm
Weight: 1 kg
Shackle Strength: 305 kg force
Unlock Mechanism: Bluetooth, PIN code
Wireless Protocol: Bluetooth 4.0
Certification: IP65 (splash and dust resistant)
Compatibility: iOS 11 and above; Android 6 and above
What's Hot:
Works offline
Keeps access logs
What's Not:
Bulky
Not weather-proof
Quite pricey
Bottomline:
Now you don't need to be physically present to hand over your keys.
Also published in GADGETS MAGAZINE October 2019 Issue
Reviewed by Maribelle Alba