Lenovo has always been a brand that provides great specs for their laptops. Their latest flagship gaming laptop, the Legion Y740 is no exception. With its great looks and killer specs, should this laptop be your next gaming partner?
Design: 4.5/5
When you take the Y740 out of the box you are greeted by a nice metallic finish. Lenovo spared no detail in designing this laptop's form factor. It has cool RGB lighting thanks to Lenovo's partnership with Corsair, but it doesn't go over the top like some other gaming laptops in the market.
The keyboard layout needed some time to get used to. I liked the additional multipurpose macro keys on the left, but moving the normal keys slightly to the right messed up my typing way more than I liked.
One thing that I also liked is the vast selection of I/O ports Lenovo included on the Y740. On the left you have a USB Type-C port and your audio port. The right hand side houses a single USB Type-A port. The back is home to the majority of the ports; the power input, two USB Type-A, the ethernet port, a full–sized HDMI, a mini display port, and a Kensington lock slot. What's great about this design is that it declutters the sides of the laptop from any other wires.
Hardware: 4.5/5
The screen of the Legion Y740 is a 15.6-inch Full HD IPS display with a 144 Hz refresh rate and NVIDIA G-Sync compatibility. One great hardware addition are powerful speakers made even better with Dolby Audio for superb volume and clarity.
The review unit is equipped with an Intel core i7-8750H, and came with an NVIDIA RTX 2060. Storage-wise it had a 1 TB HDD and 256 GB SSD with 16 GB of RAM, both of which are upgradable.
As part of our review, Lenovo also also sent over their M500 gaming mouse which in itself is one of the best gaming mice I have ever held. It's light and ergonomic design was perfect for long hours of use.
User Experience: 4/5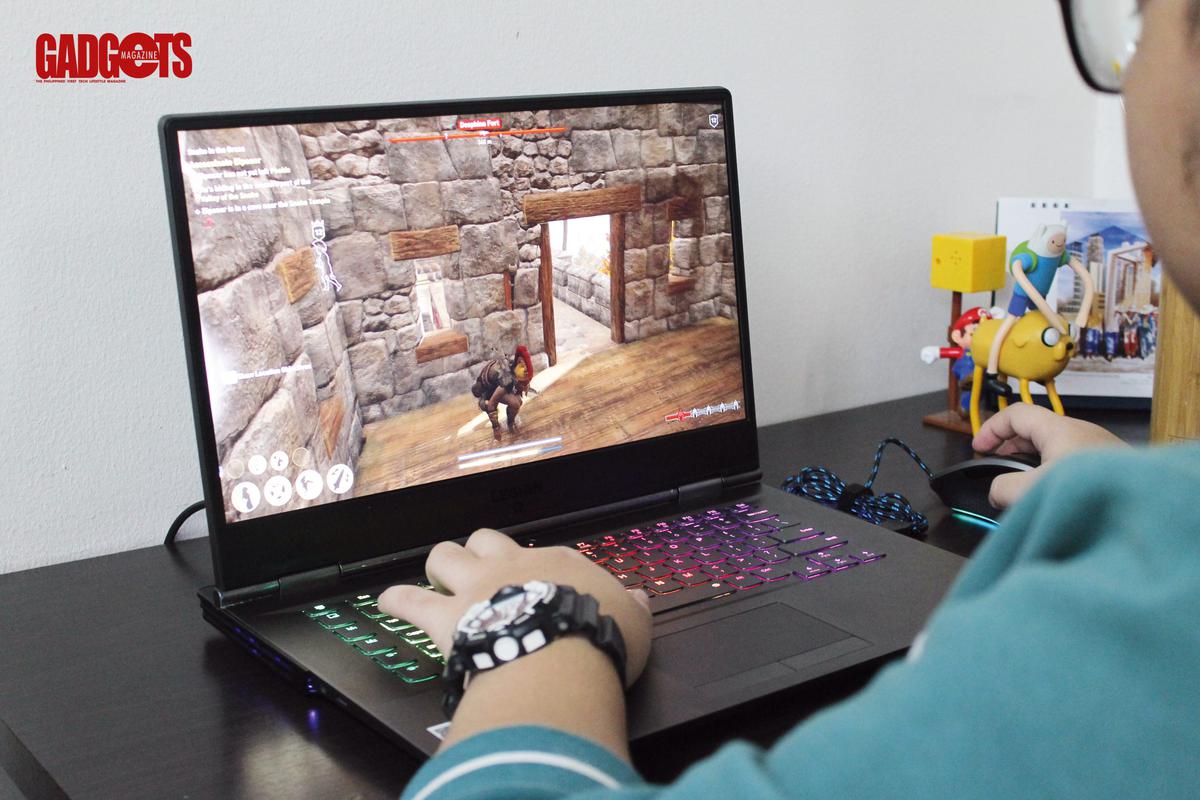 The Lenovo Legion Y740 is a gaming laptop at its core. The 8th generation Intel Core i7 and NVIDIA RTX 2060 could handle all the triple A games thrown at it. We ran Assassin's Creed Odyssey and it averaged 46 fps, while The Witcher 3 averaged at 61 fps. Lighter games such as Rainbow Six Siege averaged more than 150 fps.
The major downside of the Y740 is its battery life. Using the laptop at max settings when gaming only yielded about an hour of play time, while using the laptop for minimal tasks such as word processing and internet browsing only delivered two hours of use.
The laptop would have been ultraportable as it weighs only 2.2 kg, but the huge power brick holds it back, weighing more than the laptop itself. The positive aspect of the huge charger is its fast charge capability. At 230 W, the charger can fill the 57 W battery in as fast as 45 minutes.
What's great about the Y740 is its heat management. After a day of continuous gaming, the keyboard area remained relatively cool to the touch. Fan noise is also one of the Y740's strong suits, you could hear them when the laptop was in full swing, but it wasn't deafening.
All in all, I enjoyed my time with the Legion Y740. The laptop was perfectly capable and more than powerful enough to satisfy hardcore and casual gamers alike.
Value: 4/5
Coming in at PHP 119,995, the Lenovo Legion Y740 has great specs and a fantastic build. Despite the battery, this is still one of the laptops to consider if you're in the market for a gaming laptop.
Specifications:
Display: 15.6-inch Full HD IPS with 144 Hz refresh rate and NVIDIA G-Sync
Processor: Intel Core i7-8750H @ 2.20 GHz (can be boosted up to 4.10 GHz)
Graphics: NVIDIA RTX 2060
Storage: 1TB HDD, 256 GB NVMe SSD
RAM: 16 GB DDR4
Connectivity: Killer WiFi, Bluetooth 4.1
Ports: USB-C, 1x USB 3.1 Gen 2, 2x USB 3.1 Gen 1, HDMI, Mini DisplayPort, RJ45 Ethernet, 3.5 mm audio jack, Kensington Lock Slot
Weigh: 2.2 kg (5.1 pounds)
What's Hot:
Great design
Great Specs
144 Hz screen refresh rate and NVIDIA G-Sync
What's Not:
Keyboard layout needs a lot of getting used to
Poor battery life
Bottomline:
The Legion Y740 is one solid gaming laptop.
Also published in GADGETS MAGAZINE October 2019 Issue
Reviewed by Gabriel Pe