For the longest time, I have been torn about getting a dedicated gaming monitor. I really want the higher refresh rates, but at the same I also want a high-resolution monitor to satisfy my Netflix bingeing needs. Fortunately, LG is letting us try out their ULTRAGEAR 27GP850, a 27-inch gaming monitor with a 165Hz refresh rate and 1440p resolution.
Design: 4/5
The LG ULTRAGEAR 27GP850 is a 27-inch IPS monitor. It has a borderless design, thanks to the thin bezels on the top and side of the screen.
As for the monitor build, it's mostly plastic, but of the high-quality kind. While I expected the base to be all aluminum, I wasn't too disappointed with it being plastic. It's sturdy and hefty, perhaps due to the metal within.
The stand allows versatile movement as it is height-adjustable, tilt-adjustable, and even pivotable up 90-degrees. I found this to be useful for my varied modes of everyday use.
The whole monitor also has LG ULTRAGEAR's iconic red accents, especially at the back where the ports are located.
Speaking of ports, the monitor does have plenty. It has a single Display Port, plus two HDMI inputs, a USB pass-through, and two USB Type-A ports. There's also a 3.5mm audio port and the proprietary power input.
Hardware: 4/5
The LG ULTRAGEAR 27GB850 has a 27-inch Nano IPS display with a 165Hz refresh rate overclockable up to 180Hz. This is useful for FPS gamers who need the extra frames, delivering an advantage over standard 60Hz monitors.
The Nano IPS display also has a 1ms response time, which is the time it takes for a monitor to shift from color to color. In gaming this millisecond shift allows gamers to react faster. Other gaming features include NVIDIA G-Sync and AMD Freesync Premium support which eliminates any screen tearing during high-action sequences.
As mentioned earlier, the LG ULTRAGEAR 27GP850 has a 2560 x 1440 resolution (QHD). Additionally, the display is also VESA Certified HDR400 and supports up to 98% of the DCI-P3 color gamut. Basically, the monitor displays vibrant images. The 98% DCI-P3 color gamut rating also means that you'll have color accuracy in case you want to make some content.
User Experience: 5/5
Let's start with the assembly. I was pleasantly surprised by how easy the monitor can be assembled. It took me less than 20 minutes put it all together, and best of all, it was all completely tool-less. The whole setup only had three thumb screws to put together.
The monitor itself is quite versatile. It has different display modes which adjust the screen colors to match. While most of it is dedicated to gaming such as Gamer, FPS, and RTS, there are also media and designer modes such as HDR, sRGB, and the usual vivid and reader mode.
The versatility doesn't end there. The included stand allows for a multitude of settings. I found myself using it at the highest level and tilting down during movie nights, but at the lowest height and tilted upward when I'm grinding on some Valorant.
Speaking of gaming, it is undoubtedly the highlight of the monitor. The 165Hz refresh rate is definitely a game-changer when playing games such as Valorant, while the high resolution and HDR make gaming visuals so much more enjoyable. I had a blast playing Assassin's Creed: Valhalla on the monitor since it made the game more eye-catching than my usual monitor.
LG also included other game-enhancing settings such as black stabilizers which adjust the display to allow clearer pictures in darker environments. Honestly, I enjoyed this setting the most when I was playing Assassin's Creed.
There is also the crosshair mode that places a crosshair on the middle of the monitor. I can see it working for some, but it doesn't really add to the experience for me.
There's also an overclock setting that allows the monitor to go up to 180Hz refresh rate but somehow I couldn't fully test it out.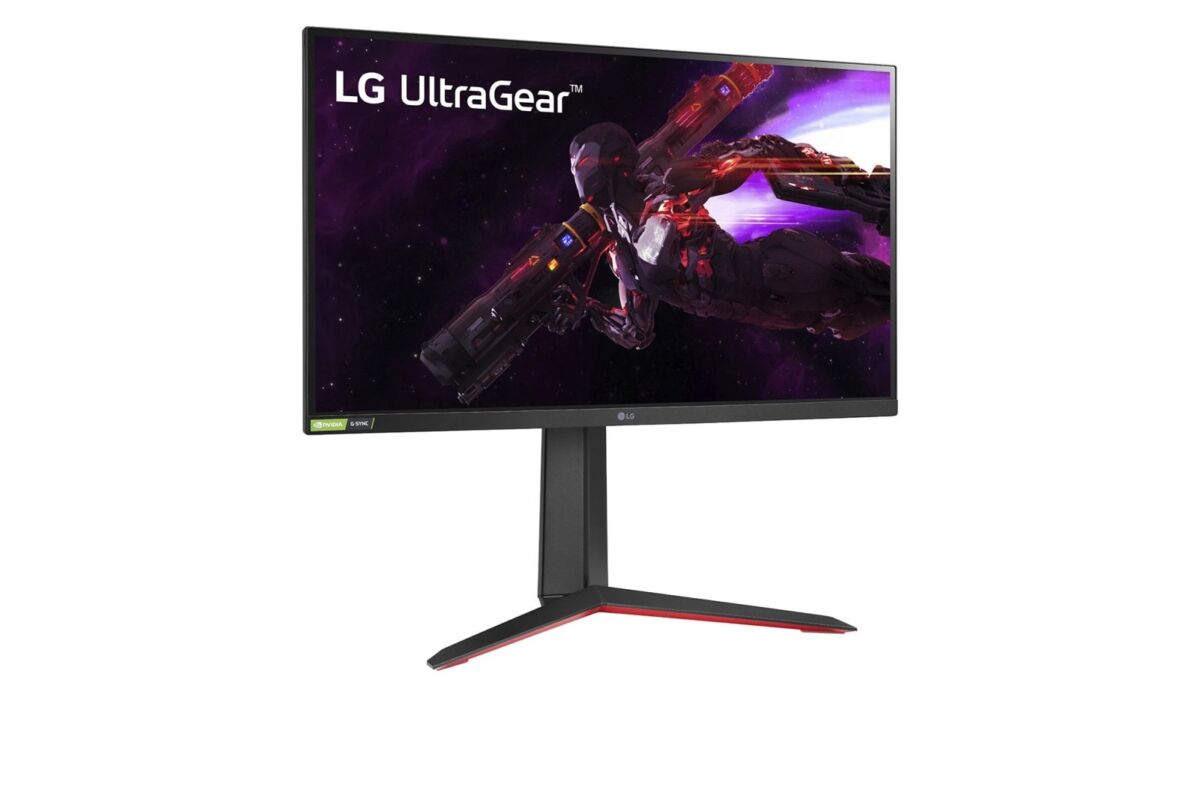 Value: 3/5
Coming in at PHP28,990, the LG ULTRAGEAR 27GP850 costs a pretty penny. While not all gamers need the 1440p and not all designer/creators need the 165Hz, having the luxury of both is what make this particular model a must-consider for those wanting a monitor upgrade.
Specifications:
Display size: 27-inch flat
Panel Type: IPS
Resolution: 2560 x 1440
Refresh Rate: 165Hz (overclock up to 180 Hz)
Response Time: 1ms (GtG)
Contrast Ratio: 1000:1
Aspect Ratio: 16:9
Ports: USB Type A x2, USB Passthrough x1, HDMI x2, DisplayPort x1, Headphone x1
Power: External Adapter (65W)
Dimensions: 614.2 x 364.8 x 51.7mm (without stand), 614.2 x 465.9 x 291.2mm (with stand)
Weight: 4.2kg (without stand), 6.3 kg (with stand)
What's Hot:
QHD display
Up to 180Hz refresh rate
1ms response time
What's Not:
Bottomline:
This is a monitor that will cater to whatever you need.
Reviewed by Gabriel Pe
Also published in Gadgets Magazine July 2022 Issue