I was in two minds about shifting to the LG UltraWide 25UM58-P as my main desktop display, as I was already quite happy with my existing home office setup, which had my Macbook Pro (15-inch, 2017) hooked up to my iMac (27-inch, 2015) which served as the display. Would the 25-inch LG UltraWide monitor be a worthy replacement?
Design: 4/5
The LG UltraWide 25UM58-P comes in a black plastic body that's echoed in the stand base. The monitor itself is about 24-inches wide and 11-inches tall. Weighing only about 4kg, it is easy to handle. To assemble, you only need to mount the stand body onto the stand hinge, tighten two screws, attach the stand base to the stand body, tighten another screw, attach the screw cover, and it's good to go!
At the back are two HDMI ports, a headphone jack, and the DC-in port. On the bottom edge, just underneath the LG logo, is the power button/joystick to turn the monitor on/off and to configure monitor settings.
Hardware: 4/5
Of course, the centerpiece of the LG UltraWide 25UM58-P is its panoramic 21:9 display with Full HD 2560×1080 resolution. The advantage of its IPS panel is evident in the wide 178/178 viewing angle and good 1000:1 contrast ratio. Able to deliver a color gamut of sRGB over 99% and 8-bit color depth, the monitor delivers faithful color reproduction, sufficient for most photo-editing requirements. Also, while some gamers may balk at the 14ms response time, it does tout 5ms GTG, which should be more than fast enough to enjoy most games, unless you're a competitive gamer.
User Experience: 4/5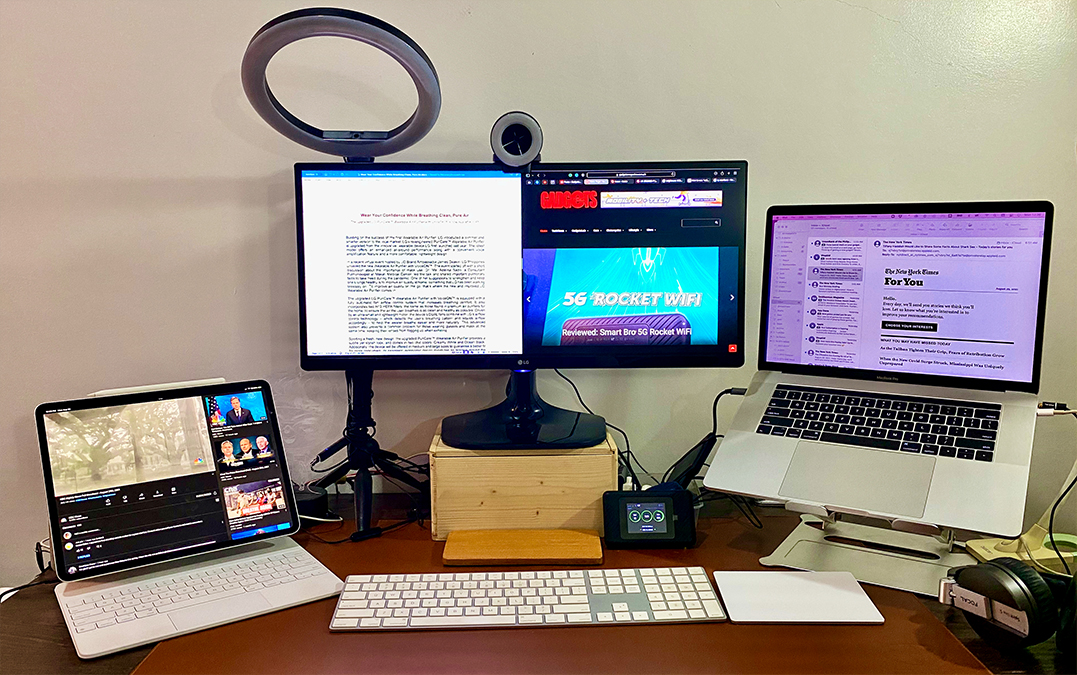 Assembling the LG UltraWide 25UM58-P is a quick 10-15 minute job. Then all I needed to do was connect the bundled HDMI cable to my MacBook Pro via a USB hub, push the power button, and voila! It's all systems go. Absolutely painless — I didn't even need the installer CD that came in the box. Afterward, it was just a matter of properly positioning the monitor and adjusting the tilt angle for the best viewing position.
As mentioned earlier, I had concerns about the transition from the larger 27-inch iMac. In reality, both the iMac and the LG UltraWide 25UM58-P are almost the same width, with screens both about two feet across. The difference, of course, is the latter loses about 3-inches of screen height. Was this an issue for me? Actually, no. In fact, I found that with two windows tiled side-by-side, I get two full windows in just the right aspect ratio, which seems more natural than what I used to get on the iMac, where windows were long and narrow.
I use the monitor mainly for work, and I really appreciate its matte screen, which is more eye-friendly as it reduces irritating reflections and screen glare. Occasionally, I would take a break and watch an episode from a favorite TV series, and the ultrawide screen brings back the widescreen cinema experience. A quick jog on the joystick lets me shift to Cinema picture mode, optimizing the picture quality for video-viewing.
I'm not a gamer, so I haven't had occasion to test the monitor's gaming performance, but LG obviously has gamers in mind with three preset picture modes for games. FPS 1 is optimized for FPS games; FPS 2 is configured with a higher black stabilizer value for very dark FPS games; and RTS is dedicated to RTS games. There is a further Custom mode for game-related options, distinct from the Custom mode for your everyday use.
For specific uses, you also have the option of using Reader mode optimized for heavy reading, or Picture mode for viewing/editing photos.
Probably my only complaint about this monitor is that the stand is too short and not height adjustable. As I have a standing desk that I like to move up/down in the course of a day's work, I found that, by itself, I could not properly position the screen at the right eye level. Luckily I found a small wooden box to use as a riser.
Having enjoyed the benefits of using the LLG UltraWide 25UM58-P for some weeks now, I am seriously considering an upgrade to a bigger sibling, perhaps the 29 or the 34-incher?
Value: 4/5
The LG UltraWide 25UM58-P retails for PHP12,699 — not the cheapest, but still reasonable. As most of us spend many hours in front of a monitor, this should be one of those essentials we don't skimp on. Not all monitors are created equal, and with LG's new line of monitors, you're getting one of the best and most technologically advanced in the category. It also comes with a 3-year warranty on parts and labor, an affirmation of LG's confidence in the product quality, and your assurance that this will be a good long-term investment.
Specifications:
Display size: 25" flat
Panel type: IPS
Color depth: 8bits, 16.7M
Resolution: 2560 x 1080
Contrast ratio: 1000:1
Response time: 14ms
Viewing angle: 178/178
Ports: HDMI x 2, headphone out
Power: 100-240V adapter
Dimensions: 609x287x55mm (without stand); 609x363x188mm (with stand)
Weight: 4.0kg
What's Hot:
Virtually plug and play
21:9 ultrawide
W0hat's Not:
Very basic features
Stand is not height adjustable
Bottomline
Level up your desktop experience with this all-purpose monitor that's great for work and play!
34Reviewed by Maribelle Alba
Also published in Gadgets Magazine September 2021 Issue