The new Nokia C20 was released last June 2021, and we are totally here for it! Growing up, my family used Nokia's toughest product, the Nokia 3310. In comparison, how well does this baby do?
Design: 5/5
The Nokia C20's simple yet sleek surface makes the phone look elegant, even mesmerizing at its finest! Like any other smartphone, it has hardly any buttons. With a full-on touchscreen, this phone is useful for reading ebooks, and playing games like League of Legends: Wild Rift.
The Nokia C20 has two available colors: dark blue and sand, with our demo unit being the latter. The sand color is not shiny which is nice because it doesn't attract too much attention. The back cover also has a rough texture which is a plus, because the phone won't easily slip off my hand.
The Nokia C20 also has 5MP with flash front and back cameras. The power button is located at the side below the volume button; its charging port is at the lower portion of the phone near the logo name, and the speaker can be located at the back with a noticeable rip. That one thing that irks me is the location of the headphone/earphone jack at the top, an irritant because the wire tends to slide down in front of the screen, or the user will have to hold it in the back. It is quite annoying when you are enjoying a really good movie, TV series, or even an animated show.
Hardware: 3/5
Although the Nokia C20 can be used for basic phone uses such as voice calls and text messages, it can also perform other easy tasks such as setting an alarm (and it is really loud), using the calendar, taking notes, or watching videos on streaming applications.
The device uses the Android 11 or the Go Edition which is a really neat OS because it is lighter, making the Nokia C20 quite competitive in terms of launch time, memory usage, and battery consumption. However, the Nokia C20 cannot handle games such as Honkai Impact, League of Legends: Wild Rift, and other MMORPG, MOBA, or RPG games as it tends to overheat with extended play, making these games laggy.
Light games such as Cat Spa and Samsara Room can be played with ease with almost no lag time issues. Since everyone is working from home, Google Meet and Zoom calls are allowed as well in the Nokia C20, but could also overheat during lengthy calls.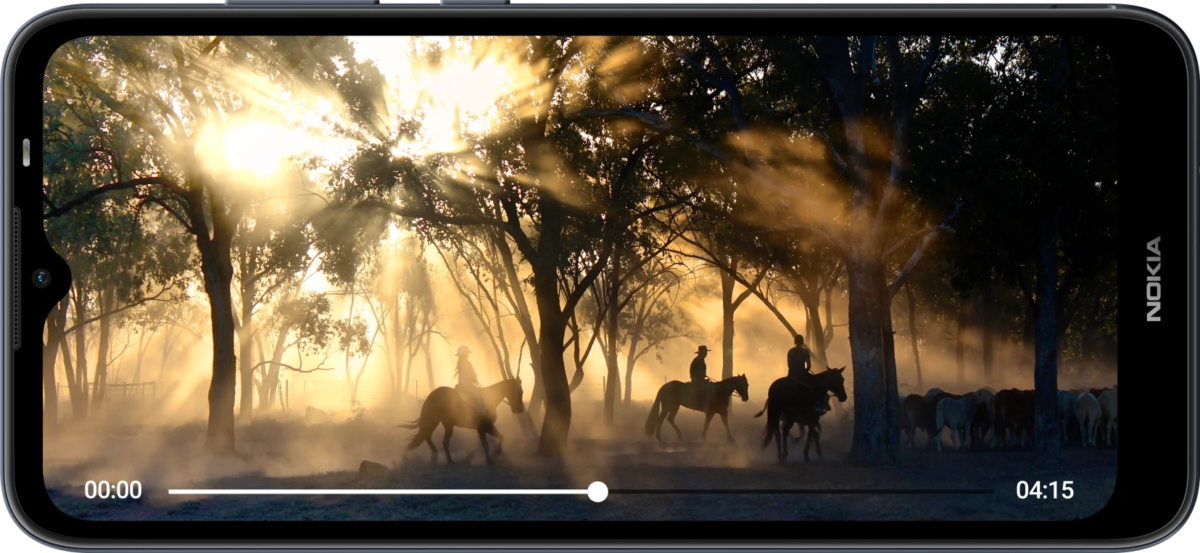 User Experience: 3/5
Positioned as an affordable smartphone, the Nokia C20 is suitable for general family use as it is accessible, easy to use and navigate. This is a great device for checking notifications for mail, and for social applications like Messenger Lite.
Also on the plus side, you can watch streams on Twitch, watch shows, and movies on Netflix, and Youtube. You can take it anywhere — not just for business. It is perfect for casual calls and texts with family or friends.
I usually use my phone for photography, and the Nokia C20's front and back cameras were a bit disappointing because of their grainy and pale output. Gamers should not expect too much you can't run demanding games like Genshin Impact.
The Nokia C20 has a face unlock security measure, except that with facemasks and face shields, you will still need to type in your PIN.
Value: 4/5
Retailing at PHP4,690, the Nokia C20 lives up to its brand promise as an affordable phone that has everything—browser, calls, games. This would be a useful device, especially for business calls, for messaging, for playing offline games to pass the time, for watching streams on Twitch, and much of what we expect of smartphones.
The Nokia C20 embodies what I like about Nokia products — it's affordable, easy to use and navigate, plus I can bring it everywhere and can use it anywhere with a WiFi or data connection, to watch Netflix, attend online classes, or listen to music.
Specifications:
Network speed: LTE CAT4
OS: Android 11 (Go edition)
CPU: SC9863a Octa-core up to 1.6Ghz
Memory and storage: RAM: 2GB, ROM: 32GB | MicroSD card slot supports up 256GB
Display: 6.5" (6.517") HD+ V-notch | Aspect ratio 20:9
Camera and flash: Main: 5MP with flash, Front: 5MP with flash, HDR | Beautification
Connectivity: 802.11 b/g/n | Bluetooth 4.2 | GPS/AGPS | Ambient light sensor | Proximity sensor | Accelerometer (G-sensor)
Charging: 5V1A Charging
Battery: Removable 3000mAh
I/O: Micro USB (USB 2.0) | 3.5mm audio jack
Dimensions: 169.9 x 77.9 x 8.8mm | Weight: 191g
SIM slot: Dual SIM | Nano SIM + Nano SIM + Micro SD | Single SIM | Nano SIM + Micro SD
Other: FM radio (headset required) | 1 microphone | face unlock
What's Hot:
Good for watching streams, movies, and shows
Long-lasting battery (up to two days)
Light/calming games can be easily played
Sleek design
What's Not:
Camera and video exposure are not that great
Gets laggy overtime on heavy games like Honkai Impact
Lengthy online calls (gmeet and zoom) are not reliable
Bottomline
I would recommend the Nokia C20, because why wouldn't we want elegance and simplicity?
Reviewed by Lorraine Villarina
Also published in Gadgets Magazine September 2021 Issue