Ever wonder how many wallets have you empty due to having broken gadgets fixed? Probably more times than you'd initially think. The saying that it's better to be safe than story never gets old, especially when realizing that there's a gadget that breaks every minute. Unless you've been living under a rock, then you've probably heard of the brand Otterbox—one of the best and toughest cellphone cases out there. We finally got to get our hands on one. Here's how it went:
DESIGN 4.0/5.0
The reason behind Otterbox's prominence among cellphone case brands is because of the durability and safety it offers. If you've got a phone on you now, feel free to YouTube search videos on Otterbox tests. There, you'll see a ton of videos of people throwing their phone from heights you couldn't imagine. And just like magic, the phones thrown would often be fully functional, and without as much of a hint of a scratch on it. The Otterbox cases do take the beating, however, with a scratch or tear when taken on to extreme limits. But if it were just a few floors and just among the first trials, then it would remain intact, like it was when you first took it out of the packaging.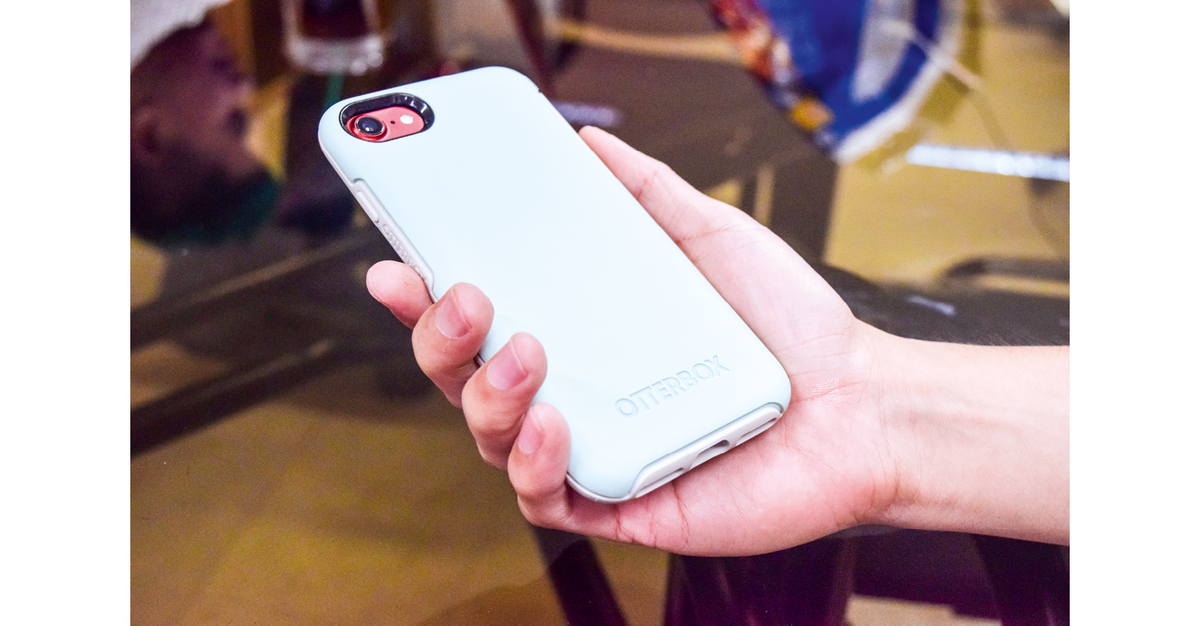 Numerous testing hours were spent by the case manufacturer to achieve designs that embrace devices with superb safety, 24+ tests and 238+hours to be exact. If you're after having peace of mind when travelling with your gadgets, then an Otterbox Case might help.
The Otterbox product handed to us was the Symmetry Series Case for the iPhone 7 and 8. The case came in a subtle color of what Otterbox calls 'Muted Waters.' Albeit being advertised as having a sleek and stylish design, it did have a significant amount of thickness. No, it wasn't as thick as the more durable and famous Defender series cases, yet that implies that it isn't as though as it either. Still, it's considerably a good compromise between safety and design; if it means keeping your phone protected 24/7, then the thickness would seem insignificant.
Buttons are still clickable and the necessary cut–outs are there, although it does limit accessibility. The ring/silent toggle right above the volume rockers are near impossible to access unless you have tiny fingers, or a really long nail. Disappointingly, the cut out for the ring/silent toggle lacked precision as there's an apparent uneven cut on the rubber.
At the back is Otterbox' textured logo, a subtle yet effective signifier that one carries a branded and durable case. Does the case feel premium? Aesthetically, within the range of cheap and classy, it'll probably rank in the upper middle.
HARDWARE 5.0/5.0
The Otterbox Symmetry Case features a dual material design that's all molded into one piece. The outside material consists of rigid plastic while rubber material makes up the sides and the inside for grip and protection. Additional linings on the rubber material give out extra grip, so rest assured your phone stays safe and snug. Even before sliding the case in, squeezing it with a significant amount of pressure didn't significantly bend it—a good sign of its toughness.
Clearly, the Symmetry series isn't as rugged as the Otterbox's more famous Defender series. It still, however, offers a decent amount of protection. Merged together, the plastic and rubber offer a one-piece construction that stylishly protects the phone from drops and scratches. The outer layer protects the phone from accidental drops and bumps while the raised rubber interior, which extends over the front edge of the phone, helps prevent unwanted scuffs on the glass.
USER EXPERIENCE 4.0/5.0
As advertized, I was able to able to easily install the case on my phone with the case's customized shaped. Day to day usage proved that it was indeed pocket-ready as it slid in and out of my pocket with ease.
Days after usage, the case's thickness became negligible. Personally, I wouldn't go for thick and bulky cases, but if it means keeping my phone protected, especially during outdoor activities, I'd gladly slip the it on.
VALUE 3.0/5.0
The phone is priced at PHP 2,250, a rather expensive price for a case. Then again, it's really safety you're purchasing here. If you're willing to spend for added protection, especially during outdoor adventures, or consider yourself as extremely unlucky or clumsy, then the case would be a good buy.
Bottomline
It pays to stay protected.
Also published in Gadgets Magazine November 2017 issue
Words by Gerry Gaviola