Legends of Runeterra is the first stand-alone game from Riot Games, the game developer that created the world's most-played esports title, League of Legends. Announced last October during the 10-year anniversary event for League of Legends, Legends of Runeterra would be the company's free-to-play digital card game based on the characters and lore of their highly successful MOBA.
League of Legends fans will feel right at home in Legends of Runeterra with most of their beloved champions making an appearance in the card game. The game also makes use of the champions' iconic mechanics and abilities as card effects in the game.
Another thing Legends of Runeterra does really well is expand the in-game lore and characters of Riot's MOBA's world. If you're into League of Legends lore then this game is heaven. Riot did their best to bring the world of Runeterra alive in this game giving a majority of card interactions with one another.
Legends of Runeterra gives the digital card game genre some brand new light. The game uses slightly different mechanics which I personally enjoyed. Current major card games use a turn-based mechanic giving players only a turn at a time to play all their cards. Legends of Runeterra takes this up a notch by having a reactive style mechanic wherein players have a chance to play their own cards after the other plays. This back and forth style of playing resembles gameplay from the MOBA wherein players attack and react on the fly to what their opponent is doing. And just like League of Legends, the main objective of the game is to destroy your opponent's Nexus which has 20 life points.
If you've played any other card game, then you'll definitely adapt quickly in Legends of Runeterra. The game uses a resource called mana to play cards. Each player has a 10 mana limit, but it does have a reserved spell mana mechanic that transforms unused mana from each round into reserved mana maximum of three. This new mechanic adds flexibility to players and provides them with potential outplay chance despite slamming an expensive card.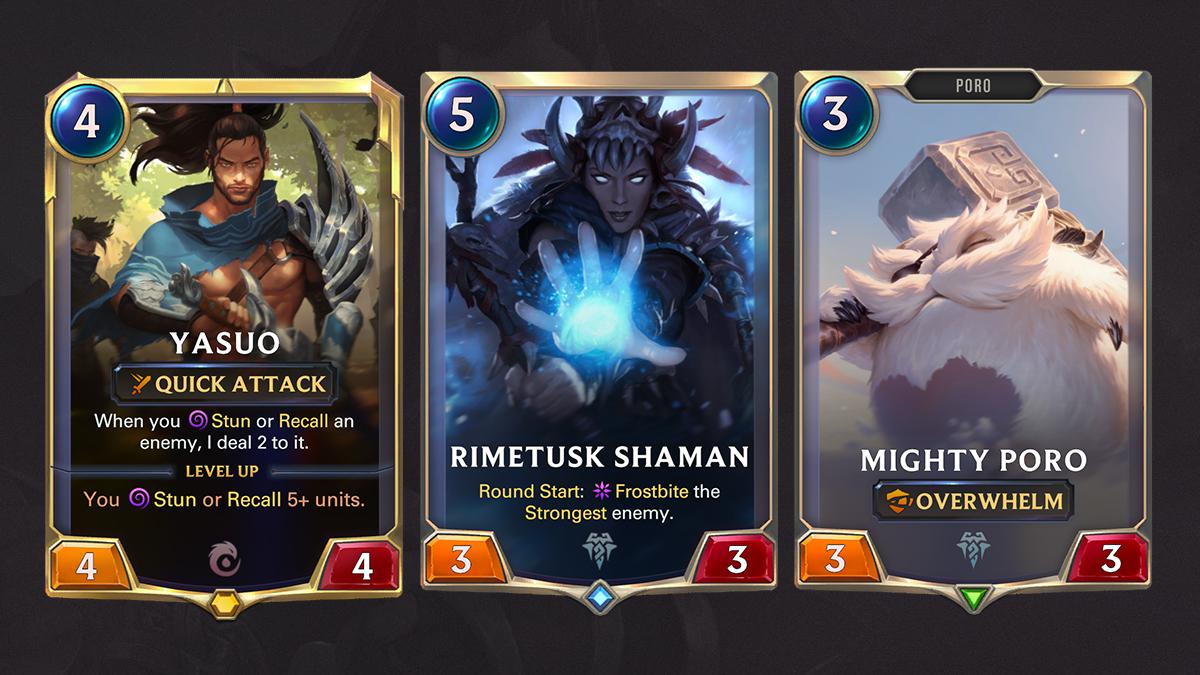 Deckbuilding is definitely one of the most interesting mechanics in Legends of Runeterra. Each deck is composed of 40 cards. The game has three different cards: Champion cards, follower cards, and spell cards. Follower cards are unit cards, and spell cards are spells that can either buff your units or damage your opponent. Champion cards are cards of champions from League of Legends. These cards are usually the win condition in the decks as they provide either the most damage or a powerful mechanic. Cards are also divided into different regions based on the regions from League. There are limits to deck-building, as the deck can only have six champion cards, and cards from only two regions can exist in one deck. Each card is also limited to three copies.
Another thing that I enjoyed with Legends of Runeterra is the game's economy. Cards can be earned in the game by simply playing. The game uses a rewards system that gives players cards as long as they continue to play and are based on earned experience points. Cards earned depend on what region you choose and can be changed anytime. If you really want a card you don't have to buy card packs and hope it's there; here you can just buy the card you want, which eliminates the paywall most card games suffer from. If you feel that the deck you want is still weak, you can test it out against an AI opponent and still earn XP to progress in the reward system.
Legends of Runeterra currently has three game modes. The Normal/Ranked mode is where you can compete with other players. In Expedition mode, you try to fight opponents using a drafted deck. And in the Challenge mode, you try to win given a scenario. This mode also serves as the tutorial mode and teaches players about the different card mechanics and how to use them to their advantage.
Overall, Legends of Runeterra is a breath of fresh air to the digital card game genre. The gameplay, economy and deck building each provide a uniqueness that distinguishes the game from its peers. The game is highly addictive and extremely fun, definitely one of the best card games I've played in years.
Developer: Riot Games
Publisher: Riot Games
Platform: PC, Android, iOS
Also published in GADGETS MAGAZINE June 2020 Issue
Words by Gabriel Pe