The BDM3201FD follows a long line of computer monitor products from Philips that offer great value for money, and I tested it out to see if it really does what it says on the tin.
Design: 4.5/5.0
By nature, I lean towards minimalism and I appreciate that the BDM3201FD is a no-frills panel mounted onto an all-metal base. It doesn't indicate inferior quality, mind you–this thing feels sturdy all throughout. The panel is surrounded by a thin border, the silhouette of which breaks only at the bottom with an angled protrusion with the Philips logo on it and a power indicator LED.
Ports are well organized and placed on either end of the back, with screw holes in the center for a wall mount. The standard mount is an all-metal base that screws quite deeply at the back. It's clean, well-built and more importantly, it doesn't stick out like a sore thumb on whatever desk it's placed.
Hardware: 4.0/5.0
The 31.5-inch display is an IPS-ADS LCD with W-LED backlighting. It has a native resolution of 1920 x 1080 at 60Hz and an aspect ratio of 16:9. Image is greatly improved using Philips Smart imaging and SmartContrast, giving a contrast ratio of 20,000,000:1 and 16.7 million colors. The monitor can connect to VGA, DVI-D and HDMI. It has built-in 5W speakers in the back and a connection for headphones.
Granted that a full LED monitor is generally accepted as a better option, it has to be considered that at this price point the image quality and wide viewing angle that the BDM3201FD offers is more or less within the same level as monitors more expensive.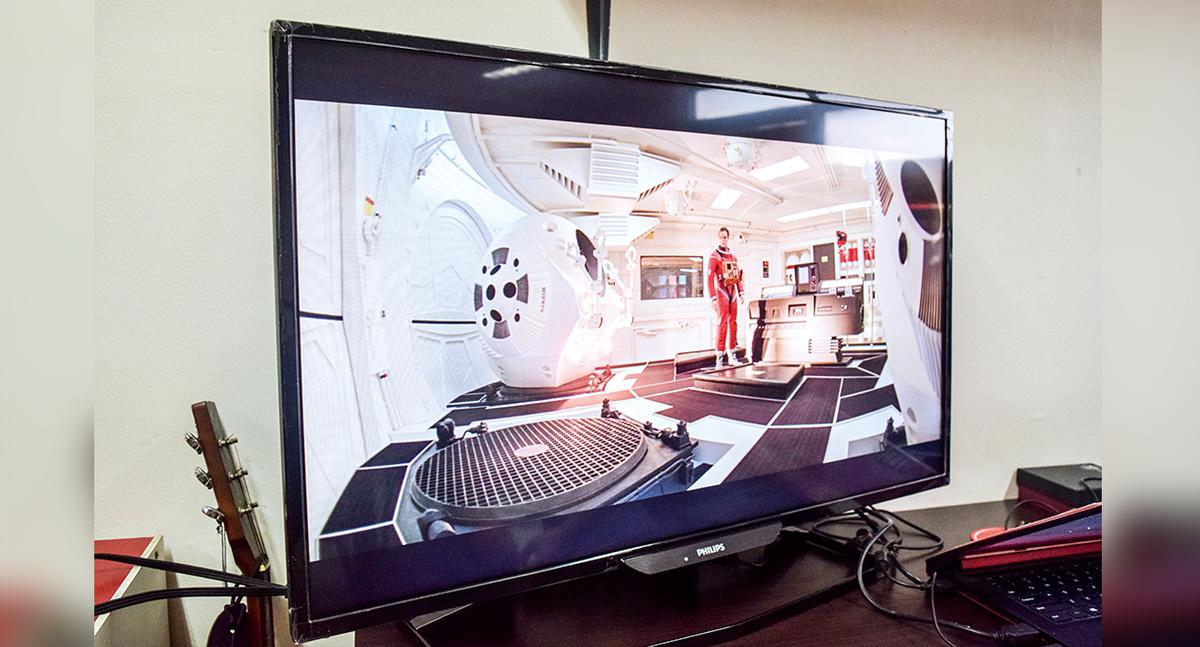 User Experience: 5.0/5.0
I'm quite an easy man to please and as long as something works well and there are no technical hang-ups, that device is a winner. And this monitor is no exception. Setting up was straightforward, and from the box the image was already solid–no tweaking required.
Should the temperature, brightness, contrast and other settings be a concern, the BDM3201FD has presets that could be tweaked more finely using an easy to pick up interface that could be accessed via the D-pad at the back of the monitor which doubles as the on and off switch.
Contrast is stark and colors are vivid and the LED backlight can produce enough illumination even in brightly lit rooms with the shades pulled back.
Audio quality on the built-in speakers is surprisingly good. The sound is directed to the front of the screen and there is no overly assertive bass sound that tries so hard to be surround sound but only really just scatters the sound around. Since bass is not exaggerated and speech is audible the speakers are perfect for watching movies or for taking audio and video calls.
Value: 5.0/5.0
This is the part where Philips does not fail to disappoint. At just PHP 14,500, the massive 31.5-inch BDM3201FD is the epitome of value with great image and sound quality for a post-reasonable device.
Bottomline: 
The BDM3201FD is an awesome monitor to use at home or office, and that price tag just makes the deal even sweeter.
Also published in GADGETS MAGAZINE November 2017 Issue.
Reviewed by Robby Vaflor