As the days roll by, it gets harder and harder for manufacturers to differentiate themselves in an increasingly saturated market. As tablets are released one after another, they tend to sort of blur together in an archetypal tablet idea. Ever on their toes, Lenovo has managed the next, actually useful, addition to what is already a very rich stable of Android devices, the Yoga Tablet 2 Pro.
Design: 4.5/5.0
Lenovo has never really been one to shy away from premium design, and the Yoga Tablet 2 Pro is no exception. With solid metal construction and a large 13-inch screen behind sturdy Gorilla Glass, this has all the feel of a premium device. Turning the device on its side, you'll see it's impossibly thin, with a round "spine" at the base, one side of which is home to the power button, and on the other side, the pico projector. Yes. It comes with a projector.
Other controls are sparse on the device. Apart from volume buttons and a slider for adjusting the projector's focus, there's really little else going on—everything happens on the large, beautiful display. To make the large screen more useful and accessible, Lenovo included a handy kickstand on the back of the device. Like the rest of the device, it's also made of metal, which is great, since it props the whole tablet up when in use. It locks in place, and is released by a button at the back of the device, and once set to a particular angle, stays there very solidly, even when you tap on the screen like a crazy person.
Hardware: 4.5/5.0
Since this device is being pushed as designed for entertainment and presentations, it comes with a pretty meaty spec. At the heart of the device is the Intel Atom Z3745 processor that runs at a top speed of 1.86GHz. Together with 2GB of RAM and 32GB of on-board storage, it should be able to hold its own with the best of 'em. The main draw of this particular Yoga is the massive 13-inch QHD (that's 2560×1440) IPS display, and rightly so. It's beautiful.
The Yoga Tablet 2 Pro has basic connectivity options. You have 802.11abgn WLAN in both 2.5 and 5GHz frequencies and Bluetooth 4.0. It doesn't come with cellular, but that's no deal-breaker, particularly given the usage scenarios you're going to have with the device. It does make up for that with an 8MP f2.2 main camera, and a front-facing 1.6MP secondary camera for video calls and the occasional selfie.
Ports are a little sparse. You have a single microUSB port (the same one used for charging), a 3.5mm audio jack, and a microSD card slot.
While the best thing about the tablet is the beautiful screen, the most interesting thing about it is the internal projector which blasts an image out one end of the spine. It's covered by some protective glass, and is entirely unobtrusive, thanks to a lens that is seated completely inside the barrel of the spine. To power all that hardware, the Yoga comes with a huge 9600mAh battery that's hidden in the spine.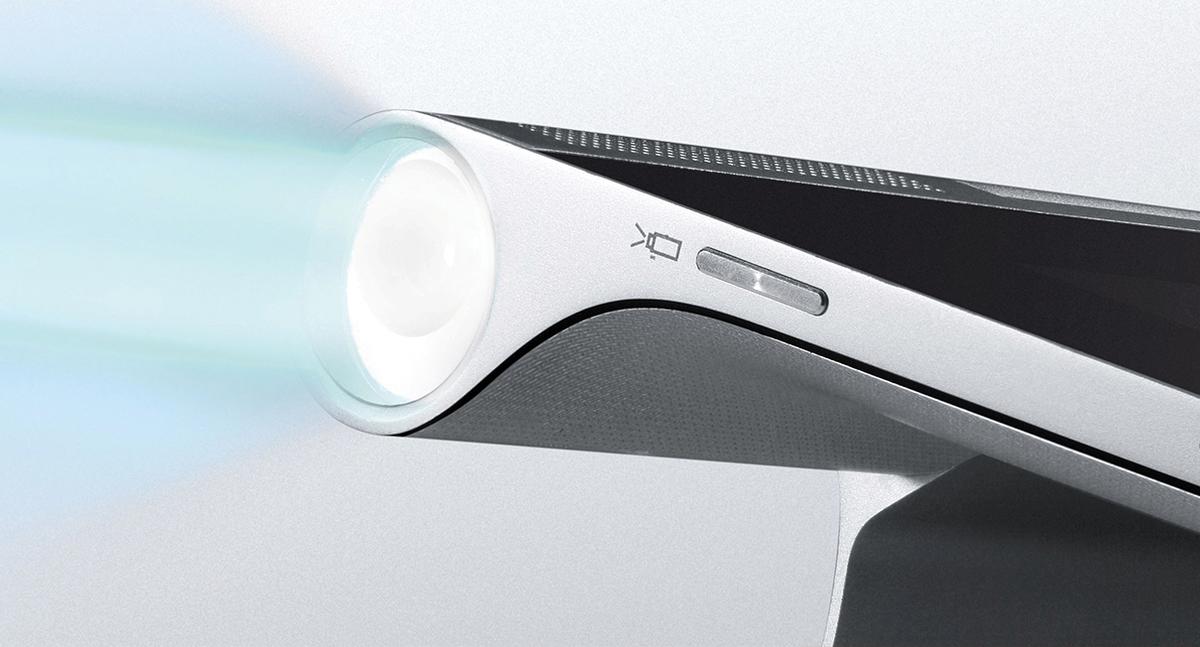 User Experience: 4.0/5.0
I had a lot of fun using it, and there were some points I completely forgot just how large the screen was. The image is just so large, you can't help but get sucked in. It's also really fast and responsive, so you aren't going to be fumbling about even while playing even some of the faster-paced games.
The kickstand is also very usable. Apart from allowing the tablet to stand almost vertically, you can also set the tablet down almost flat on the table, or higher up, as you would a keyboard, allowing you to get a comfortable typing angle, and still see that large screen very clearly.
The hardware in the Yoga is beefy, and will make short work of basic work things such as word processing, spreadsheets, and presentations, just as Lenovo has designed. While on a roadtrip for work, I decided to really get into the review, and leave my work laptop at home. I was pleased to find that this particular Yoga managed just fine. I only wish they had made a version that runs a full desktop OS, in order to better make use of the large screen.
Speaking of large screens, allow me to be the first to tell you that the projector on the Yoga Tablet Pro 2 is more than just a gimmick. Apart from automatically adjusting its orientation based on the orientation and tilt of the tablet, it has enough brightness to project an image larger than its screen, even in a moderately lit room or office (which is important because otherwise, why not just use the display?) You can have the tablet display both on the screen and the display, or just one or the other, increasing battery life and practical use even more. While you're not going to get a viewable 60-inch screen from the pocket projector, you can easily double the display size from what you have on-screen, without too much trouble.
Battery life is close to the advertised 15 hours, and I was able to manage about two workdays of use without having to plug in. Use of the projector shortens that significantly, but it's not likely you'll be constantly running it, so it's not that big an issue.
Value: 4.0/5.0
For what the device can do, what it's made for, and its unique position in a market rife with tablets that are all varying degrees of the same, Lenovo has made a great statement by adding that one different thing to this tablet. Don't get me wrong though, even without what some might consider gimmicky, it's still a solid device. Whether or not it is worth your cash depends solely on whether or not you can use the projector feature, but believe me when I say you will find every opportunity to do so.
Bottomline:
It seems like a gimmick until you actually use it.
Also published in GADGETS MAGAZINE April 2015 Issue.
Reviewed by Ren Alcantara