The Republic of Gamers, Asus' gaming brand, showcased their best wares during the yearly Mindanao Cyber Expo. Held from July 31 until August 2, Davao's biggest tech event also served as a platform for tech talks and seminars, as well as booths from other IT companies.
After conducting a short brand and product presentation, Asus ROG allowed the crowd to tinker with the items on exhibit, including the Asus ROG G20, G501, and G551; Asus Strix GTX 970 DirectCU II OC; and Strix gaming peripherals.
The G501 is powered by a 4th-generation Intel Core i7 processor and the new Nvidia GeForce GTX 960M graphics for the ultimate mobile gaming experience. The powerhouse is tamed by an Asus-exclusive Hyper Cool technology with dual independent fans for cool and stable performance for any workload. Meanwhile, the G551 also features a GTX960M video card and 16GB of on-board RAM for gaming and multi-tasking. Both notebooks have a 15.6-inch FHD (1920 x 1080p) for vivid multimedia visuals.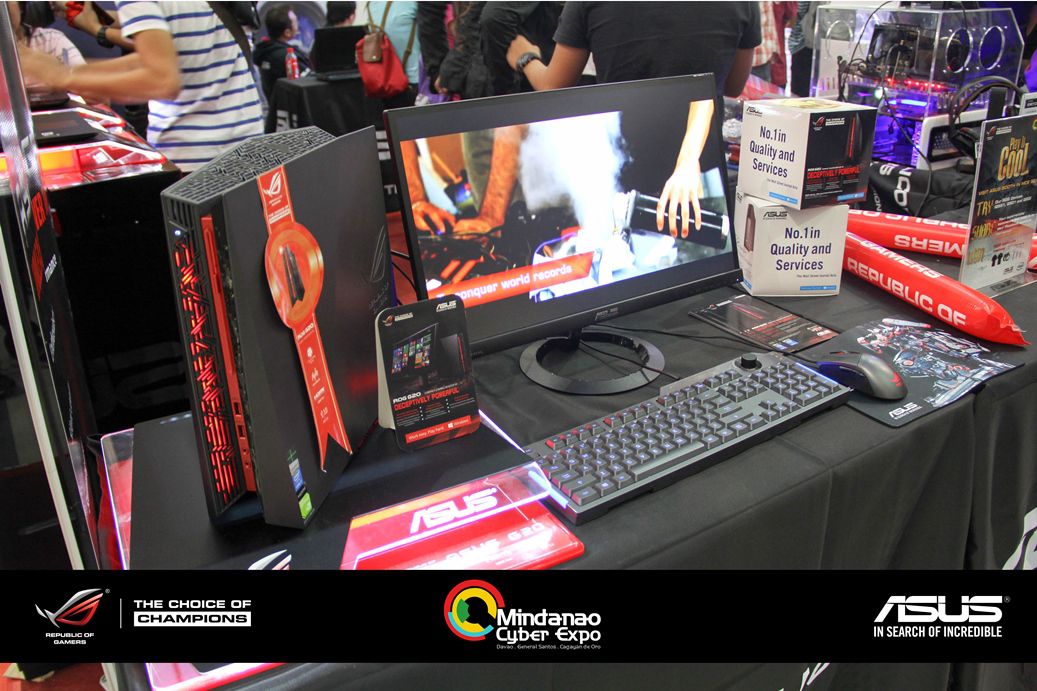 On the other hand, the ROG G20 is a compact gaming desktop with a mere 12.5-liters of volume. It boasts of an Intel Core i7 processor and an Nvidia GeForce GTX 745 GPU, all in a bold and uniquely ROG case with matte black finish accented by aggressive lines and customizable lighting. Due to its form factor, innards, and efficient 10W power draw in Eco Energy mode, it was lauded with the Best Choice of the Year and Golden Awards at Computex 2014.
The Strix Claw gaming mouse, Strix Tactic Pro keyboard, and the Strix Glide mousepads also made an appearance during the expo.
Finally, the Asus Strix Graphics Cards all feature either Direct CU II or III cooling solutions for stable performance and optimal noise on stock and overclocked speeds. They also strut Asus Auto-Extreme, improving the integrity of the cards with reduced strain, while making them tough as nails using aero-space grade Super Alloy Power II components.
The prices for the Asus Republic of Gamers products are as follows:
Asus ROG G501 at PHP 59,995
Asus ROG G551 at PHP 69,995
Asus ROG G20 at PHP 63,995
Strix Claw at PHP 2,650
Strix Tactic Pro at PHP 5,270
Strix Glide (Control/Speed) at PHP 780
Asus Strix GTX 960 DCU2 OC at PHP 10,960
Asus Strix GTX 970 DCU2 OC at PHP 19,820
Asus Strix GTX 980 DCU2 OC at PHP 31,200