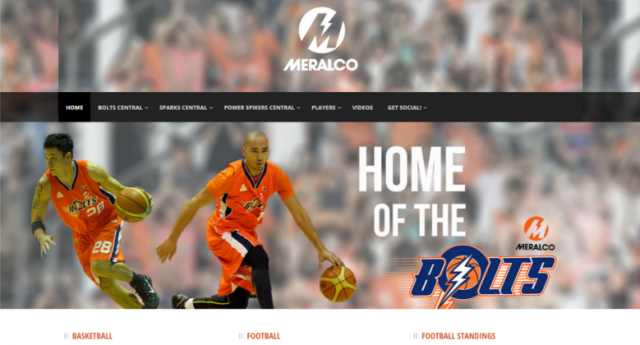 Meralco has launched the One Meralco Sports website, a page that aggregates all three Meralco sports teams—the Meralco Bolts in the Philippine Basketball Association, Loyola Meralco Sparks in the United Football League, and the Meralco Power Spikers in the Shakey's V-League—under one portal.
One Meralco Sports will give fans easy access to the teams' news, games, scores, photo and video galleries, player profiles, exclusive interviews, feature stories, club developments, academy updates, social responsibility efforts, training or player challenge videos, and monthly look-backs.
The website also has additional features designed to drive community involvement, such as a social media feed which displays the social media activity of all three Meralco teams in different platforms; and social media wrap which highlights the best Facebook, Twitter, and Instagram posts from the players, coaches, and management.
To give back to the community, Meralco's sports teams have been holding various CSR activities throughout the country. The Meralco Bolts regularly hold the Basketboys training program for children; the Loyola Meralco Sparks stage numerous football courses in Manila and in conflict-stricken areas in Mindanao and Palawan; and the Power Spikers will be holding volleyball clinics in the coming months.
Meralco's management is hopeful that through One Meralco Sports, the company's position as one of the most prolific supporters of Philippine sports will be solidified.