By Gabriel Pe
After its global unveiling in January, Vivo finally brings its futuristic concept smartphone to the Philippines. The APEX 2019 is the firm's first ever 5G-enabled phone and also the first without physical buttons and holes.
APEX 2019 runs on Qualcomm's Snapdragon 855 processor and has a massive 12GB of RAM and 512 GB of internal storage. It also has rear two-camera setup. The brand has not provided official specifications given that what was launched was a concept phone.
The main feature of the APEX 2019 is what Vivo calls a Super Unibody design that completely removed any functional physical buttons for turning the device on and holes either for charging or earphones use. The idea is to use the display for all the functions such as turning it on and off and the rest is done wirelessly.
The whole phone is built on the concept of minimalism with Vivo going as far as using a single piece of glass to cover the device. Vivo calls its new glass design, G2 Glass Surface, which makes use of two different processes to give it a durable and elegant finish.
The APEX 2019 utilizes Vivo's Touch Sense technology meaning it uses pressure sensors and capacitive-touch around the front and frame of the phone. The sensors determine where the user is pressing the frame and the capacitive touch can determine the location of the touch. Linear motors inside the phone also add to the accuracy of each touch.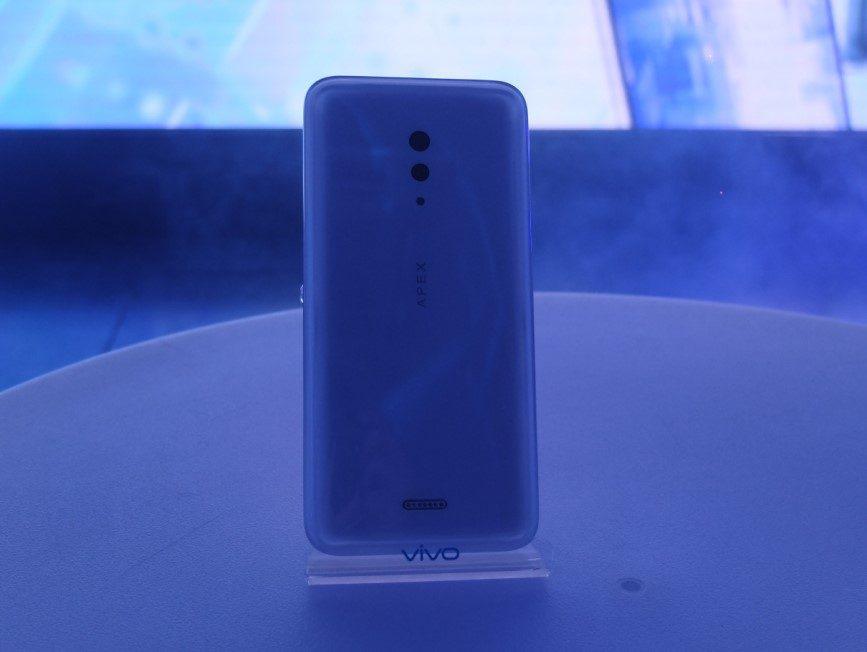 Without the traditional USB port, the APEX 2019 uses a magnetic port, called MagPort, at the back for charging and data transfers.
The new design also opts out of a traditional speaker unit. Instead, it uses screen vibration technology on the screens and the phone's body to project sounds. Aside from screen vibrations, Vivo has expanded its in-display fingerprint scanner, which is now fitted on the whole screen using the Fingerprint Light Function. The scanner uses the display's pixels to light up the touch point to obtain a clearer fingerprint image. Additionally, the new in-display fingerprint sensor can read two fingerprints simultaneously which means users can now use a two-finger unlock method to secure the phone.
Despite the number of new features and innovations, the Apex 2019 won't be hitting the markets as a consumer unit. Instead, Vivo wants the APEX 2019 to become a benchmark of what's possible in future phones.