It has been a while since I climbed on almost a weekly basis, but of all the lessons I learned on the trail, the one that stuck with me the most is "pack light." Every gear you carry up has to be carried back down, so every little thing counts. During our recent sojourn to the wilderness of Daraitan, Rizal, I once again defaulted to my old training, and decided to pack as little as possible for the hike. Fortunately, CamelBak had us covered. Along with a whole bunch of water bottles, we had with us the M.U.L.E NV, (which I will refer to as the MULE NV from here on out) a small, light hydration pack with enough storage for a quick assault.
Design: 4.5/5.0
The MULE NV is a handsome backpack. It's a very nice combination of black, and "atomic blue" as per the catalog. The combination just screams "adventure" so you won't be out of place in the wild. It's part of the company's Mountain Bike collection, and as such, is a little smaller than some of the day packs you are likely to see. While it's mostly meant to be worn while on your two-wheeled steed, it is also the perfect size for a quick climb up and down, particularly if you are like me, and do everything you can to pack light. It's made of sturdy ripstop nylon, and weights a surprisingly light 1 pound, 5 oz., or just under 600 grams. That's great news, as you can use the weight you save to bring other important gear.
Hardware: 4.0/5.0
The MULE NV gives you 12L of space, split over a main compartment, a handy front pocket, and a smaller top pouch for storing small, important items. It also has handy pouches on the belt, if you need to keep other items close, for easy access.
The harness is thin and light, which helps keep the air circulating, and the back features CamelBak's independent suspension, with perforated foam, so you are comfortable and cool, even when the action gets intense.
Being a CamelBak product, it wouldn't be complete without a hydration bladder. The MULE NV has a 3L of space for a bladder, and an extremely handy magnetic tube trap, so you can keep the bite valve in control, but within easy reach.
In case the weather turns, the bottom of the pack hides a bright yellow rain cover that's very easy to access and put away, and totally unobtrusive.
User Experience: 5.0/5.0
Like I said at the start of this review, I put a premium on packing light. The quick hike we had in store was only about 3 hours both ways, but it was mostly over punishing terrain, scrambling over rocks and boulders. Because the MULE NV is designed for use on a bike, it's wonderfully compact, and rides very close to the body. Not once, even through gnarly foliage, did I snag. Even though it stays close to your body, the pack is designed well enough to not be stifling. I like to keep my gear snug, and even in that state, there was enough room to let the air circulate around my back and keep me cool. Speaking of snug, I was pleasantly surprised to find that even by the end of the hike, the pack had not shifted or loosened. Should you use this on singletrack, I guarantee you won't have any issues with the pack shifting during use. Just set the sternum strap and waist strap snugly, and you'll be fine all day.
The pack had enough room for a complete change of clothes in the main compartment, along with lunch, and a few other essentials, with a lot of room to spare. The zippered belt pouches were a great place to keep a few candies, my GoPro (though it was a snug fit), or some emergency cash that you would like to keep within easy reach. The top zippered compartment kept my phone safe in a soft, velvety embrace more than high enough so that you don't have to worry about drowning it during all but the most intense water crossings.
While traversing the river wasn't a problem since we stayed in the shallows, we were hit by foul weather. Actually, "foul" is putting it mildly. There were points when the only word to describe the rain was "driving." Fortunately for me (and my gadgets), the rain cover was extremely easy to get to and deploy. The rain came fast and hard, leaving little time before we were drenched. The bright yellow rain cover was out and on in a snap, and stayed on securely. By the end of the trip, my belongings were bone-dry.
My favorite feature apart from the bag itself was the Magnetic Tube Trap. It held the tube in place very securely, and even though I was mostly flailing my arms around to try and grab on to whatever I could, it stayed right there, ready to give me sweet hydrating relief from the tiring trail.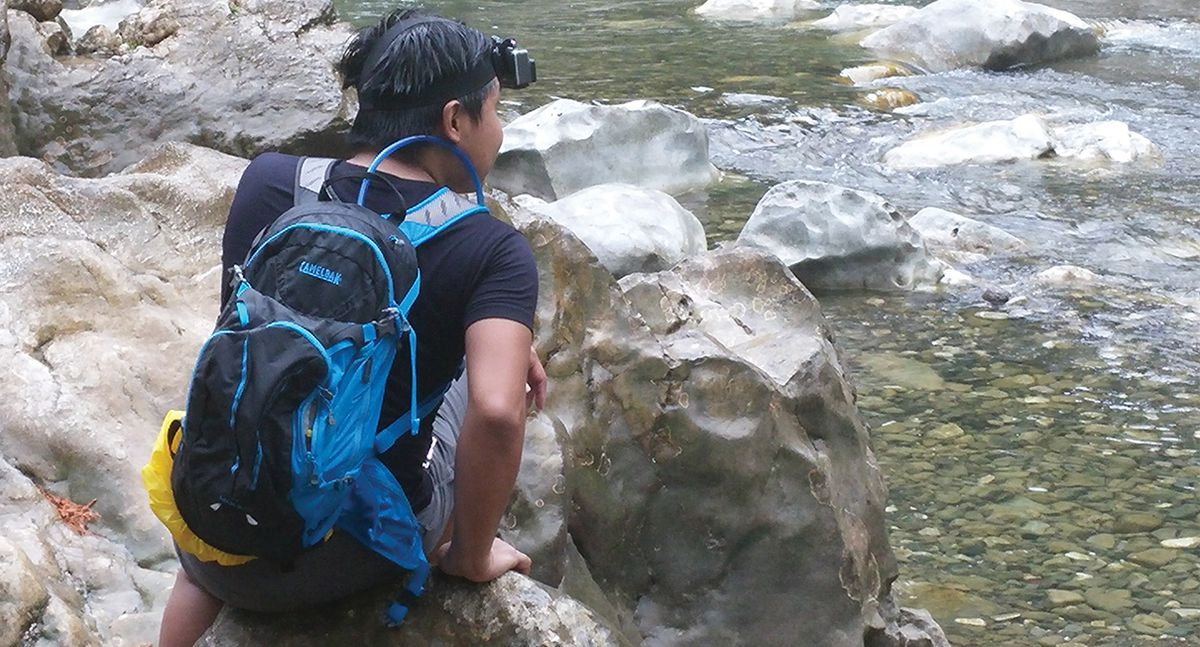 Value: 4.0/5.0
There are few packs that are built as well as this. It's rugged, useful, and extremely comfortable, plus the execution of the hydration system is beyond any other out there. You'd be pressed to find gear like this, no matter if you hit the trails on two wheels, or your own two feet.
Bottomline:
If you're out on adventures a lot, and want to keep your gear down to a minimum, you should seriously consider the MULE NV.
Also published in GADGETS MAGAZINE April 2015 Issue.
Reviewed by Ren Alcantara