The emergence of countless social media platforms has given people the ability to communicate and express themselves in a whole new way. If there is one Internet trend that has taken the digital world by storm in the last few years, it has to be video blogging or "vlogging." In fact, in a Visual Networking Index (VNI) forecast conducted by Cisco, one of the largest tech companies in the world, predicted that by 2021, 82% of web content will be videos.
Designed to be friendly enough for first-timers yet packed with professional, cutting-edge functions, the Canon EOS M50 is the game-changing addition to Canon's growing mirrorless cameras that can help vloggers transform their ideas to life, and take their vlogging journey to new heights.
"Vlogging has given us a platform to share stories that we hope can reach and inspire a larger community," shared model and fitness enthusiast, Hideo Muraoka. "When you're travelling often like me, you'd want a compact yet feature-packed mirrorless camera that allows you to adapt to the photo and video opportunities while on the road. This is exactly why EOS M50 best fits me: it's an ideal and versatile camera that fits my vlogging lifestyle."
The Canon EOS M50 boasts of having an improved Dual Pixel CMOS Auto Focus with a 24.1-megapixel sensor, covering a larger AF area with up to 143 AF points that provides fast and accurate focusing even when capturing moving subjects. Compatible with the full range of Canon EF-M mirrorless lenses plus over 70 Canon EF and EF-S lenses using a mount adaptor, this impressive entry-level camera steps up to a full-featured camera that will capture moments with beautiful color and detail.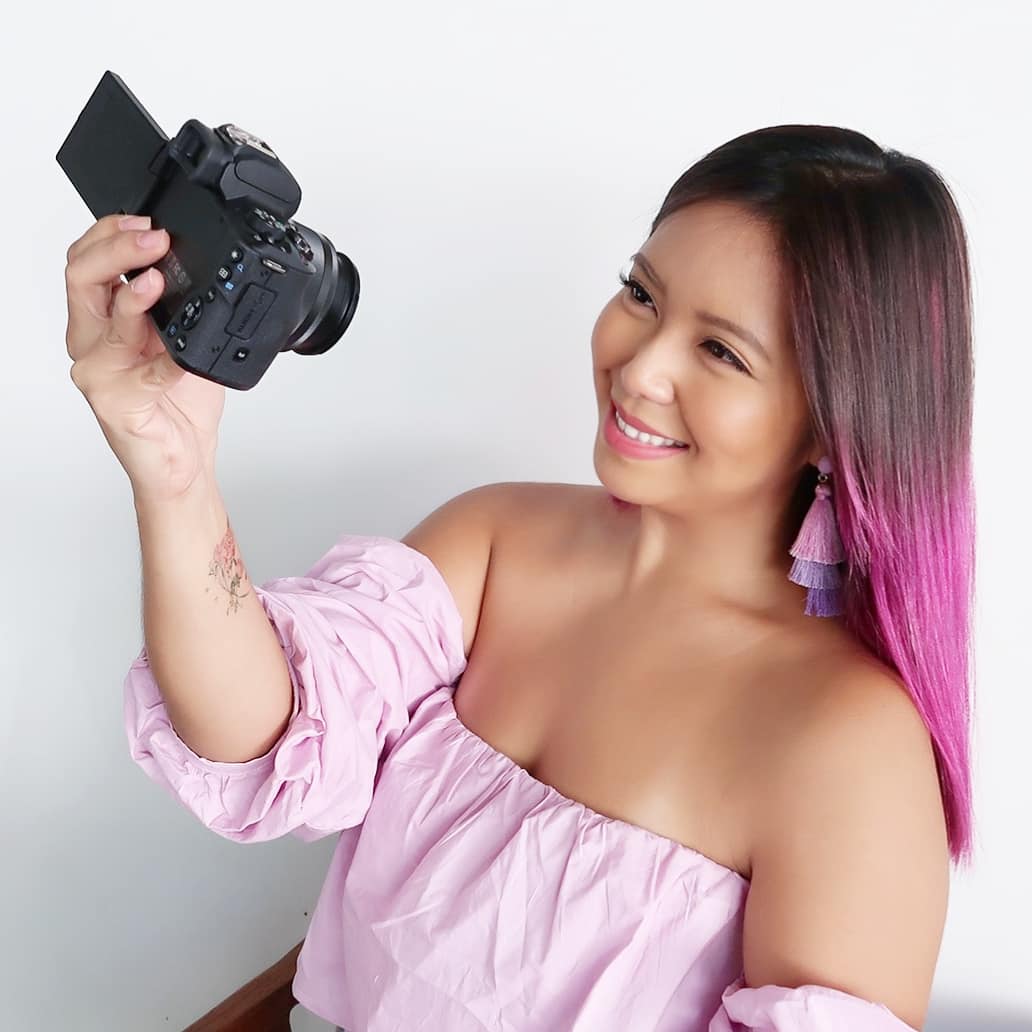 Create Impact Real-Time
Capable, compact, and connected, the EOS M50 is the versatile, feature-packed camera ideal for agile content creators.
"The key for me to vlogging effectively these days is to be able to create and curate compelling, relatable content real-time," shared professional makeup artist and beauty guru Raiza Contawi.  "The opportunity to connect and move people through content that I know will be valuable to my followers is what keeps me inspired to keep doing what I'm doing."
With built-in Wi-Fi, NFC, and Bluetooth, creators can also easily transfer footage from the EOS M50 to their smart devices as they shoot, giving them the power to instantly share stories captured in vivid moments to their community.
Tell Stories with Precision and in Vivid Colors
Boasting a vari-angle touch screen with fully articulated hinges and built-in Electronic Viewfinder (EVF), the EOS M50 delivers an intuitive shooting experience that allow its users to easily find creative angles while ensuring a highly accurate image representation of what is seen by the camera sensor.
"I film several of beauty tutorials and lifestyle content in a month for my readers," said lifestyle vlogger Say Tioco. "And when you commit to something like this for your community, you wouldn't want to worry about video or photo quality. It sounds cheesy but you have to be able to trust yourself as well as the performance of your tools to nail that shot from any angle with a solid camera that's light enough to carry around."
For professional video bloggers, the EOS M50 is definitely a dream come true. Compact, stylish, and amazingly light weighing only at 387g, the newest EOS M50 is primed for shooting stunning true-to-life imagery with its Ultra HD 4Kmovie shooting at a frame rate of 23.95p / 25p. Recording of 4K time lapse movies is also supported.
Get thekit for Php44,998 SRP at Canon dealers nationwide until July 31, 2018 to get a free mount adaptor and Php800 e-gift certificates via the Canon Red App, or purchase the EOS M50 Vlogger's Kit exclusively at www.lazada.com.ph. Lazada buyers get to enjoy a special discount of P6,000 when purchasing the  Vlogger's Kit that comes with the all-new EOS M50 in sleek black color, an external microphone, and a wireless remote controller.