Travel is now more affordable. Asian destinations are the most affordable and best places to go to on long weekends. The US is also a great place to visit especially when you have friends and family over there. But for me, European destinations are truly fascinating.
Granted, a European holiday will definitely be more expensive than an Asian holiday, but in my experience, with a lot of planning, extensive Internet research, and choosing wisely, a one-destination European holiday can be very affordable.
If you plan to go to only one European destination, I highly recommend Madrid and the nearby cities. It has awesome museums, historical sites, spectacular architecture, and great food—everything you can expect in a cosmopolitan city with a very laid-back atmosphere.
Plan your vacation for at least five days. Make Madrid your base. To save on accommodation, consider booking through AirBnb rather than a regular hotel. This is what I and four friends did when we went to Madrid last September—we rented a 2-bedroom apartment just a few steps from Gran Via, and it only cost us PHP 5,000 each for a 4-night stay—that's about the cost of only a one night stay in a 3-star hotel in that area.
MADRID
From Gran Via, take a hop-on hop-off bus to get the lay of the land. Madrid has a lot of tourist attractions. You should definitely visit the spectacular Royal Palace and grounds—be prepared to take a lot of photos and selfies. Plaza del Sol is a great place to visit day or night—there's always some activity there; and whether you're a guy or a girl, stop by Casa de Diego and buy your mom a Spanish fan—
I guarantee that she'll love you for it. If you like art and paintings, you should not miss going to the Prado Museum—it has an awesome collection. Just remember to book your tickets online so you skip the lines for there's usually a long line, especially on weekends.
Eating in Spain can be easy-going and cheap in Tapas bars or quite expensive in fine-dining restaurants. You should definitely try tapas bar hopping. It can be cheap as you get one free dish for every drink you order. There are also plenty of Museo de Jamon and Jamon Iberico shops dotting the shopping centers—these are good places to buy ham bits as snacks as you walk around.
But there are two places that you must not miss: Chocolateria San Gines located at Pasadizo San Gines (www.chocolateriasangines.com) for its churros and chocolates. They are open 24 hours but go on off hours because there's usually a long line, but truly worth the wait. The chocolate they serve is thick, hot, and delicious. Made for dipping the churros, you end up slurping down the rest of the chocolate even after all the churros are gone.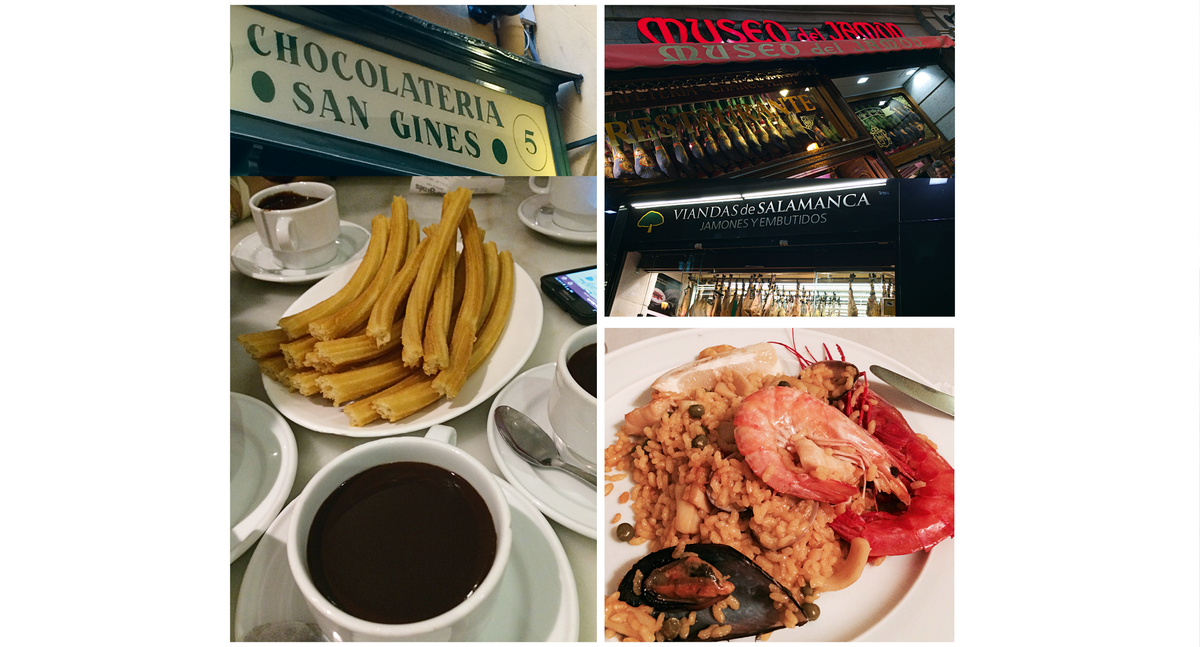 Restaurante La Barraca (www.labarraca.es) has an unassuming entrance along Calle de la Reina, a side street parallel to Gran Via but in my opinion serves the best Paella in Madrid. For the first course, order Callos—I promise you'll drool every time you remember how your meal tasted. You'll have to make reservations though for they are very popular with both locals and tourists.
Exploring Madrid will take at least two days, with plenty of shopping opportunities and lots of food adventures. From Madrid, if you drive north, you can visit Avila and Segovia; if you drive south, you end up in Toledo. I'll tell you what's interesting in these places next time.
Also Published in GADGETS MAGAZINE December 2016 – January 2016 issue
Words by Presy Alba