While I generally get lights that are able to use conventional, grocery-store batteries, those usually leave one wanting in either output or burn time. My latest use case: a flashlight to be used on an electric scooter–demanded more than any of my conventional choices could deliver, and as such, I had to make the jump to something that had a little more output and stamina. I needed capacity and power density only 18650 could deliver, so I went straight to my go-to brand of late: Olight.
One of their most recent offerings, the Olight S2R Baton II had just what I was looking for. It blasts a powerful 1150 lumen beam of light that has the perfect amount of spill for use as a scooter headlight, sustained burn time in high 400 lumen mode that runs hours rather than minutes, and is still just about the size of my older AA/14500 light.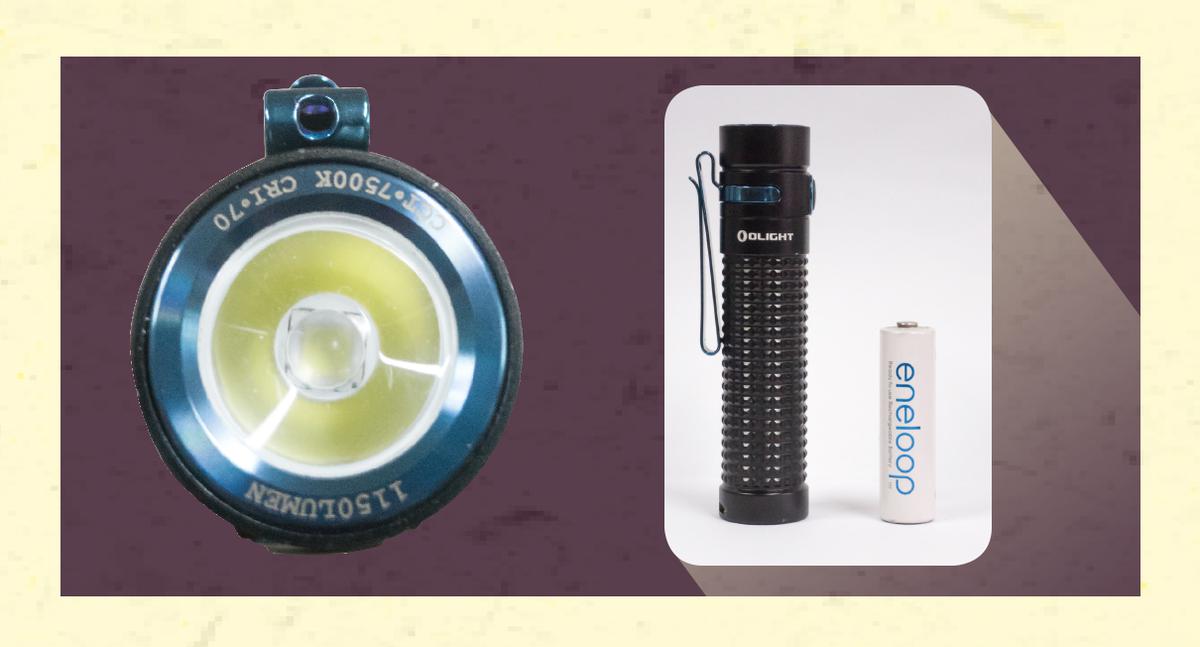 Design-wise, the Baton II does things a little differently from its predecessor. The knurling is larger, more raised, and offers a much better grip than the older style, but still remains rounded enough to keep from immediately shredding the pocket of your jeans. As a bonus, you even get two clips: one in the usual black, and another in what I will now refer to as Olight blue.
Olight has also included compatibility with their new magnetic charging cable which just snaps on to the bottom of the light, and delivers greater current for decreased charging speeds. It's an improvement over the previous version in every way. Bear in mind though that the charging cable will only work with the included 18650, 3200 mAh battery, as it has a special terminal to accommodate the system.
The numbers on the light are impressive. Maximum output is 1150 lumens, for 2 minutes at a time, and 230 meters of throw. The next level is significantly dimmer, at 400 lumens, but the light can keep this up for a staggering 4 hours at a time. Next is 120 lumens for 14 hours, then 15 lumens for 100 hours, and .5 lumen for a solid 60 days of light. Modes are selected by holding down the power button, or you can go straight to its maximum output with a quick double press. A triple press will activate strobe mode, if that's your thing.
The light is slick. Despite having an 18650 power source, it doesn't take up a whole lot of pocket space, thanks to the short emitter head. The clip offers great retention, and rides very deep in the pocket, so it doesn't constantly knock into things, and has a smaller chance of snagging. Emitter-down carry is of little utility though, as keeping it in that orientation leaves half the light sticking out, just begging to fall out of your pocket into oblivion.
I'm a fan of the new knurling on the shaft. It offers superb grip, without being too detrimental to fabric or skin, and feels totally secure in the hand. The clip has been improved vastly. It now stays firmly in one orientation, and no longer spins around the outside of the light thanks to channels in the shaft that keep it fixed in place, thereby keeping the power button in the same spot all the time, which was a constant source of frustration in the previous version. The button remains wonderfully tactile, and gives positive feedback, and a little LED inside the button lets you know roughly how much power is left in the battery so you aren't left unexpectedly in the dark.
While 1150 lumens with 230 meters of throw phenomenal, 400 lumens is a much more practical level to use on a regular basis, even against a reasonable amount of ambient light. This is the mode I use the most, and thankfully, the light does have a memory function that stores the last used output level and runs that when you switch the light on. With intermittent use, burn times are a little better than advertised, coming up to a bit more than four hours of cumulative use on 400 lumens.
For a daily use light, this ticks all the right boxes. While it's not as small as my usual Baton Mini, I greatly appreciate the additional burn time it allows, as well as a better fit in my hand, particularly when gloved. The fact that the clip keeps the power button in the same spot in my pocket all the time is a huge bonus, and one that I greatly appreciate.
Overall, this is a light that has a place in your daily arsenal if you have a little extra room. The peace of mind from having the extra capacity, convenience of magnetic charging (that is by the way compatible with the older cables), and updated clip design make it a worthy addition, particularly if all you have at the moment is a CR123-powered light.
Words by Ren Alcantara
Art by Jael Mendoza
Also published in GADGETS MAGAZINE February 2019 Issue