PLDT wireless unit Smart Communications, Inc. capped the National Disaster Resilience Month in July with the final run of the #SafePH Disaster Preparedness digital caravan in Metro Manila,  by offering life-saving tips on how to prepare for disasters and how to handle emergencies.
"We at PLDT and Smart are here to help the government achieve its urgent and development objective of building resilience into the country's economic recovery, through digital connectivity. Together, let us learn from the experts so we can equip our communities, especially our students, with the tools they need to help build a pandemic- and disaster-resilient Philippines," said Catherine Yap-Yang, group head and first vice president of Corporate Communications at PLDT and Smart.
#SafePH is Smart's long-running advocacy program that helps promote resilience among communities. The initiative is particularly helpful for residents living in high-risk areas as it teaches them how to prepare for and respond to natural calamities and man-made disasters.
Increasing one's chances of survival in emergencies begins with being prepared. Louie Domingo, director at Emergency Management Center, encouraged #SafePH attendees to always carry tools and supplies that could later on prove to be lifesavers. He said these items should easily fit in our bags or in our pockets. 
First on the list is a flashlight. Domingo said disasters can happen at night and being aware of our surroundings is important to avoid injuries and see what can be used. Cutting tools like a pair of scissors can be handy, too. He noted that in most emergency situations, there's always a need to cut something — be it a rope, a string, or a piece of cloth. Another item to carry is a whistle to attract attention. Mobile phones are a necessity. We can use this to call our loved ones to update them of our situation and their Global Positioning System (GPS) capabilities can also help pinpoint where we are. 
In the face of the COVID-19 pandemic, sanitizers like alcohol and other approved disinfectants have become part of one's everyday items. These can be used to sanitize our hands and other surfaces to protect us against infection. With the current threat of the coronavirus, Domingo encouraged participants to always wear a face mask. To add another layer of protection, he suggested wearing a face shield as this limits our tendency to touch our face.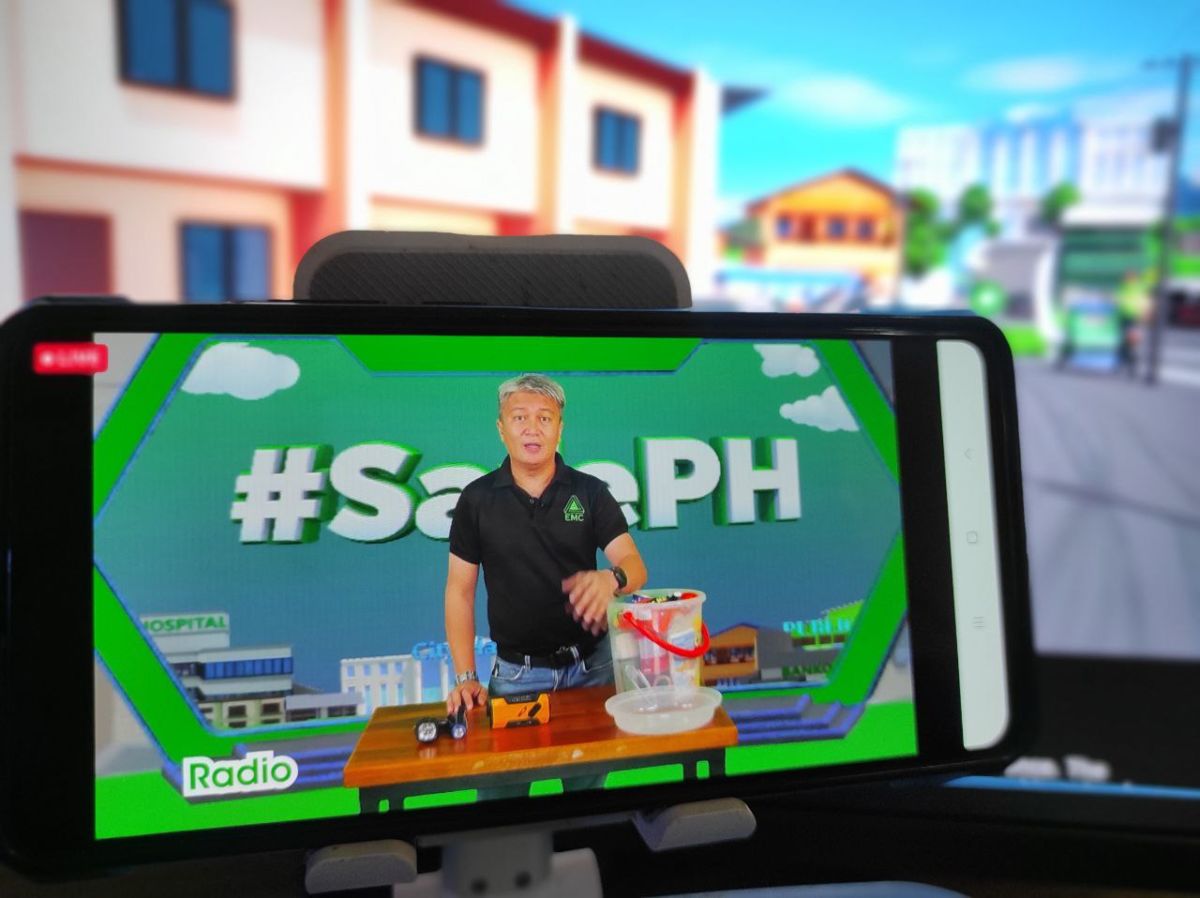 Domingo encouraged the #SafePH participants to prepare an "Emergency Balde" or "E-balde" at home to take with you in times of emergency. The 'E-balde' can also be stored in your car or your office. 
"The 'E-balde' can be personalized for your own needs. The rule here is, if you think it's important, put it in. But make sure that you will be able to carry your 'E-balde' with you when it's time to evacuate," reminded Domingo.
So, what goes into your 'E-balde'? Domingo suggested putting in multi-purpose devices like a portable radio that can be powered by a battery, solar, or by cranking. These devices can also double as a power bank and they often come with a light too. 
If your radio does not come with an illuminator, then a flashlight is needed. Headlamps are preferable because they free the hands, helpful when carrying items or persons.
You'll also need a lighter or fire steel to start a fire to cook or warm the food, boil water or provide heat and light. Fires can also help rescuers find you. 
Domingo reminded #SafePH participants to include canned food preferably those that are preserved in oil. He said that other than being a temporary source of nutrition, these can also be used as makeshift lamps. He said you can make a wick by dipping a piece of cloth into the crack of the can making sure it's saturated in oil, then lighting it. 
Potable drinking water can be a problem during calamities. To address this, Domingo said to include a liter of water in a plastic bottle in your 'E-balde'. The empty bottle can be turned into an improvised water filtration device. Simply cut off the top part of the bottle at the shoulder. Invert it to form a funnel. Drill a small hole into the cap and insert a piece of cloth at the bottom of the funnel and on the cap, making sure it's snug. Place the assembled part on top of the bottle's body. Leave it outside to catch rainwater. The cloth will filter out debris and sediment as water flows into the bottle. Purify as needed. 
The #SafePH digital caravan also discussed Basic Life Support and First Aid. Von Ryan Ong, acting manager for the Safety Services National Headquarters of the Philippine Red Cross, shared modifications to First Aid and Cardiopulmonary resuscitation or CPR in consideration of the ongoing coronavirus crisis. In the case of CPR, pre-pandemic techniques required ventilation or breathing into the patient's mouth. But because of the infectious outbreak, Ong said that the organization now suggests hands-only CPR.  
Dr. Miguel Mantaring, medical officer IV for Health Promotion Bureau of the Department of Health, explained COVID-19 including its symptoms, how it's transmitted, those who are at risk for severe illness, as well as environmental risk factors like crowding, poor ventilation, confined indoor spaces.
Dave David, chief of Marikina's CDRRMO Rescue 161, shared how the city responds to flooding threats by the Marikina River. David said that Marikina residents know what to do when the water level of the river reaches a certain height. He added that communities know which shelter to go to once the city implements evacuation.
"People have been asking Marikina officials if we are ready for another (Typhoon) Ulysses or another (Typhoon) Ondoy. The answer is no, we can never be ready. That's why we are always preparing for the worst. We always find ways to improve our system," said David.
Social Work student Zoe Victorio said she was grateful to have participated in the caravan, "The knowledge learned from this program will greatly help us in times of disaster. I hope everyone supports the initiative so we can prepare for calamities."
The #SafePH caravan had four runs in July and was attended online by more than 17,000 participants across the nation.
"At Smart, we are committed to continuously develop and deliver technology-abled solutions and services so we can live smarter and help build a safer and more resilient Philippines, and consequently, a #BetterWorld," said Gia Palafox, Smart FVP and head of customer development for NCR. "We hope you have learned a lot from our discussions because these lessons might save you or your loved ones someday."
The digital caravan started out as the TNT Tropang Ready back in 2016. Before the pandemic, Smart successfully rolled out the caravan in seven universities educating more than 8,000 students and school officials on disaster preparedness.  
The initiative is part of PLDT and Smart's #SafeandSmart advocacy, which promotes preparedness and immediate response through network resilience, continuous availability of communication services, mobile solutions, and activities, and relief assistance to help communities mitigate disaster risks. The initiative also underscores the commitment of PLDT and Smart to attaining the UNSDGs, particularly SDG #11: Sustainable Cities and Communities.