At Schneider Electric's Philippine Country Finals of Go Green in the City 2018, De La Salle University-Manila bagged back-to-back victories with Team Green Goldies' E-Hub project.
As the leader in the digital transformation of energy management and automation, Go Green in the City is Schneider Electric's annual global business case challenge aimed at empowering students. Through the competition, students are encouraged to unleash their skills and creativity in creating the next big innovation to promote smart cities and green energy management. Topics such as sustainability and inclusivity, the digital economy, smart supply chain, cybersecurity, and no boundaries or bold ideas for going green help mobilize them in raising awareness on and addressing global problems.
While ideas are produced by students, Schneider Electric also has participants learn from industry leaders and experts. Through Go Green in the City, the company also hopes to foster a collaborative environment between schools.
"Through Go Green in the City competition, we aim to empower the youth by letting them exercise their creativity as they develop green and sustainable ideas. Go Green in the City is their platform to share their concepts and ideas that can help make a Smart Nation out of the Philippines and other countries by embracing digitization, innovation and sustainability. In recent years, the Philippines has consistently ranked in the regional and global competitions. In 2013, we took home the global championship. In 2015, the Philippines grabbed the third prize of the global competition. And for 2014, 2016 and 2017, our local teams have been strong contenders in the regional finals. So for this year, let's aim to continue this streak and secure a podium finish at the global finals, if not the grand prize. We truly believe that young Filipino talents have what it takes to rise as global leaders of innovation and sustainability," said Alexandre Vermot, country president, Schneider Electric Philippines.
On the 8th installment of the global case challenge, Schneider Electric was able to gather over 400 entries nationwide. The schools that qualified for the Philippine Country Finals include: Syd Ian Matthew De Ama (Far Eastern University) and Chelsea Kate Lavilla (University of Sto. Tomas) aka Team Foodies; Don Emmanuel Santamaria and Fae Nicole Serrano (De La Salle University-Manila) aka Team Green Goldies; and, Earle Kit Sanchez (MAPUA Institute of Technology) and Kathlyn Mae Yap (De La Salle University-Manila) aka Team OffTheGrid.
Judging and evaluating entries were Schneider Electric Philippines country president Alexandre Vermot, Schneider Electric Philippines CFO Douglas Luiz De Camargo, Philippine Energy Efficiency Alliance president and Blue Sky Energy Corporation CEO Alexander Ablaza, Philippine Green Building Initiative executive vice president and COO Amado De Jesus, Jr., and ABS-CBN Lingkod Kapamilya Foundation, Inc. – Bantay Kalikasan program director Jen Santos.
Don Emmanuel Santamaria and Fae Nicole Serrano from Team Green Goldies of the De La Salle University-Manila won with their e-Hub project. This follows the 2017 Country Finals win of DLSU-Manila students Iliana Benice Tan and Aaron Jules Del Rosario who secured the first runner-up spot in the regional finals with their Glass X project, a design that absorbs the heat being received by building from the sun and converts it into energy for a building's own cooling system.
Team Green Goldies' E-Hub project is an application that packs all things renewable into one mobile platform. The app has three primary features: allow users to invest and donate on renewable energy projects; enable project developers to propose ideas and initiatives and set-up crowdfunding; and has built-in e-store for buying and selling products related to green energy. The app will also include latest news on renewables, articles and blogs from users, games, and average prices of various sources of electricity. E-Hub is an innovative financing mechanism that grants access to greener energy to address the decline in renewable energy investments and the low level awareness with regards to it.
Runners-up Team OffTheGrid and Team Foodies presented their GG Tap and Power Glass project which maximizes daily water consumption to generate electricity and The Green Cycle application that serves as a two-part solution using logistics and energy generation to address the world's food waste problem, respectively.
Team Green Goldies was awarded PHP 100,000 and will also receive mentorship from Schneider Electric Philippines' team of experts in preparation for the Asia Pacific Regional Finals. They will be competing against the respective country winners in Australia, Cambodia, Indonesia, Japan, Malaysia, Myanmar, New Zealand, Singapore, South Korea, Taiwan, Thailand, and Vietnam.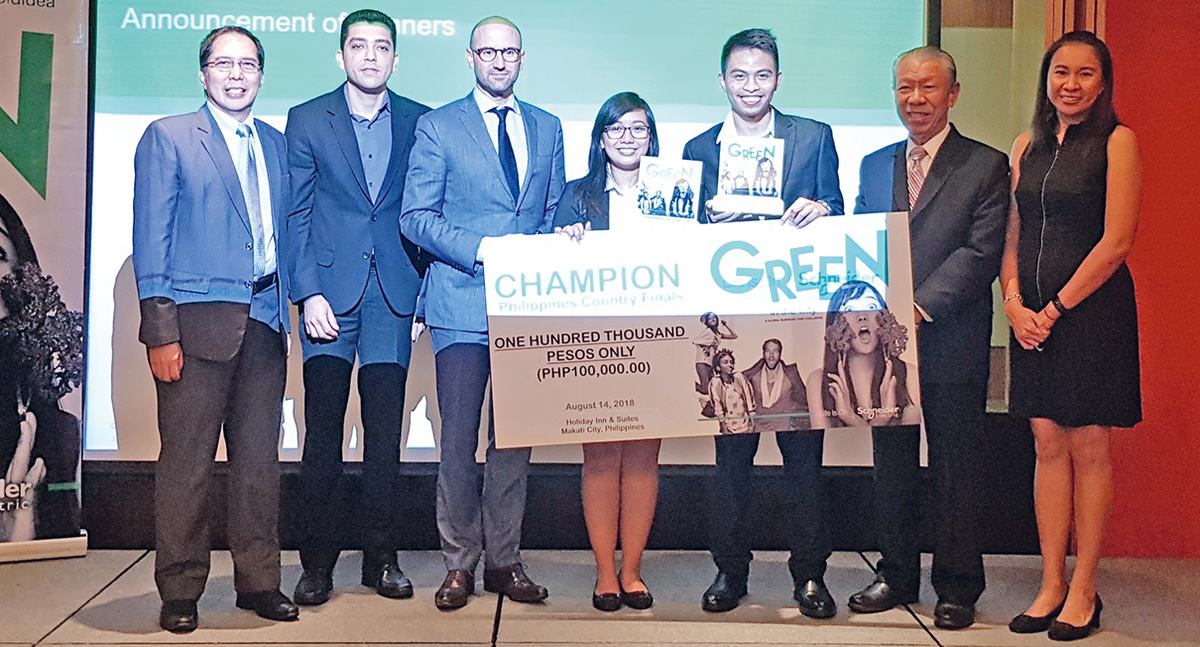 Words by Mia Carisse Barrientos
Art by Jael Mendoza
Also published in GADGETS MAGAZINE September 2018