Everyday humans eat away a good chunk of the Earth's resources. Our actions along with the huge carbon footprint and chemicals we release into our surroundings degrade land, air, and water systems. These destructive human activities can render the environment dead faster than it should. We know this, yet we take little to no action to save the Earth from its near obliteration. On the bright side, we are in a period where various innovations, when aptly utilized, can help ensure a livable world for us and generations to come.
On the forefront of these innovations are renewable energy systems. Oasis Powerhouse, provider of renewable energy solutions, offers a revolutionary and "clean" technology that champions the environment and can help communities attain healthy and sustainable living.
Established in 2009 in Canada, and now in the Philippines, Oasis Powerhouse takes pride in its three-source energy supply system that combines geo/solar thermal heating systems, solar panels, and a wind turbine to generate power from natural resources without doing them harm. The products that the company manufactures and distributes—solar, wind, and geothermal-powered technologies—are proven to be efficient alternatives to conventional electric power. Utilizing clean, renewable energy enable us to reduce carbon footprint while cutting down on energy costs.
Oasis Powerhouse Products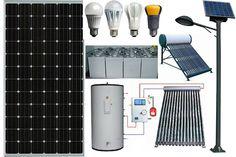 Solar PV – Photo-voltaic systems
Solar Thermal Air-Conditioning Unit
Solar Water Heater
Wind Turbine
Other Oasis Powerhouse products include LED Lights, Solar-powered fans, solar water pumps, hydro pump, geothermal heat pump, and packages, such as the Okavango, to supply your renewable energy wherever you are in the world.
"Net Zero" Homes
Oasis Powerhouse also advocates sustainable green lifestyle through seminars and trainings. Its aim is to expand its reach and raise awareness to counter climate change around the world. In lieu of this, the company branched out to the country to help Filipinos turn their homes "net-zero." The latter is a term for annual energy consumption and carbon emissions of the average home add up to zero. In a nutshell, it means no overall energy consumption: you use up energy, but it's all from renewable energy sources. Installing Oasis Powerhouse products into homes and establishments lower electric bills while helping save the environment.
"The idea of generating enough energy to power your own home and pay for it by reducing, or even eliminating, hydro and gas bills is very attractive," said Archie Guvi, CEO for Oasis Powerhouse.
The company's goal is to have an Oasis Powerhouse technology in every city by the year 2020. Oasis Powerhouse's unwavering efforts along with our commitment to environmental protection and preservation can help humanity achieve a sustainable future.