Majayjay is a small town located at the foot of Mount Banahaw and stands 1,000 feet above sea level. It has a population of about 31,000 people. Hence, it is a closely-knit community, pleasantly quaint, and with lots of natural resources. The wholesome beauty of the town of Majayjay in the province of Laguna was excellently captured in watercolor and coffee paintings by Wilfredo "Yeye" Calderon.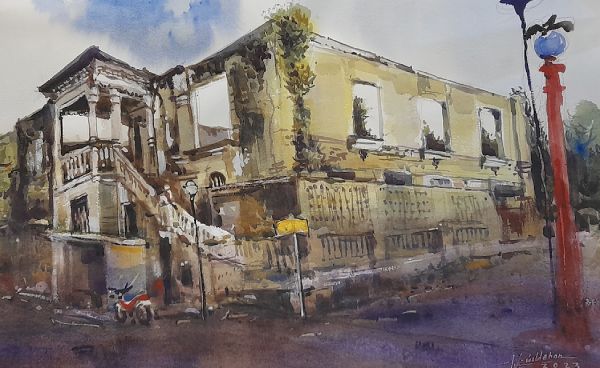 Also from Laguna, Calderon has been tasked by Monsignor Mel Barcenas to restore the original Stations of the Cross paintings inside the centuries-old Church of St. Gregory the Great Parish. It was during his regular visits to the Church that Calderon discovered all the hidden gems of Majayjay, Laguna.
Inspired by Wilfredo Calderon's superb artworks, Msgr. Mel is holding an art exhibit featuring Calderon's masterpieces, numbering some 30 plus by now. This art exhibit will be held on 25 February 2023 at Latriccia's Resort Hotel in Majayjay. Part of the proceeds will fund the numerous projects of the Parish.
Nannette Guinto Amorado, the wife of Majayjay Mayor Romeo Perez Amorado, is fully supporting Msgr. Mel's fundraising art exhibition. Also a visual artist herself apart from being a retired internal auditor of regional and international organizations focused on human development, Nannette believes that art can actually improve the quality of human lives. Just viewing the paintings of Calderon, one can feel all the positive vibrations emanating from the beautiful sceneries, landscapes, and historical landmarks of Majayjay.

Art enthusiasts can view and/or have a piece of Majayjay treasure in their homes. For more details about the fundraising art exhibition, please visit the Facebook page named "Yaman ng Majayjay" (https://facebook.com/yamanngmajayjay) or contact any of the members of St. Gregory the Great Parish's Finance Committee headed by Atty. Antonieta "Nonet" Lamar. You may also call +63 917 621 1672 and let them know which artwork touched your heart.