#iaminwar
A play of words from his name en-'guerra, ' which is Spanish for war. Quite appropriate, given the way he approached the planning, preparation, and implementation of this epic solo ride across all 81 provinces of the Philippine archipelago.
In 2016, our protagonist, Rommel 'Mel' Enguerra, a nursing graduate who worked in corporate security, learned that nobody had yet ridden a motorbike all over the country and visited every single province along the way. A passionate rider who enjoys exploring and discovering destinations off the beaten track, he was gripped by a burning determination to accomplish this feat.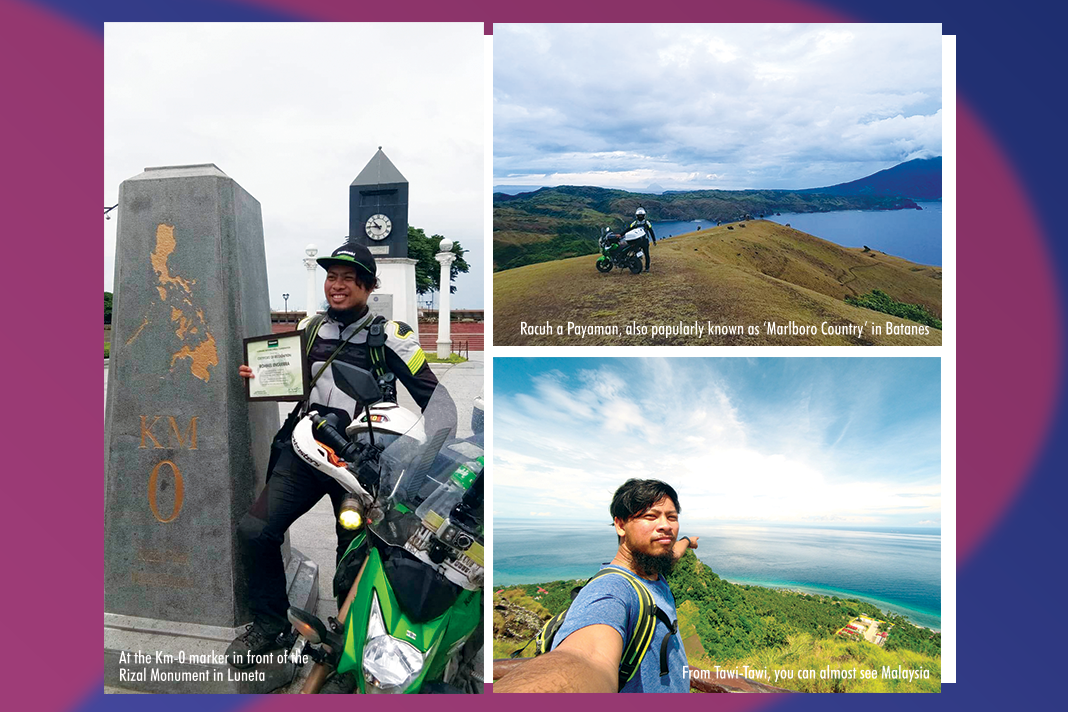 Of course, it was not a simple matter of getting on a bike and riding off into the sunset. First, there were a thousand little details that needed to be considered, like what motorcycle would be reliable enough to handle all types of terrain and have easy-to-source parts during the journey. How many days would it take to go to all 81 provinces? What brand of fuel and lubricants would have service stations every 300 kilometers or so, all over the country, particularly in remote locations? Where would he stay? How much did he need to cover all his expenses? How would he manage the inter-island crossings? How would he get to Batanes?
In 2017, as part of his preparation, Mel did a test ride through Luzon, Visayas and Mindanao, almost getting caught in the outbreak of the Marawi siege.
By 2018, he was ready.
His ride was a Kawasaki z125, a nimble supernaked bike powered by a 125-cc engine. It was light enough to carry and load onto bancas in case of water crossings, parts were readily available, and its aggressive styling made it a head-turner.
To fuel his ride, he chose Petron XCS, a trusted fuel brand that he knew was available everywhere. "Yun ang kagandahan sa Petron. Buong bansa talaga. From Petron Basco, Batanes to Petron Bongao, Tawi-Tawi. Up to standards ang mga Petron na napuntahan ko. Kahit ang maliliit, lalo na sa Petron Tagudin, Ilocos Norte. Grabe may pakape pa at pan-de sal." (That's the beauty of Petron. It's really nationwide. From Petron Basco, Batanes to Petron Bongao, Tawi-Tawi. All the Petron stations I went to were up to standard. Even the small ones, especially Petron Tagudin, Ilocos Norte. They even served coffee and pan de sal.)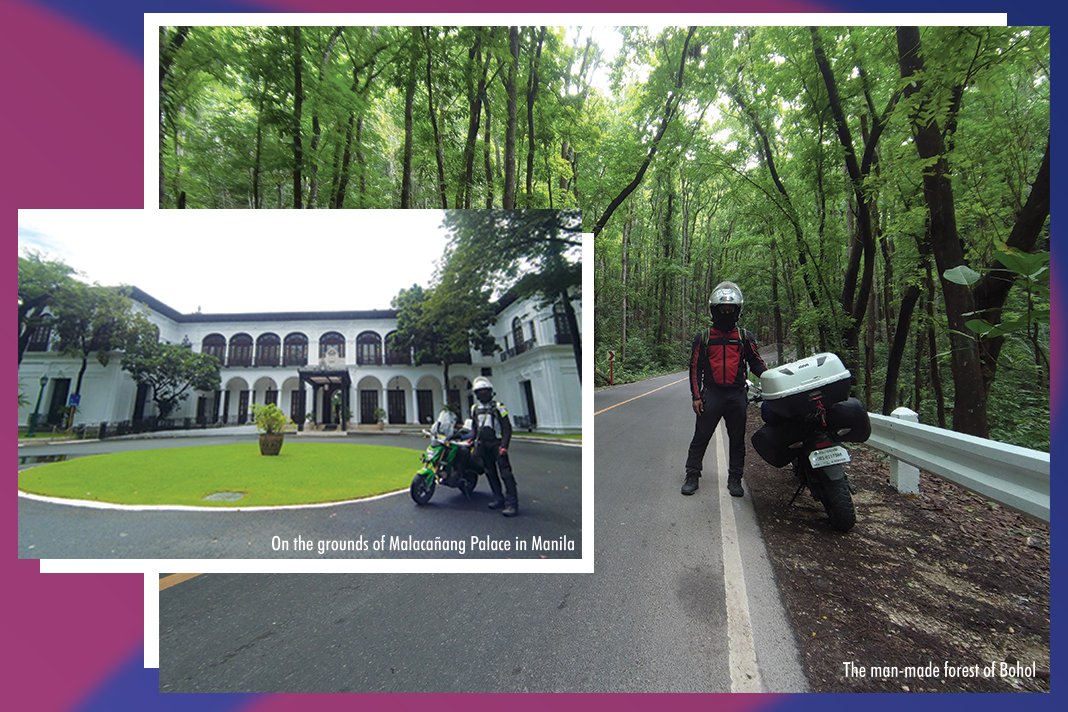 He did two oil changes over the course of his journey, using Petron Sprint 4T Premium Multigrade Enduro 15w-40 because "tested lalo sa long duration ride. Reliable at hindi nag-iba ang andar ng motor ko lalo sa mahabang takbuhan." (It's tested especially for long duration rides. It's reliable and my bike performs well especially over long distances.)
To cover expenses, he estimated he would need about PHP 1,500 for each day that he was on the road, approximately PHP 20,000 to PHP 25,000 for 15 days. The entire trip lasted 69 days, from May 20 to July 28, 2018, covering a total distance of 11,650 kms.
The most challenging part of his adventure was how to cross over to Batanes, the northernmost group of islands, as the only options were via cargo ship from Pangasinan or Manila, or by plane. Luckily, he was able to hitch a banca ride from Cagayan, which was not the usual tourist route.
Perhaps the adversities he had to overcome to reach Batanes made this part of the trip more precious, and Mel considers Batanes the most beautiful destination of the entire journey. Riding through the island of Batan was, for him, an unforgettable experience.
Having reached the island, his problems were not over. There was no boat available, and he was told he would have to wait 20 days for the return trip. Again, divine intervention was on his side. He had a classmate on a navy ship passing through, and he was once again able to hitch a ride back to Cagayan after only 2 days on the island.
For Mel, this epic adventure was not easy. He needed to be patient, accepting circumstances he had no control over. He needed to be resourceful to find solutions to problems. He had to count on the support of friends in times of need. And most of all, he says, he kept faith with God to help him achieve his goal.
Mel hopes his achievement will inspire other riders to embark on their own journeys of discovery across the Philippines and has these words of advice: "Be courteous to all road users. Each place has its own culture and characteristic behaviors. We are just passing through on our journey, so respect every road user and pedestrian as well."
With its latest 'Kasabay sa Lakbay' campaign, Mel says Petron was an integral part of his odyssey, as his fuel and engine oils were the least of his worries. "May peace of mind ako kasi Petron ang gamit ko." (I had peace of mind because I used Petron.)
Words by Maribelle Alba
Photos by Mel Enguerra
Also published in GADGETS MAGAZINE December 2019 – January 2020 Issue