I'm starting to think owning a camera is a necessity; most of the people I know have one. With the recent trends in the photography scene, photo sharing has become an integral part of everyone's life. If you are a semi-pro wanting to venture deeper into photography, and need more than what the average point-and-shoot can deliver, this camera bridges that gap nicely.
Design: 4.0/5.0
The Sony DSC H300 looks very much like a compact DSLR and, at a glance, could easily be mistaken as such. From its build and feel, mode knobs and pop-up flash, it's a very convincing DSLR look-alike. Shooting photos with one hand is nothing to worry about, because of its textured finish which provides a firm, solid grip. Its mode dial includes the settings for intelligent auto, scene selection, manual exposure shooting, panorama, and movie shooting. You can also enter movie mode via a quick movie button adjacent to the LCD screen and avoid missing the action, as this will instantly start the camera recording.
Hardware: 3.5/5.0
For a point and shoot, its 35x optical zoom blows its counterparts out of the water and puts you face-to-face with subjects beyond the reach of those with lesser optics. Pair that with its 3-inch clear photo LCD screen (460,800-dot resolution), and you have a solid way to channel its 20.1-megapixel to taking the perfect shot.
The camera tips the scales at 495g, and measures 127.5mm in width, 89mm in height and 91.7mm in depth. Situated on the left region is an A/V out, USB port and a speaker about an inch large. The bottom is home to a door that covers an SD card slot and four AA batteries. When set on camera mode, a fresh set of batteries will last for about 350 still images, and 175 minutes of video recording.
User Experience: 3.5/5.0
I was able to test the camera at an event I was attending, and navigating through the camera was a breeze. What sets this apart from other point and shoot cameras is its astounding zoom capability that wowed me while shooting. Playing around the submenus, I was able to access additional features, and experimented with its built-in effects like toy camera, pop color, partial color, and soft high-key.
With the camera on manual mode, focusing on a particular subject was a bit of a challenge because of its stubborn auto-focus. If you are new to the device, it can be kind of hard to tell the camera to direct its focus on the object you're trying to capture. Over the course of the test period, it took me numerous attempts to get the camera to focus on a particular area, which was a frustrating experience. On the other hand, macro-mode was a different story, as it was easily able to identify the subject.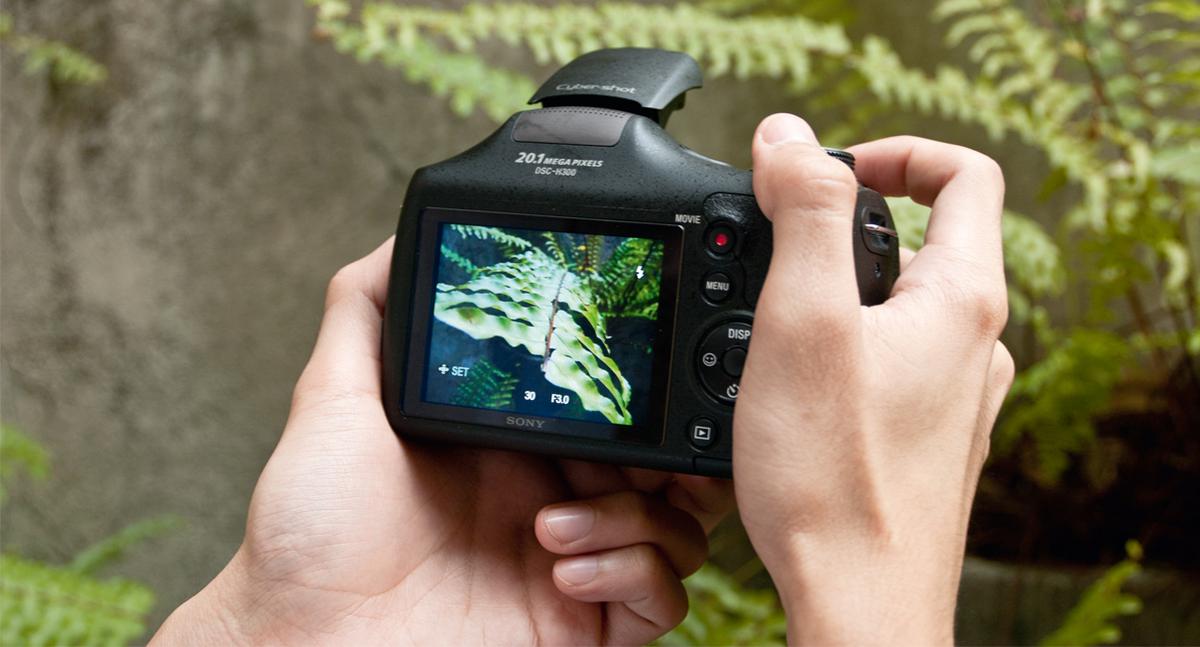 Value: 4.0/5.0
The camera successfully delivers excellent aesthetics and important camera features, all at a reasonable sticker price. For a point-and-shoot, the Sony DSC H300 is the complete package, with many useful features. One important consideration when buying a camera: choose the one that suits your lifestyle. It does not have to be the best-specced camera out there, but one that is appropriate to your needs, and thus truly deserves your hard-earned cash.
What's Hot:
– DSLR look and feel
– Auto-focus
What's Not:
– Auto-focus (it's kind of hard to control!)
Bottomline: 
Perfect for beginners to semi-pros, this is a good camera to further hone those photography skills.
Also published in GADGETS MAGAZINE March 2014
Reviewed by Jon Ronquillo