The OPPO F1s was a true game-changer in the smartphone market. Upon its release, units were selling, like hotcakes. This feat was only to be expected from a phone that captures selfies impressively and retails at a very competitive price. OPPO hopes to recreate and multiply this success with the launch of the F3.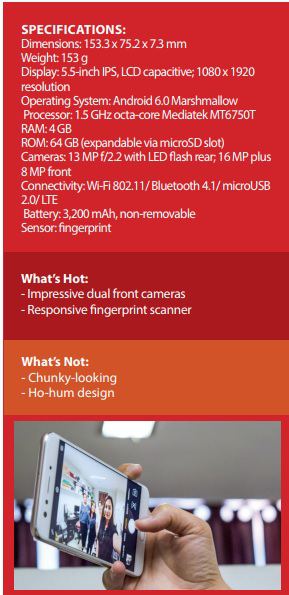 Design: 3.5/5
If you've seen the F3 Plus–at least in pictures–you could tell that the F3 and its Plus version are like two peas in a pod, albeit the latter just a tad bigger. And if you've handled an F1s, there's going to be an overwhelming sense of déjà vu upon first glance of the F3. This is exactly what I felt when my eyes fell on the OPPO F3. There was a feeling of familiarity–the good kind, as I know I have a good phone in my hand.
The F3 is undeniably an OPPO phone with its subtle emblem on its rear, smooth finishing, and a home button on its front, all of which are marque characteristics of the Chinese brand's roster of phones. It has the basics strategically placed on various sides of the device, with the audio jack unexpectedly at the bottom along with the speaker grille and micro USB port.
Like its bigger sibling, the F3 features a solid state fingerprint scanner upfront which doubles as its home button. This feature is flanked by two capacitive keys which are the end tasks and return function. Honestly, I was a bit sceptical about the non-sinking home button, but it just takes a few minutes to get used to it.
Among the first things I noticed about the F3 is it is a bit chunky when turned on its side. The screen, which is protected Corning Gorilla Glass, is faintly embossed making it look thick. When you put it side by side with phones in its class, however, you'll realize that it's not at all chunky—even thinner than some.
Hardware: 4/5
The F3 runs on a Mediatek processor with eight cores and works together with 4 GB of RAM. This combination makes it a solid mid-ranger able to handle small to intensive tasks. I ran a benchmark test on our loaner unit and it ranked loosely higher, if not same-levelled, with phones in its class. For the 3D test, it stuttered a bit. In use, I repeatedly played Dead Warfare on it and it did extremely well; moving around was smooth with no visible lags given the relatively demanding graphics of the game. Additionally, it parades a 64 GB internal storage expandable via microSD slot, which can easily accommodate thousands of photos, videos, and apps to your heart's content.
We now move on to the bread and butter of OPPOs F series of smartphones, the cameras. The F3 ships with three shooters, one in the back and two in the front. These are complemented by a camera app that allows you to shoot a time-lapse, video, regular, beauty-infused, and panorama images right off the bat. Looking into its camera app features shows you more shooting modes, such as HDR, Ultra HD, color filters, GIF, double exposure, and expert. All these make it a one-stop shop for your shooting needs, eliminating the need to download extra photo-editing apps.
User Experience: 4.5/5
Having the Oppo F3 as a daily driver was a pleasant experience. It's not the fanciest phone out there, but it gives you this sense of satisfaction. Running Android Marshmallow overlaid with OPPOs own ColorOS, navigation was okay. I'm not really a fan of its layout, but what matters is there weren't serious issues to be concerned with.
The front cameras, as expected of the selfie expert, perform really well. I noticed that its 16 MP sensor allows in as much light as it could to give you well-lit and sharp selfies no matter the setting. The 8 MP sensor dedicated for wide-angle shots captures your surrounding impeccably, though shots aren't as sharp as the ones taken with the former. Its sensors definitely live up to its claim to fame. The 13 MP rear camera doesn't lose out to these two either. It renders finely detailed images, though could use a bit more punch in the color department.
Value: 4.5/5    
For PHP 16,990, the Oppo F3 is a phone you would want in your arsenal. It has got just the right processing power, generous storage, and dual front cameras to catapult the brand to the top.
Published in Gadgets Magazine June 2017 issue.