There might have been a lot of mobile game releases in different app markets of late, but most of them are either a mobile adaptation of an existing PC title, or from a Western movie franchise. Sure it's fun to shoot anonymous players or fight with your favorite superheroes, but as a casual mobile gamer who gets bored easily with seeing the same thing every time, I wanted something more. While discussing economics jargon over a cup of tea, an old pal suggested Honkai Impact 3 to me. It exceeded my expectations.
The Basics
I'll be honest with you. Its 2 GB install size requires a lot of space in your device, be it iOS or Android, but there's a justifiable reason behind it. This free to play game has amazing graphics that are almost comparable to a console game. Constant connection to the Internet is a must, though. To get the most consistent experience, it's best to connect with Wi-Fi than mobile data, so you can play smoothly.
I've always been an Otaku so when I found out that the brawling game has an entire crew of cute anime girls, I was giddy. Knowing that it is a brainchild of a Chinese game developer, I did not expect that it will feature such. Instead of licensing a popular anime, the company made its own original story which features the legion of female soldiers called Valkyrie, focusing on the story of Kia Kaslana. As one of the top graduates of St. Freya, the school where members of Valkryrie are trained, she must save the world from the invasive enemy force known as the Honkai.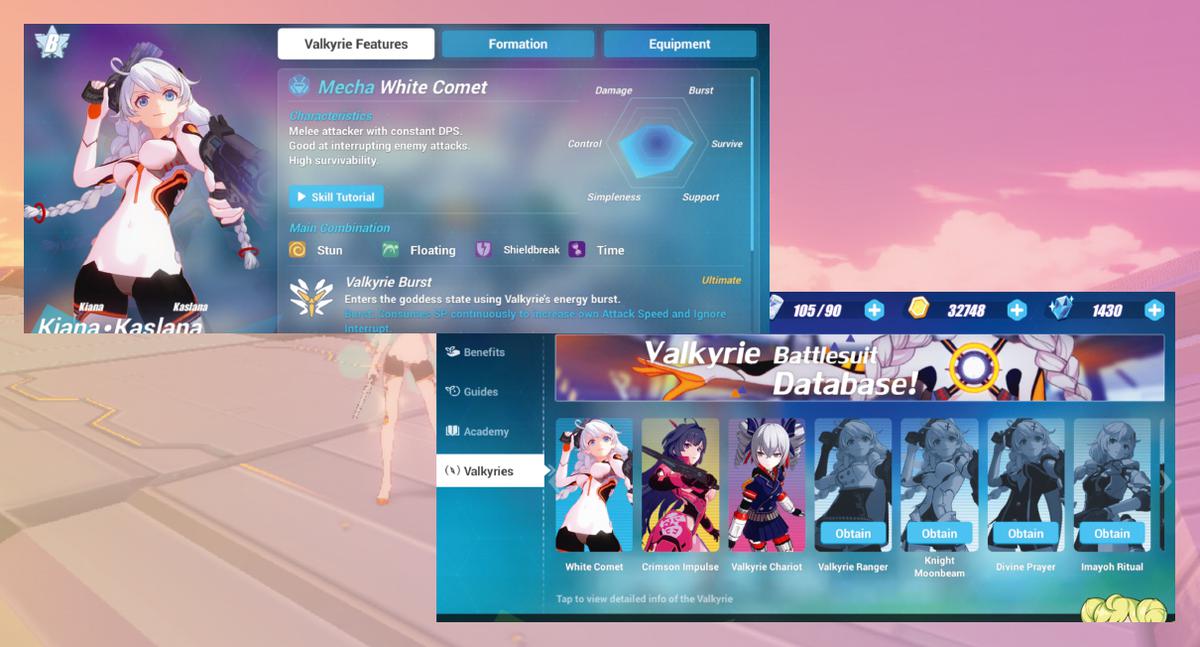 The Gameplay
Just like any other combat game, players have the power to unlock new characters and upgrade their weapons. For starters, you will have the dual gun-wielding Kia as a default character for the story mode, which in turn is divided into acts. You'll be guided by a virtual assistant named Ai-chan in accomplishing your missions, unlocking new characters, upgrading weapons and skills, as well as dressing up your team and building their own dorm. Just a friendly reminder: this game is all about keeping the right Valkyrie to use and the right strategy to use in battle.
The girls are classified into three main types: Psych, Creature, and Mecha, which give you their unique set of skills and clues about enemies that they can fight and defeat. Each character has stigmata that gives them a boost to their current stats. Mastering the best combinations of stigmata is a must, so paying attention to find what fits best on every girl in your team is important. You can even invite online friends to your tasks, bring them with you, and switch characters during the game.
As you progress, you'll get the katana warrior Raiden Mei and the mechanical enigma Bronya Zaychik who complete your first set of fighters. The latter is known for ranged assaults while the former deals higher damage to Honkai beasts. Completing quests in story mode gives you both experience points and necessary materials for weapon and attack upgrades. You can also earn them as a reward by either accomplishing online quests or logging in daily, weekly, and monthly. To further enhance your performance in-game, you may find a sensei online that can aid on your missions. If you want to do more, you can complete in-app purchases by buying additional crystals.
Honkai Impact 3, as a mobile RPG action game, enables players to move their female heroines using a directional pad around a 360-degree view—a feature that makes it different from other mobile games out there which have stuck to their traditional style. Touching the right attack buttons unleashes the character's ultimate moves and special abilities, allowing you to earn massive combo streaks. This is why knowing each of the girl's amazing powers beforehand is essential as it helps you use all their abilities to your advantage. Thanks to its superb 3D graphics, seeing your A-team dominating their enemies in the battlefield is a feast for your eyes. Every frame rendered in the game is truly heart-stopping and action-packed, which made it hit the top of the charts for mobile action titles.
Partnered with talented voice actors and excellent character designers, it is not a surprise why it became so popular. Great graphics and gameplay turn this mobile title into a console-like experience, and the developers deserve praise for the feat. It's a title you shouldn't miss.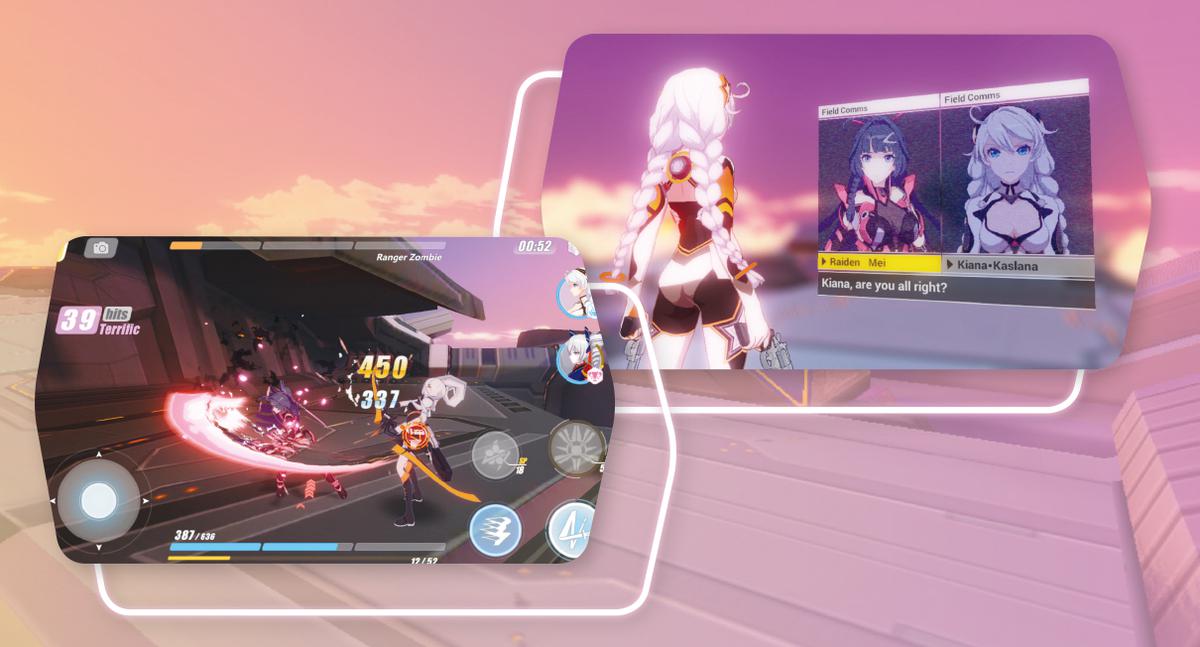 Words by Jewel Sta Ana
Art by Jael Mendoza
Developer and Publisher: miHoYo Limited
Platform: iOS and Android
Also published in GADGETS MAGAZINE July 2018