2018 has been an exciting year for superhero films, most especially for Marvel Studios. As it marks its 10th year anniversary of putting our beloved comic book superheroes onto the silver screen, the company has released numerous surprises for geeks. Aside from exciting movie releases for next year and limited-edition action figures, the Disney-acquired production house has also ventured into gaming, giving the fans their ultimate dream: to gather Marvel Cinematic Universe's mightiest heroes and villains for action-packed battles right at their fingertips, in Marvel Future Fight.
Before it became one of the top-grossing roleplaying games for Android and iOS devices, it was once a lackluster title. Thanks to further gameplay improvements and tweaks to the storyline made by the South Korean game publisher Netmarble Games, it has finally grabbed the attention of millions around the world. Currently, it has 50 million downloads, and is part of Google Play's Editor's Choice list, rounding it up as one of the best games in the app market.
Before tapping the install button, you're going to have to allocate some space since the single-player game eats up a hefty 1.7 GB of storage. An internet connection is a must for you to start your journey, but once the app is installed, you'll do fine with mobile data. You have a starting lineup of heroes to begin with, but unlocking more lets you change your crew up as the game progresses. Apart from selection, you can also dress your favorite superheroes or villains up with costumes that can be purchased with in-game crystals. These costumes not only change your character's look, they also give you different skills. Adding to your roster requires you to have enough of the in-game resources which are Biometrics or X-Genes (for mutant characters), so make sure that you have some in your inventory.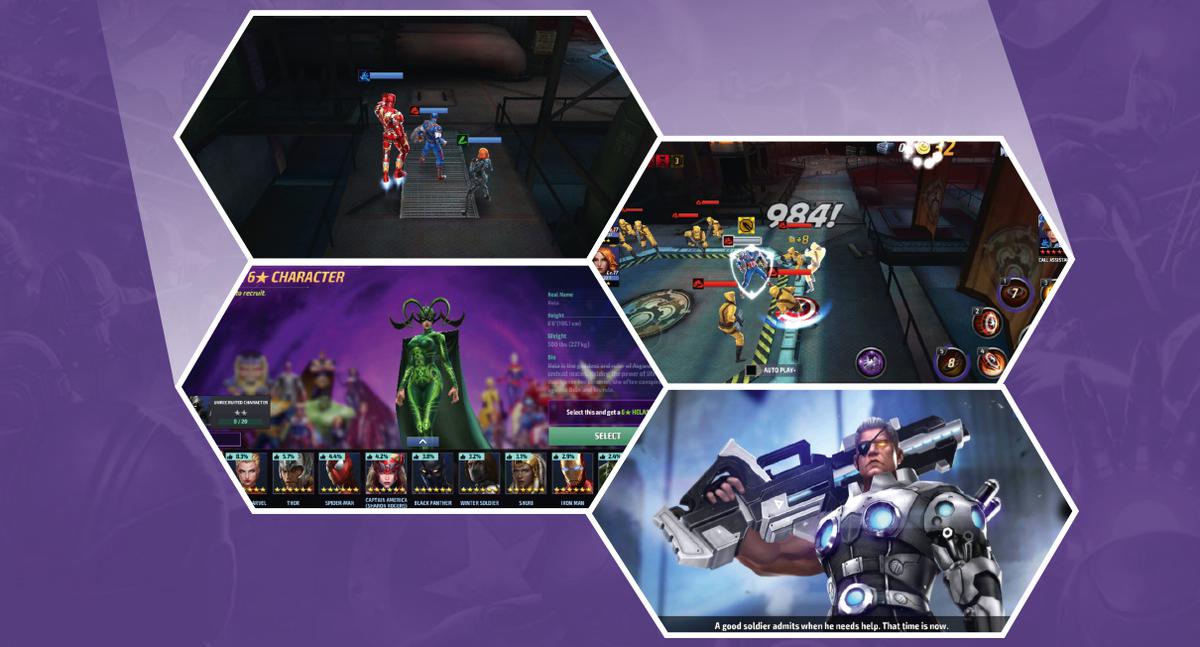 The game has a huge lineup of superheroes and villains to choose from, including Sharon Rogers and the K-Pop-star-slash-warrior Luna Snow. As is the case in other similar games we've encountered, character growth is very important in this mobile game. Aside from ranking up and growing the character's mastery, knowing the Type Affinity of your teammates is one of the keys to consider with every brawl. You can categorize them through their battle type–Combat, Blast, Speed, and Universal–indicated by icons on each character. There's a guide on the top right part every round to remind you about this. When your opponent's damage display is yellow, it means that your character has the advantage, but when it's gray, a switch is needed to your crew. Team chemistry can lead you to triumph and more experience, most especially if your characters have direct relationship to each other (eg: Avengers, Guardians of the Galaxy).
Marvel Future Fight lives up to its name, and exceeded our expectations. It gives you a unique gaming experience, letting you follow storylines of various Marvel heroes through Epic Quests. This mode makes specific characters stronger, and enables players to receive the protagonist in the story which adds to their roster of fighters. There's the main Story Mission where you can collect gold and experience points, Biometrics, and Gear Upgrade Kits for your team existing characters. Daily Missions, on the other hand, offers materials like ISO-8, magical Norn Stones, and the rare M'Kraan Shard as rewards, all of which are essential for increasing stats and abilities of superheroes. Recreating memorable action scenes from previous Marvel films, the Legendary Battle challenges players to defeat iconic villains. Ant-Man and the Wasp's encounter with Ghost, The Avenger's clash with Thanos, T'Challa and Erik Killmonger's duel in the vibranium mine, and Thor's uprising against Hela are the stages that you can clear. You can also explore other Marvel Universe-themed content in Special Missions with corresponding Biometrics, Custom Gear, and XP. Stages marked with a Hidden Route symbol means additional prizes. You can also join a team and play with other fans around the world through joining an Alliance, where you could encounter bigger bosses that are difficult to beat.
There's so much going on with this game that it actually does raise the bar for mobile RPGs. From its very detailed characters to its heart-stopping stages, the whole game reflects Marvel's signature artistry which we have come to expect. Packed with multiple story lines and remarkable graphics, Marvel Future Fight is not just an ordinary mobile game. From a geek's perspective, it is an artistic product from the fusion of comics and film—all placed in one platform, reaching fans globally.
Words by Jewel Sta Ana
Art by Jael Mendoza
Developer and Publisher: Netmarble Games
Platform: iOS and Android
Also published in GADGETS MAGAZINE September 2018