Last month I was able to look at the ASUS Vivobook 13 Slate OLED, a 2-in-1 multi-media companion. Now ASUS has given us the chance to take a look at their Vivobook catered to budding artists and content creators, the ASUS Vivobook Pro 14 OLED, a small but powerful laptop.
Design: 4 / 5
Our unit came in the Quiet Blue color, which is closer to a black than blue color. The Vivobook Pro 14 OLED has a metallic top chassis which adds to its luxurious feel. ASUS also made the Vivobook branding unique, having its own space instead of the usual engraved or sticker on top of the chassis.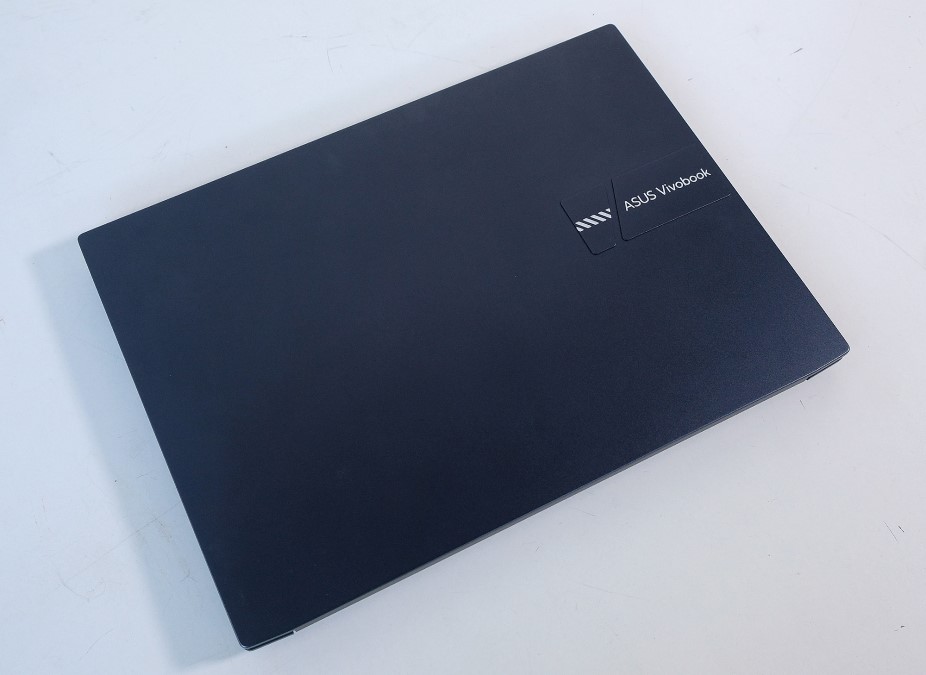 Opening the laptop, you'll be greeted by the 14-inch OLED display. The screen has a 16:10 ratio helps show more than the standard 16:9 display. The display has a 2880 x 1800 (2.8K) resolution with a 90Hz refresh rate. It is also Pantone Validated and has VESA DisplayHDR 600 True Black certified. The display also boasts a 100% DCI-P3 color gamut. Once you power on the laptop, you'll immediately notice how good the display really is.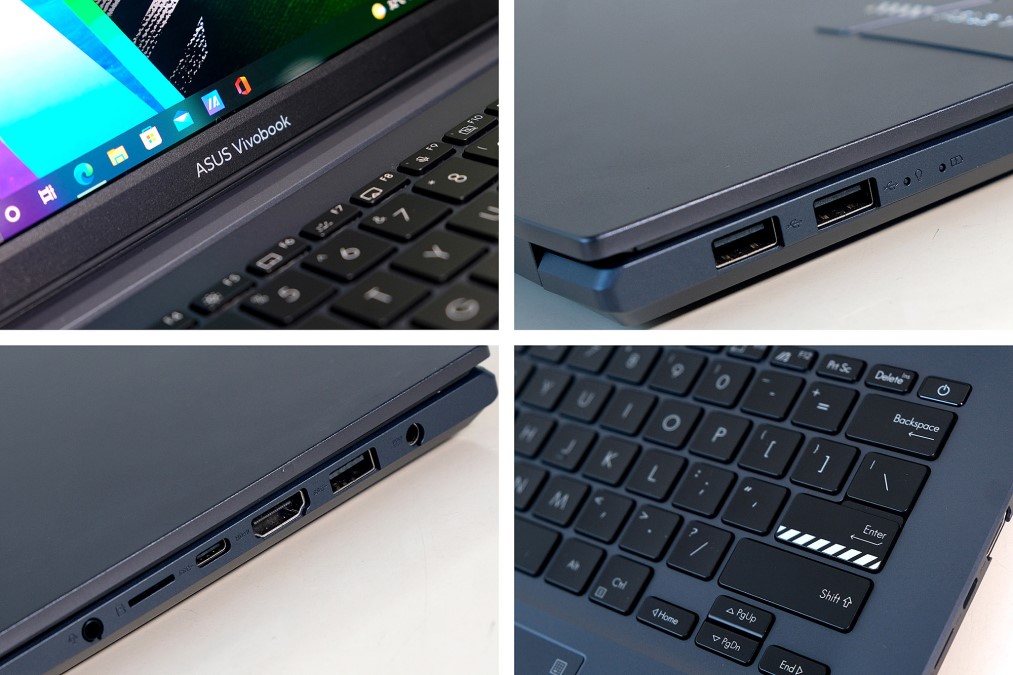 The laptop also has a myriad of I/O ports. On the left are two USB Type-A ports as well as two LED indicator lights. The USB 3.2 Gen 1 Type-C, another USB Type-A port, the proprietary charging port, a full-size HDMI 1.4 port, the 3.5mm combo audio jack, and a MicroSD reader are on the right. The speaker underneath the device is also tuned by Harman Kardon.
The whole laptop is pretty portable. It weighs a mere 1.4kg and comes in at just 19.2mm thick. You can easily place it in a backpack and forget about it until you reach your destination.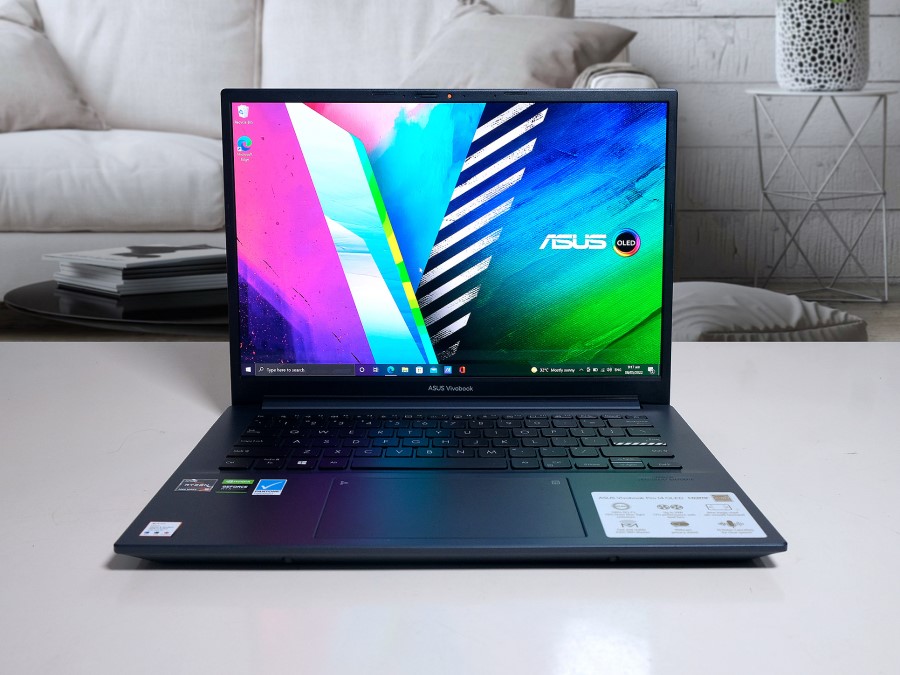 Hardware: 5 / 5
Underneath the hood is where the ASUS Vivobook Pro 14 OLED impressed me the most. Our unit had a Ryzen 5800H processor paired with an NVIDIA RTX 3050 graphics. Additionally, it has 16 GB of RAM, and 512 GB of NVMe PCIe SSD as its internal storage.
Whether you're gonna be a power user or just a media binger, the ASUS Vivobook Pro 14 OLED can handle everything you need. Benchmarks prove it as much. For 3D Mark it got 4126 for Time Spy and 9705 for Fire Strike. PC Mark 10 has it at 6411, while Geekbench 5 scored it 1450 for its single-core performance and 5390 for multi-core performance. All pretty solid numbers for me.
The hardware power ASUS added to the Vivobook Pro 14 OLED is good enough to even run demanding AAA games like Assassin's Creed Valhalla, which had a 52 fps average.
User Experience: 4.5 / 5 
I had a blast using the Vivobook Pro 14 OLED. I had too much fun playing and working on it. Like, I said earlier, the laptop can run most AAA games without breaking a sweat. Pair that with the gorgeous OLED display, and what more can you ask for. Supposed you're an artist who wants to do some competitive gaming on the side. In that case, the display's 90 Hz refresh is your best friend, especially in games like Valorant, where a higher refresh rate helps a player's performance.
Gaming aside, the ASUS Vivobook Pro 14 OLED was really intended for artists with its Pantone Validated OLED display.
I'm no graphics artist, but luckily our artist was gracious enough to give me feedback when she worked on the laptop, lay-outing our upcoming issue. She told me that the laptop could handle most of the render work she threw at it. Its render time was smooth for Photoshop, even if she used other applications. The laptop did chug a little when she had a slew of Adobe applications open.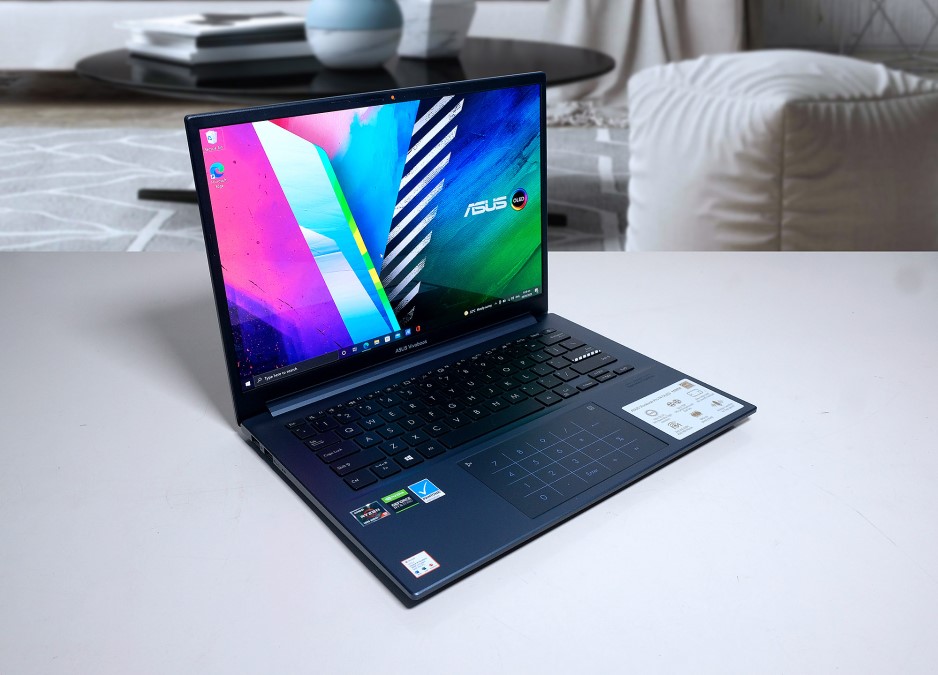 Speaking of Adobe applications, the ASUS Vivobook Pro 14 OLED also came with free three-month membership of Adobe Creative Cloud. It was also pretty easy to redeem. After registering their ASUS device in the MyASUS app, they'll automatically be prompted to redeem their complimentary subscription.
Of course, the ASUS Vivobook Pro 14's OLED display was also perfect for movies and other cinematic media. I preferred watching Netflix on the laptop over my PC because of the OLED display. But the thing holding back the laptop was the speaker. I found it lackluster despite being tuned by Harman Kardon. It lacked volume for the most part, but it didn't sound hallow nor muddy.
Call me old-fashioned, but the thing that impressed me the most was the laptop's massive I/O port selection. For a modern laptop, it's refreshing to see ASUS equip the Vivobook Pro 14 with four USB ports (3x USB-Type A port, and a Type-C). The other thing I appreciated is the proprietary charging port. While I love USB Type-C charging it really grinds my gear if it comes at the price of the limited USB port.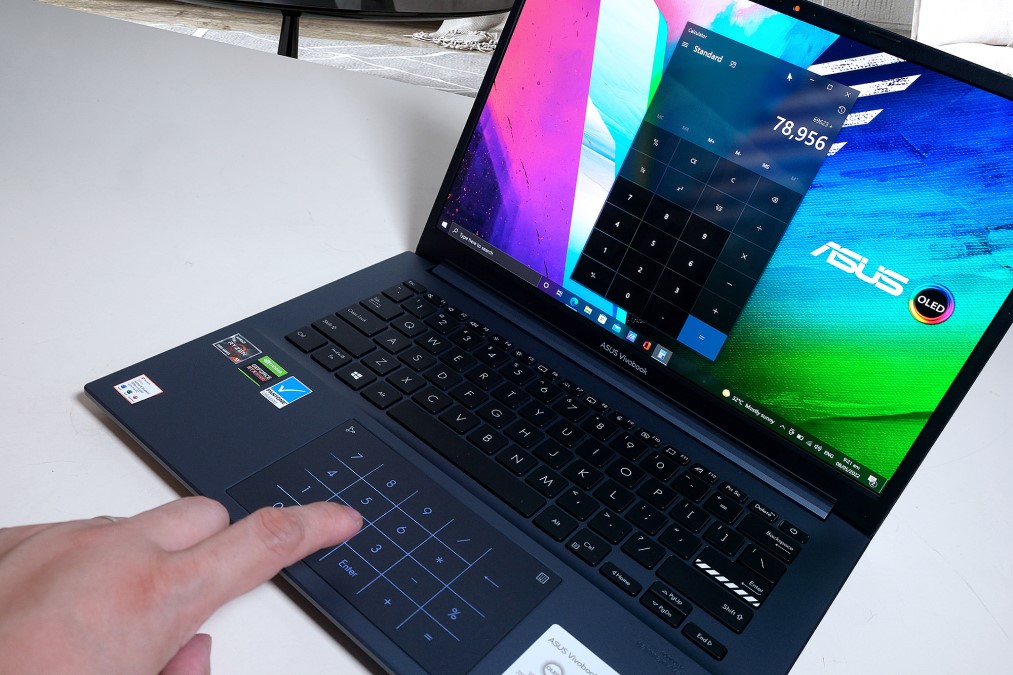 As for my work, using the Vivobook Pro 14 was alright. The keyboard is spacious for typing. The NumPad 2.0 on the trackpad was practicable in certain scenarios, but I really didn't find much use for it during my daily grind. As for the trackpad itself, it feels great, similar to higher-end laptops. There's also the added security of a webcam shield. The power button also doubles as a fingerprint reader, but unfortunately, I was unable to test it out.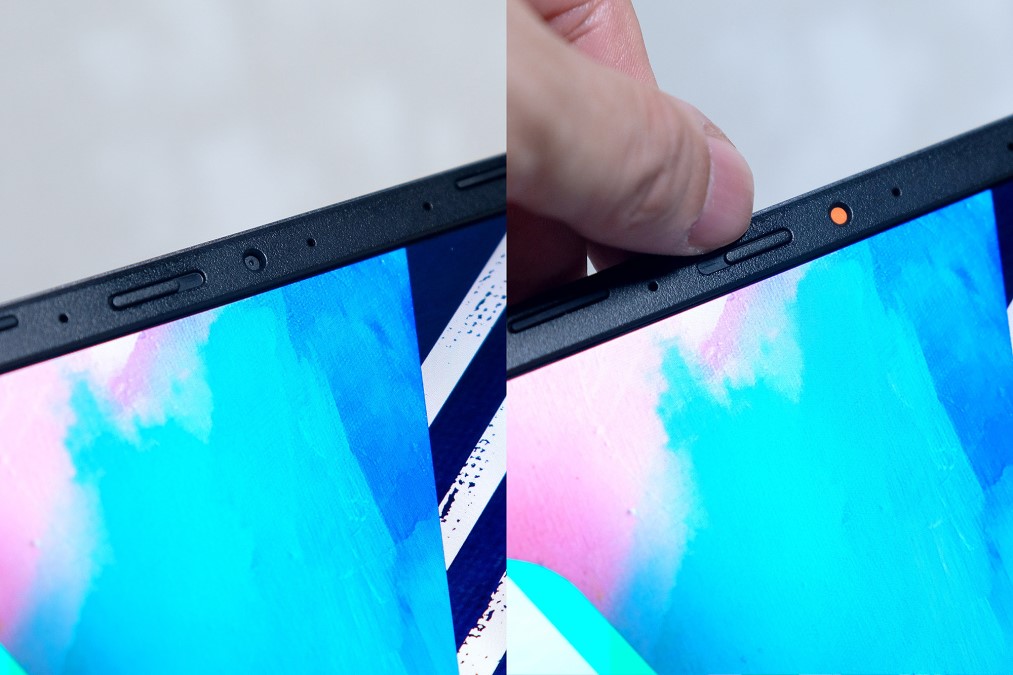 Another thing that ASUS had done well was the laptop's cooling. Under the hood is an ASUS IceCool Plus dual-fan cooling system. The laptop doesn't heat up even during intensive tasks or gaming. What I and our graphic artist notice, however, is the battery life. I feel that battery power quickly drains out, especially during heavy workload. But the included 120W charges the device to 60% in under 45 minutes, and a full charge (with battery health mode) lasts over 2 hours.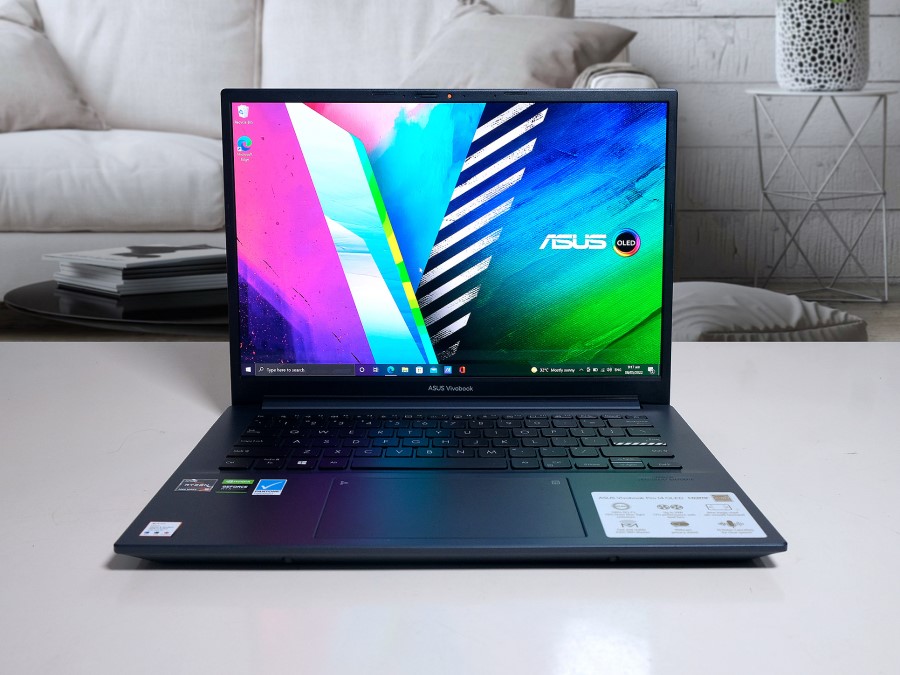 Value: 4.5 / 5 
The ASUS Vivobook Pro 14 OLED (M3401) starts at PHP 47,995. Our unit, the highest spec model, comes in at PHP 74,995. For that price, I would 100% recommend it to anyone looking for a content creation laptop. I think you'd be hard-pressed to find another device that offers the same power and performance the Vivobook Pro 14 OLED has for under PHP 80,000.
If you want to try out the Vivobook Pro 14 OLED yourself, here's a list of ASUS stores nationwide where you can find it.
What's Hot
Power and performance
RTX graphics card
Ryzen 9 Processor
Great OLED display
What's Not
Battery life is subpar
Speakers are lackluster
Bottomline
The ASUS Vivobook Pro 14 OLED is a must-have for budding content creators or for those who want a powerful device on a budget.
Specifications
Display: 14″ (16:10) OLED WQXGA+ (2880×1800) 90Hz 400nits DCI-P3:100% NanoEdge display, 84% screen to body ratio
Processor: AMD Ryzen 9 5900HX Processor
Graphics: NVIDIA GeForce RTX 3050
Memory: up to 16GB 3200MHz DDR4
Internal Storage: 512GB PCIe SSD
OS: Windows 10 Pro, but upgradable to Windows 11
Ports: 1 x USB 3.2 Gen1 Type-C , 1 x USB 3.2 Gen 1 Type-A, 2 x USB 2.0, 1 x HDMI, 1 x Audio combo jack, 1 x MicroSD card reader
Battery: 63Wh, 120W power adapter.
Connectivity: Intel WiFi 6, Bluetooth 5.0
Dimensions: 317.4 x 228.5x 19.2mm
Weight: 1.40kg