My PC usage mainly revolves around two things: gaming, and digital arts, which obviously requires both a good CPU and a monitor that can deliver as well. With so many choices ranging from LCDs to LEDs, it is quite hard to determine which model would best suit your needs. To help you out a bit, I will be looking at the Asus VX239 LCD monitor to see if it makes the cut.
Design: 4.0/5.0
The moment I laid eyes on the 23-inch Asus VX239 I fell in love with its sleek and slim design with a thickness of just 14.5mm. I also like how the Asus VX239 has a frameless light matte screen with bezel width of only 0.8mm, which leaves more room for the display.
At the bottom right corner of the monitor you will find the usual set of function symbols that most monitor models carry, but don't be fooled. These are not capacitive buttons—there are hard buttons on the bottom edge of the bezel. The necessary ports and jacks, such as HDMI/MHL , VGA and DC-IN, are located at the back of the monitor. The Asus VX239 comes with an aesthetically-appealing sundial-like stand to support its 3.5kg weight.
Hardware: 3.5/5.0
The VX239 features the innovative AH-IPS A+ that has the capability of displaying images at
1920×1060 with less grain over a greater pixel area compared with IPS only monitors. The monitor has a 16:9 aspect ratio LED-backlit panel with a 178-degree ultra-wide viewing angle for reduced color distortion regardless of its horizontal or vertical positioning.
The VX239 can display 16.7million colors, so every image flashed on the screen has accurate color reproduction, intensity, and depth. For a more immersive visual experience, you can hook up the monitor to any device via HDMI. The VX239 has a response time of 14ms for significantly reduced lag and virtually no ghosting—especially when you're into gaming.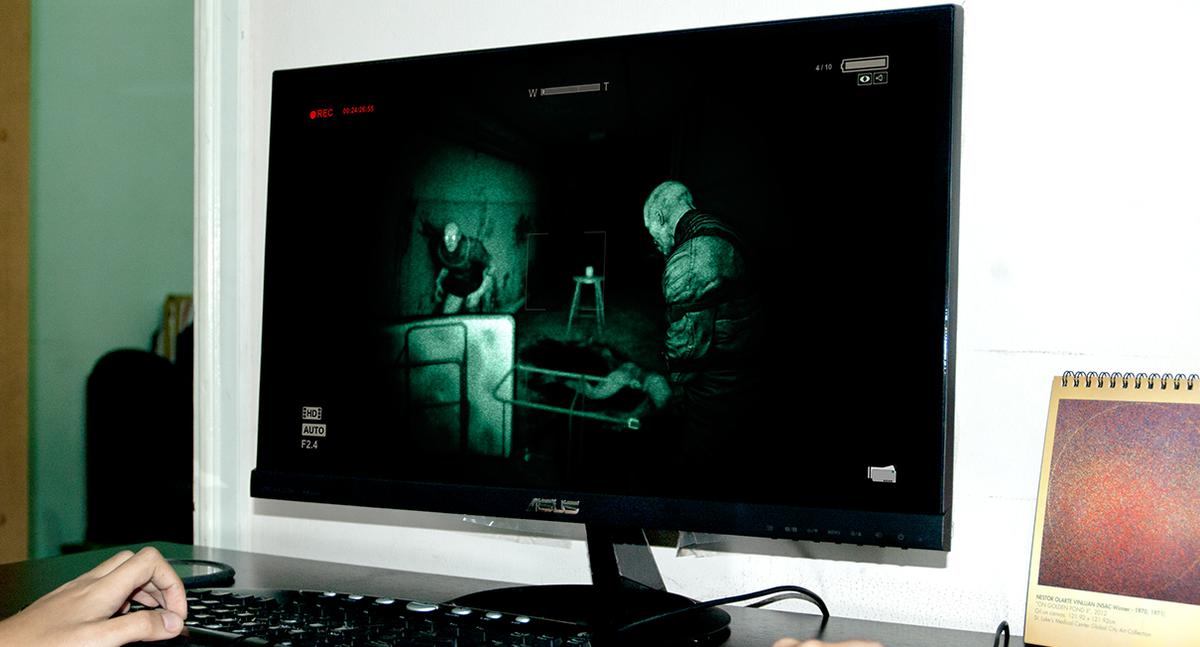 User Experience: 3.5/5.0
Simply put, the Asus VX239 is a user-friendly monitor. I took it out of the box, plugged it into a source, and it was ready to go. There was no hassle, and no need to calibrate. If you do find yourself wanting to customize the brightness, contrast, sharpness and a couple of other functions, the VX239 OSD is effortless to navigate as well, though nothing is lost by skipping this step and setting everything to "Standard" mode since the colors already look amazing even without tweaking anything.
Image-wise, the VX239 delivers excellent image quality, though I sometimes find it slightly too sharp if you're not used to super crisp visuals. There's no way to scale its sharpness on the OSD, not unless you're running on the VGA port. However, the good thing is whether you're using the monitor for watching videos and movies or for gaming, there's no visible flickering of images.
The button labels at the lower right of the monitor would have been better, in my opinion, if they lit up, for easy operation even in the dark. And as much as I love its sundial stand for its elegant look, it does take up quite a bit of desk space. Also the sundial stand is not solid enough to hold the screen steady and prevent it from shaking—you might need a rock-steady computer table.
Value: 4.5/5.0
I would give the Asus VX239 an almost perfect score for value it can definitely deliver compared against other higher-end monitors. At PHP 9,990, you get state-of-the-art AH-IPS technology capable of displaying high definition images in vibrant accurate colors. AH-IPS monitors are known for greater light transmission for much lower energy consumption—an absolute win-win situation.
Bottomline:
The Asus VX239 LED monitor is a good choice for those who want their visuals with finer details due to its extremely sharp display—perfect for those who are into photo and video editing, graphics creation, and gaming.
Also published in GADGETS MAGAZINE March 2014 Issue.
Reviewed by Elle Pamintuan