I reviewed this exact same model when it was first introduced in 2016. Then, it was billed as the perfect homework aid for young scholars. Over three years later, we're taking a second look and, this time, assessing its use as a portable multi-function device for on-site needs.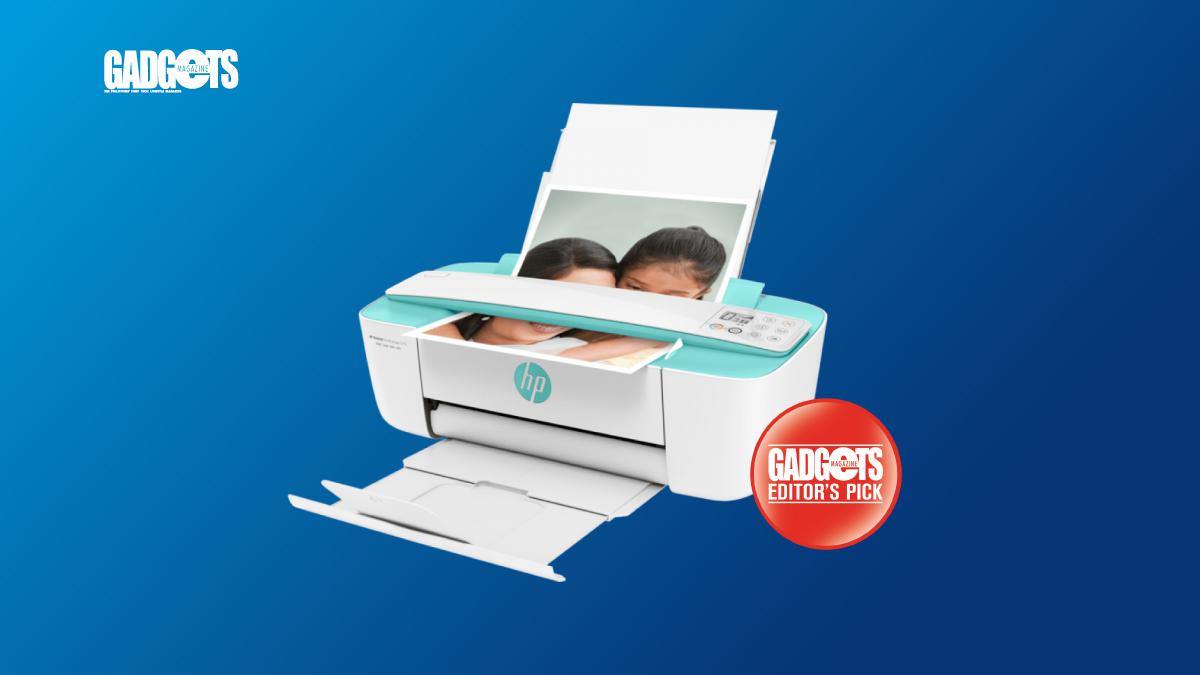 Design: 4/5
The HP Deskjet Ink Advantage 3776 is billed as the smallest inkjet all-in-one-printer. Weighing only 2.33 kg, and with its compact form factor, you can actually pop this into your carry on case along with your laptop and other gadgets. Its white plastic body is livened up by a cool mint green accent color on the top surface and the HP livery.
A band that runs across the top contains the power button on the left side and the LCD control panel and function buttons on the right. Underneath the band is the paper path with the scanner roller.
Two ports are found at the back—one for the power connection, the other a USB port for which you will likely have no use due to the printer's wireless capability. Also at the back is the vertical paper input tray with a guide and extender.
The front panel opens to provide access to the cartridge tray with takes one black and one tricolor (CMY) ink cartridge. Below this is the paper output tray, also with an extender and paper catch.
Hardware: 4/5
The most noteworthy technology for the HP Deskjet 3776 is its wireless connectivity. Built-in WiFi 802.11 b/g/n makes it accessible to mobile devices, allowing a direct connection without need to log in to a shared network.
Another innovation is the use of a document feeder system for scanning and copying, utilizing a roller to pass the document over a stationary scanner, instead of the bulky flatbed scanner plate and moving scan head mechanism found in most multifunction devices.
On the printing front, the hardware is pretty basic, utilizing HP's thermal inkjet technology with two print heads—black and tricolor. The paper feed process is a single, direct pass system from the vertical-oriented 60-sheet input tray at the back, to the horizontal 25-sheet output tray in front.
User Experience: 4/5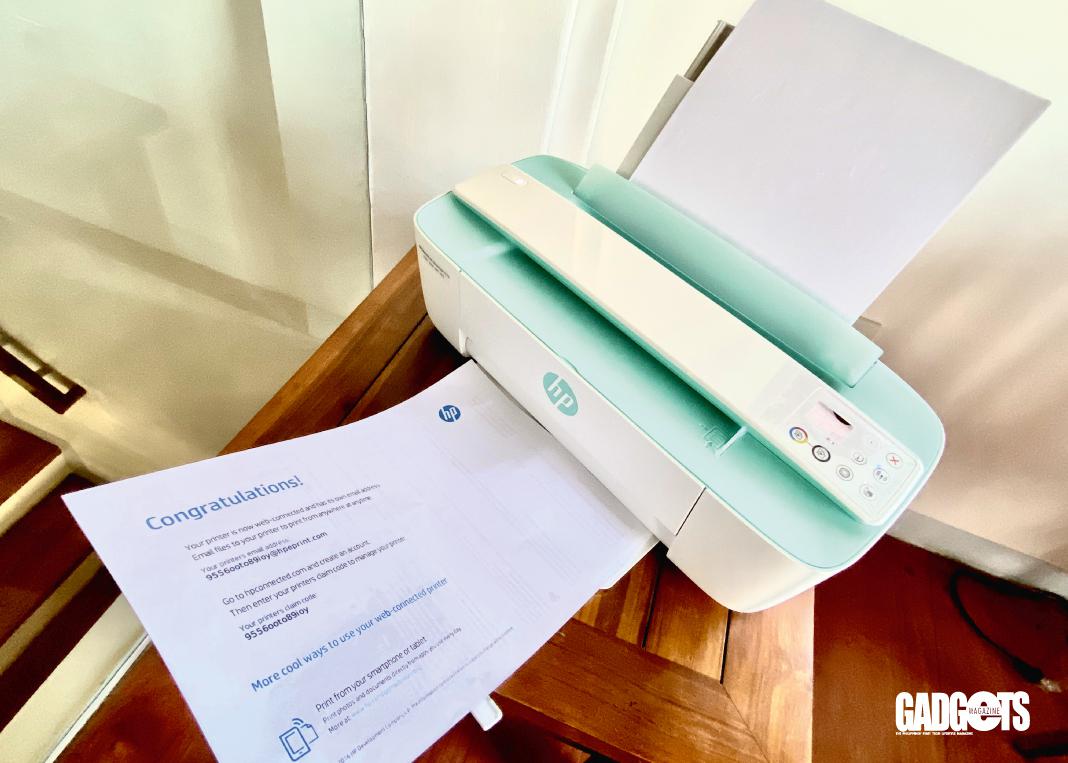 For me, one of the best things about the HP Deskjet 3776, in addition to its small footprint, is how easy it was to set up. I did not even need to connect it physically to a computer, as I just used the HP All-in-One Remote Printer app on my iPad. Following the instructions on the app, configuring the Deskjet 3776 was a breeze.
Once you've set up the machine, it's easy to send printing jobs from your mobile devices wirelessly. First page out is a decent 15-seconds for black and 18-seconds for a color print. Considering that this is pretty much an entry level device, print speeds are respectable at 19 ppm for black and 15 ppm for color pages in draft mode, and 8 ppm for black and 5.5 ppm for color prints in laser-comparable mode. Print quality is, as expected, at the HP standard of vivid colors, saturated blacks, and well-defined image edges.
Do not expect high-quality scanning or copying from the Deskjet 3776, as maximum optical scan resolution is only 600 dpi, while copy resolution for both black and color are 300 x 300 dpi. Further, the roller technology employed to pass the single page to be scanned/copied means that you can't lay the page exactly flat on the scan bed. As the page moves through the paper path, there is a tendency to skew along one edge, so it's hard to get an exact replica of the original document. Also, the document feeder cannot take thick materials like credit cards.
For difficult to scan materials, such as pages in a book, or PVC plastic cards, your best option would be to use your smartphone camera to take a photo or use a scanner app, then send the image wirelessly to the Deskjet 3776 for printing.
Value: 4/5
The HP Deskjet 3776 is listed with an SRP of PHP 4,875 which, with offers from online sellers, can go down to as low as PHP 4,300 — a very reasonable price point for an all-in-one. An Ink Advantage cartridge costs around PHP 490 each, with a print yield of about 480 pages for the black cartridge and about 150 pages for the tricolor cartridge. When compared to the higher print yields and lower cost of ink tank printers, the per page print cost of the HP Deskjet 3776 is definitely more expensive.
But then again, the value of the HP Deskjet 3776 is not in its high print yield, but in its portability. When you're traveling to a meeting and need to reproduce meeting notes, for example, having your own printer on hand will definitely be cheaper than getting print-outs at the hotel business center.
Specifications:
Printer Type: Thermal Inkjet
Functions: Print, copy, scan
Print Speed (Draft/ISO laser comparable): Black up to 19 ppm / 8 ppm; Color up to 15 ppm / 5.5 ppm
First Page Out: Black 15 sec; Color 18 sec
Duty Cycle: Up to 1,000 pages monthly
Scanner: Single page document feeder
Control Panel: 7 segment + icon LCD
Connectivity: USB 2.0; WiFi 802.11 b/g/n
Paper Tray: 60-sheet input tray; 25-sheet output tray
Ink Cartridges: 1 black + 1 tri-color
Dimensions: 403 x 177 x 141 mm (min)
Weight: 2.33 kg
What's Hot:
Compact
Prints from mobile devices wirelessly
What's Not:
Can only scan/copy single page documents
BOTTOMLINE:
Need to do instant on-site printing/copying/scanning at meeting venues or project locations? Pack an HP Deskjet 3776!
Also published in GADGETS MAGAZINE February 2020 Issue
Reviewed by Maribelle M. Alba