If you would bring an umbrella with a 60 percent chance of rain, why wouldn't you bring a light when if every day it gets dark after sundown? We're daytime creatures but have the technology to bring a a light with us, so why not? Olight, a brand that has never failed to impress me with their offerings, has come out with a pair of EDC options for us to test. In this issue of Bullet Points, we take a look at the S1 Mini, and the S1 Mini, HCRI. First some specs. Externally, the lights are the same, both being powered by either a CR-123A, or RCR-123A, such as the one the light ships with. They're 44 grams heavy with the included rechargeable cell in place, and a hair over two inches tall. It's barely thicker around than the battery that powers it, and has a double position clip that you can wear either side up, or down, without having to remove and replace anything. It's a clever design, and something that I really appreciate. Both lights have a large beam profile, with a lot of spill. They're not quite floody, but the hotspot is more diffused than most of the other pocket lights I have used in the past.
While the lights are externally identical, their differences lie in their output, for reasons we will go into later. Both lights have five intensity levels, ranging from a low 0.5 lumen on both versions, to a maximum of 450 lumens on the HCRI, and 600 lumens on the Standard. On high, both models give you a rated 55 minutes of burn time in one-minute increments, while the lowest setting gives you a staggering 15 days, again for either model. We'll put the middle intensity and burn time values at the end of this review.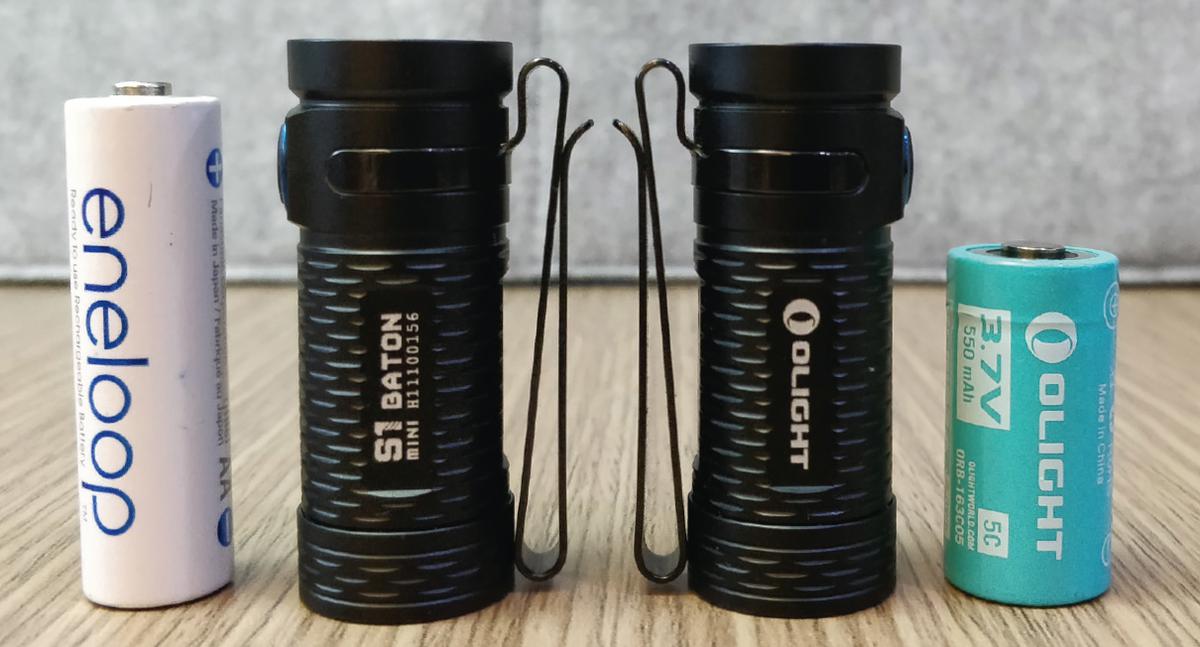 Why release two models, then? The main difference is the kind of light each one puts out. The standard version gives a cold, white light for maximum brightness and throw, while the HCRI model gives you light that is the same color temperature as noonday sunlight, which lets you see colors as naturally as possible. Whether you need to positively identify something by its color in low-to-no-light environments, or want to get a better idea of how something looks in "real" light, there's real value in this.
One or the other has been in my pocket for about two weeks now, and the first thing I need to explain is how tiny they are. My usual carry light, the S1R Baton, isn't a large light to begin with, but these lights are just tiny. With these on my person, I've actually regained the use of my left hip pocket again. If, like me, you never leave home without a light, the size is great. I would recommend against carrying it any other way but clipped on, as its diminutive size makes it difficult to find once it inevitably makes its way to the bottom of a bag, or even a pocket.
The size also makes deploying it slightly different. Larger lights have plenty of meat to grab onto. This will require slightly more dexterity to pull off without dropping. I wouldn't call it too small, but taking it out and switching it on in one fluid motion will take some time getting used to coming from a light any larger than this. They retain the magnet at the bottom to allow you to stick it onto a steel surface, such as the underside of a car hood, for hands-free illumination.
The side clicky switch clicks positively, and is easy to hold down to cycle through lighting modes. What I really appreciate though is the fact that the light doesn't spin around inside the pocket clip, which keeps the button in the same spot all the time.
Charging is another plus. While it doesn't have the same magnetic charging base as other models, the included rechargeable RCR-123A has a micro USB port, that allows you to top it up from easily found USB sources. It's clever, effective, and simple. What's not to like?
Being particularly compact lights, the two don't give you the most throw, but on the lit streets of our subdivision, the HCRI version managed to illuminate vehicles 50 meters away just enough to identify them. In near-total darkness, the rated beam distance should be no problem.
The HCRI in particular is interesting. More often than not, the lights we carry bathe the area in a cold, bluish- to greenish-white light. I've always found that this somewhat messes with my depth perception in the darkness, and the harsh light strains the eyes when doing fine work up-close. The warm, more natural colors from the HCRI version is easier on the eyes, and those who need accurate color reproduction in poor lighting conditions will find a tool like this invaluable.
Burn times are about as advertised with the included batteries. Should you require more, larger capacity rechargeable batteries are available from the manufacturer. Be warned though that since the lights are the size they are, they tend to heat up fast. Even with the step-down function at max output, the little lights can get uncomfortably hot before too long. It won't be hot enough to burn you unless you really really tried, but have the light go off in your pocket for a few minutes, and you're going to know something is up.
Even with the compromises made to keep the size down, this is a light I would recommend highly to anyone looking for a capable EDC light. Small and powerful, you won't find yourself wanting more light should you find yourself in the dark. If you want a first light, or want your pocket space back, this is an excellent option, and at PHP 2,500, it won't break the bank.
Also published in GADGETS MAGAZINE March 2018 Issue
Words by Ren Alcantara