It's been a long, challenging year for everyone, but here you are at the end of it, still standing. Just like the rest of you, the Gadgets Editorial team have had a whole year to think about and choose the gifts we want to get ourselves. Again like you, we each have our own interests, and since it's such a wide word of tech out there, we'd like to share our own Christmas wishlists with you—who knows? You might get a few ideas yourself. From home devices, to consumer electronics and gaming hardware, here are a few items you might want to put on your own shopping list this season.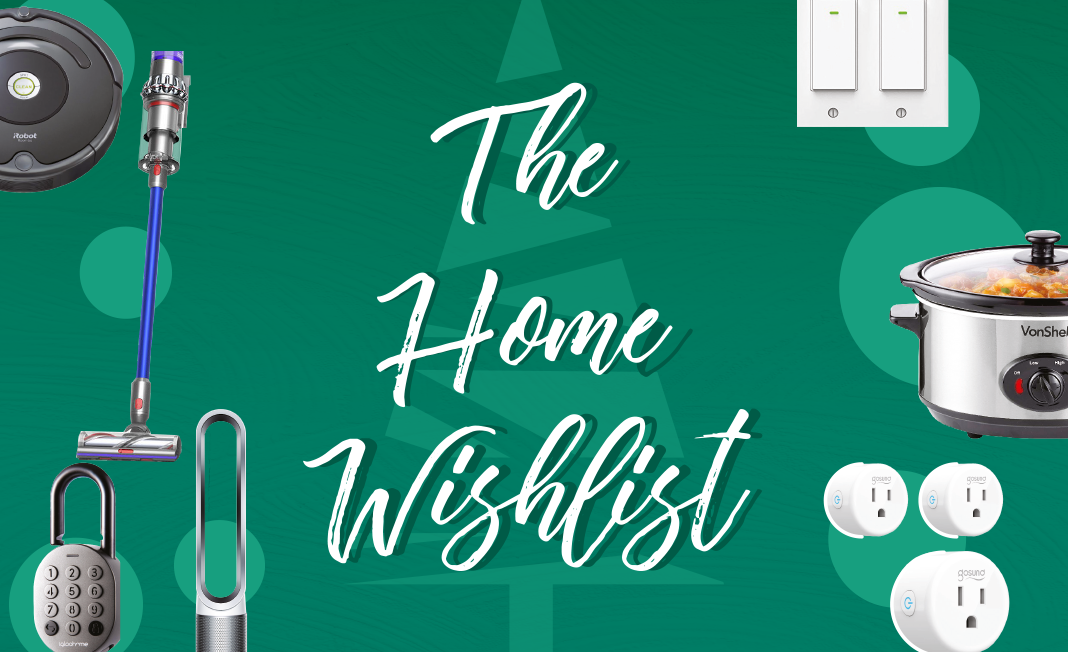 By Ren Alcantara
While my wife and I don't have a particularly large home, it nonetheless remains our castle. Home for us is a condo with a dog, a cat, and all the things that make living there quite comfortable. Still, there are a few things I personally feel would allow condo life to be a little more convenient, because with the traffic, work, and everything else going on, who doesn't want an easier job keeping house?
A Robot Vacuum
I get it. This is such a stereotypical modern home appliance to want to have. Still, with two fluffy residents sharing our space, there's no end to the fur that accumulates on the floor. Sweeping daily only barely keeps the mess at bay, and really, who has time to do that? A robot vacuum such as the Roomba or Xiaomi's own offering is something that a solo condo-dweller or a couple living in a small space should consider. It's smart, convenient, and actually does free up a significant amount of time that would otherwise be spent sweeping.
A Mean Vacuum Cleaner
Autonomous vacuum cleaners are great, but for some jobs, a powerful hand-held vacuum cleaner is necessary. We've long needed to replace our old-style bagged machine for something a little more modern and compact, and while it's a little pricey, we have been toying with the idea of buying something like the Dyson V-11 handheld cordless vacuum. Reasonably compact, with great runtime and superb performance, it's something that can be used for both spot cleaning, or the more general top-down, all-around type cleaning my wife loves to randomly do without warning. If you're going to have to suddenly clean the entire place, you might as well have good tools for it.
Smart Switches
Despite living in a relatively small space, we have a lot of lights with their accompanying switches. Late at night, when everyone is sleepy and dog/cat combination has us trapped under the duvet, switching off the lights can be a challenge. Smart switches, meant to replace your standard light switches, can be controlled by either your phone or home voice assistant, allowing you to switch off without getting out of bed, or even lifting a finger. If you really want to future it up, you can set timers or triggers so the whole process of switching off lights can happen automatically. It's like having a personal assistant make sure you're cozy and comfortable, without having to deal with social security or worker demands! This costs less than a smart lights which have to be bought and installed singly, though it does require a competent electrician to wire up.
Pet fur, pollution, pollen and a whole other host of things cause respiratory problems, and with my wife's asthma, it can be a real issue when we're stuck at home for extended periods of time. Along with a few other things, we've been looking at air purifiers to help keep the dust, dander, and other small, floaty particles from bothering us. We haven't decided on a particular one yet, but something with a washable filter, or at least something that isn't immediately disposable is definitely on our list. There isn't a shortage of brands that offer such ones, and many are even available online. Coupled with smart plugs and scheduled hours, the intention is to run the purifiers for a few hours a day while we're out to keep the air in our home clean, without any additional input from us.
A Smart Lock
This is actually something we'd just gotten and installed, though there are a few upgrades I am looking at. I finally bit the bullet and purchased a Bluetooth Smart lock from August, and installed it myself in all of 10 minutes. The lock keeps us from having to fish for our keys every time we get home, and can be programmed to automatically unlock as we approach the door. It's not perfect—sometimes it fails to recognize our presence automatically, requiring that we launch the app and unlock the door manually from there, but on the whole, it's been great. What I've been looking to do, however, is purchase the Wi-Fi bridge that will allow authorized users to lock and inlock the door remotely, regardless of where we are, as long as there's a wireless connection available. This is helpful for then the cleaning people come around, or if we have guests, or possibly some emergencies.
Low and Slow
The final thing I want to add to my list of home devices is a simple appliance: a slow cooker. Yes, it might not be as fancy or smart as literally anything else on this list, but it makes the often tedious job of cooking meals a lot easier. Toss the ingredients in, turn the heat up, go to sleep, and in the morning, you have enough food for a few days. It's decidedly low-tech, but that's a lot of reward for very little effort.
Smartify Everything
A quick tip that might be of use to anyone who wants to make their home a bit smarter: smart plugs. These look like simple plug adapters, but have circuitry that allows them to connect to the wireless network. Combined with an app, you can switch the plugged device on or off remotely, or set power-up and power-down schedules. You can even group plugs together to act in concert with a single command. Just be aware that this only works with the simplest of devices, so anything with a remote won't be compatible.
That's about it for my home wishlist this year. Hopefully, you've picked up a few ideas for tech-inclined friends and family as well.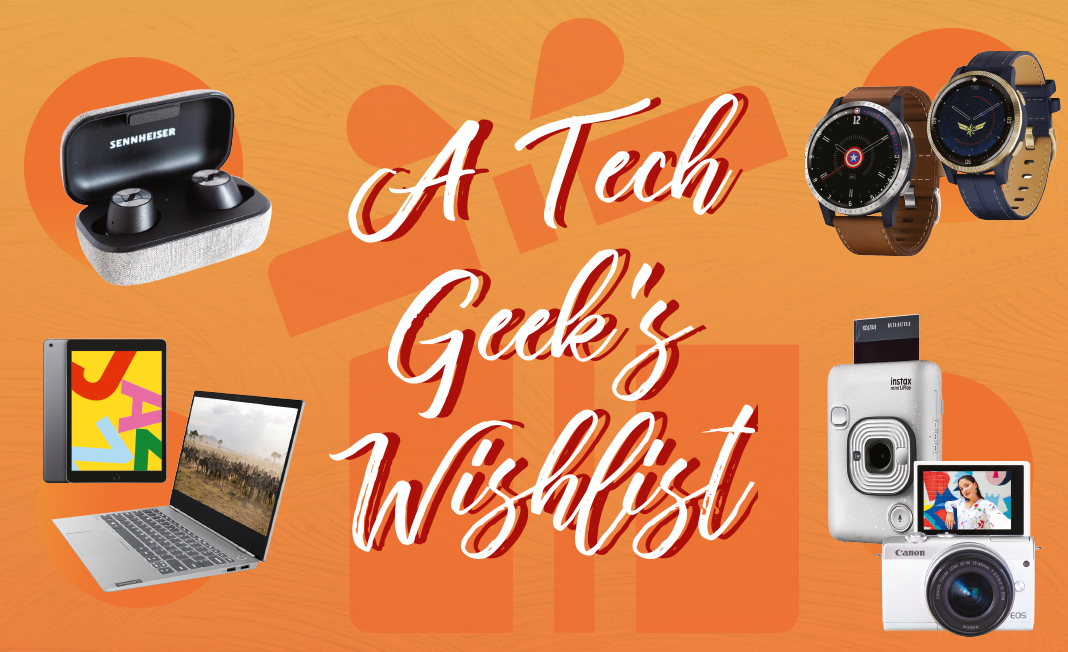 By Jewel Sta. Ana
Apart from being a wordsmith and a photography junkie, my closest friends and family know that I'm particular about my gadgets. My philosophy of striking a balance between value, design, hardware, and user experience is non-negotiable. As a woman who always gets the first dibs to various consumer electronics, I'm more than lucky to be able to play with them for a certain span of time. Two weeks is not enough for me. I know no one but my fellow tech geeks would understand the way I feel, but if Santa would have a chance to read this article, I hope he'll be able to send over one of these products for me on Christmas. P.S.: I've been a hardworking gal.
For the Marvel fans
Marvel fans, rejoice! Another addition to the official roster of Marvel merchandise is the Garmin Legacy Heroes smartwatch. It features faces from two iconic heroes from the Marvel Cinematic Universe, Captain America and Captain Marvel, as well as the brand's wellness features. These include 24/7 health monitoring of vital signs and oxygen levels in the body, on-screen workout programs, smart notifications for messages, calls, and social media updates; GPS tracking, and music playback from third-party apps. Both smartwatches have leather bands, stainless steel bezels, and engraved notable taglines at the back. Through the Garmin Connect, users may customize the look and choose the watch faces of their smartwatches.
For the busy bees
Just this September, Apple recently dropped the newest generation of iPads featuring a 10.2-inch retina display. It is now powered by iPadOS instead of the usual iOS for powerful multitasking and boasts support to Apple Pencil and Smart Keyboard perfect for digital visual artists and writers. Hoping to replace netbooks, the seventh-generation iPad is equipped with an A10 Fusion chipset that performs two times faster than the top-selling Windows PC. It retains the signature aesthetics of Apple with its materials made from 100 percent recycled aluminum, supports Gigabit-class LTE connectivity, and retains Touch ID for security.
For those who prefer a portable laptop, there's the Lenovo ThinkBook 13S that works and thinks smart. It comes with an all-aluminum chassis to match its sleek, premium look and is pre-loaded of useful apps such as Lenovo Vantage and Lenovo Migration for system management. For faster bootup and log-in, it has a fingerprint scanner, voice recognition through Cortana, and a solid-state drive. The ThinkBook 13S also has a 13.3-inch FHD display with narrow bezels and Dolby Vision to deliver immersive media experience. A device fitted for work and play, it features Harman speakers powered by Dolby Audio, up to 11 hours of battery life, and military-grade protection.
For the memory hoarder
When novelty and photography collide, you get a hybrid camera that has both the capabilities of a smartphone photo printer and a digital camera. Such is Fujifilm mini instax LiPlay. The latest addition to Fujifilm's instant cameras enables voice-recording and embeds the audio file into a QR code on the printed photo, making it a must-have for memory hoarders. It also allows printing of photos taken from your smartphone via instax LiPlay mobile app.
As a frequent traveler, owning a good mirrorless camera is a good investment. The Canon EOS M200 is a stylish camera loaded with a 24.1-MP APS-C CMOS sensor and a powerful DIGIC 6 image processor that can capture more detailed landscapes and portraits. Achieving brilliance in every snap even is now possible, thanks to its expandable ISO that can max out to 25600. There's also a built-in Smooth Skin filter on the camera that makes the subject's skin fair and flawless, Self Portrait mode for fuss-free selfies and groupies in just one touch, Dual Pixel CMOS AF technology for capturing photos with absolute precision, and Creative Assist that helps users to unleash their creativity.
For the music junkie
It might sound cliché, but its true nonetheless: music soothes one's soul. Free yourself from the tyranny of cables and enjoy the perks of hi-fi audio with Sennheiser Momentum True Wireless Earphones. Compatible with both iOS and Android devices, this pair of earbuds has a lot of special features to offer. It has two-mic beam technology which improves audio on phone calls even in the noisiest environments, noise-isolation for uncompromising and lag-free music streaming, Transparent Hearing to keep you aware of your surroundings without removing the earbuds, intuitive touch operation and voice recognition for smarter controls, and hassle-free Bluetooth 5.0 connectivity. To top it off, it is made from durable and splash-resistant materials and long battery life that can last up to 8 hours. You'll never miss a beat with these earbuds.
Christmas is just around the corner and everyone's excited to get their respective North Pole packages under the tree. I may be an adult, but I never outgrow some childhood fantasies. There can never be too many gadgets for a tech junkie like me. Don't you all agree?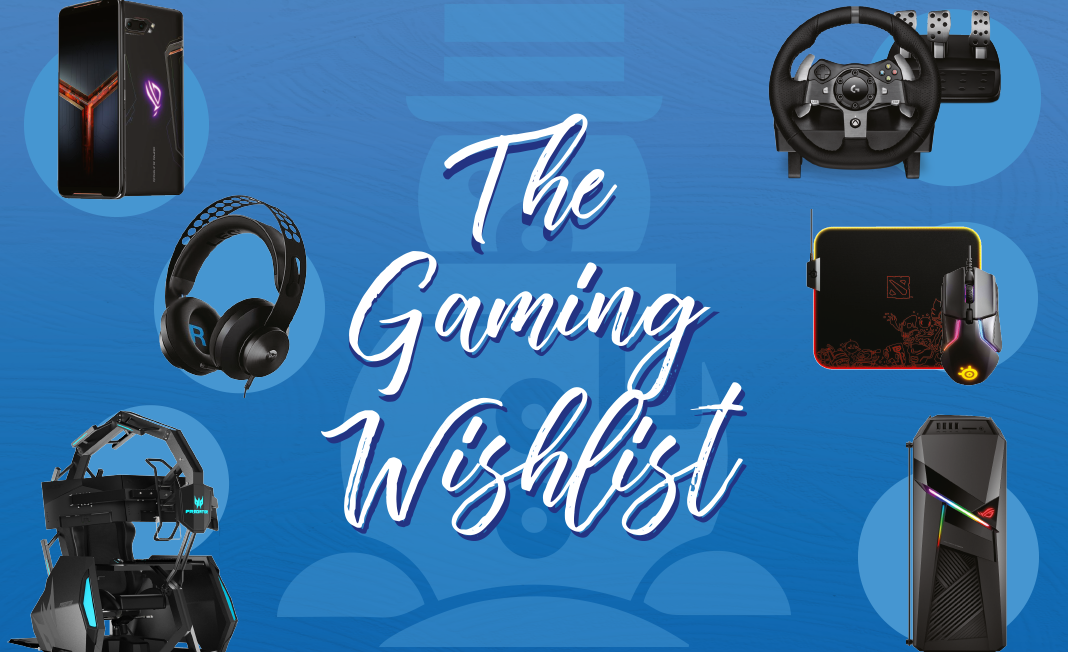 By Gabriel Pe
Living the gamer life is difficult. Getting the latest hardware on top of the latest games requires a lot of money, which of course requires a lot of saving. The holidays area boon to the gamer, as the spirit of giving abounds. That being said, here are items off my personal gaming wishlist.
Asus ROG Phone II
I had one of biggest opportunities of the year when I got to review the Asus ROG Phone II last month. Spec-wise this phone has it all: a Qualcomm Snapdragon 855+, Adreno 640 GPU, 12 GB of RAM, and 512 GB of internal storage. This phone was definitely built with gaming in mind. More than just that though, it's also a device that's perfectly capable of multitasking.The camera, while not the best one I'd seen, was also perfectly acceptable.
With big names in PC gaming building mobile ports of their games, a dedicated gaming phone is something you'll definitely want for the holidays.
Lenovo Legion H300/ H500 Pro 7.1
When Lenovo lent us some of their gaming gears to review it was love at first beat. The H300 is the perfect budget gaming headset with stereo drivers and comfortable ear pads. The H500 Pro 7.1, on the other hand, was a great gaming partner with its 7.1 surround drivers and different audio profiles. It also had leather earpad so it feels premium. I've tried out both headset while playing CS:GO and Rainbow Six Siege and the directional sounds were accurate to the point of knowing were the enemy will come out next.
Asus ROG Strix GL12
I still don't have a desktop computer at home, which is why a desktop computer has made its way to my wishlist. The new ROG Strix GL12 is one of the best desktop PC options for anybody. It has a variety of configurations with the spec running on an Intel Core i9-9900K and an NVIDIA RTX 2080 Ti. It also has 32 GB of RAM and a 1TB HDD with 512 GB PCIe NVMe SSD.
What's great about the GL12 is its expandability and future-proofing. The ninth gen Core i9 and RTX 2080 Ti will be enough for most triple-A titles for a long time. There are two DIMM slots for RAM, two PCIe slots with one occupied by the discrete GPU, and three M.2 slots: one for the Wi-Fi card and two for storage.
Acer Predator Thronos
The king of ultimate gaming and comfort, the Acer Predator Thronos is every gamer's dream rig. The Predator Thronos is an all-in-one gaming chair, at once a gaming chair and rig. It has a triple screen to completely immerse players in whatever game they're playing. The screen and chair adjustment are also motorized, making it feel like you're in a sci-fi movie. What really makes this rig so enticing are its specs. Acer has fit the rig with their Predator Orions and the latest NVIDIA graphics, plus an 8th generation Intel processor. Once you sit in this behemoth, you'll never want to leave.
Logitech G29 / G920 steering wheel and pedal
As both a tech geek and petrol head, I've always yearned for a dedicated steering wheel controller for my racing games. You can buy just the combo of steering wheel and pedals or buy the set with the dedicated driving seat. When Logitech invited us to the launch of their first G store, I had the chance to try this bad boy in the flesh, and all I can say is, this is the answer to my driving wants.
Steelseries Rival 600 and QcK Prism Dota 2 Edition
Everyone knows that I am a hardcore DoTA fan. Ever since the DoTA All-Stars mod in World of Warcraft 3, I was already playing the game, and Dota 2 has only made me love the game more. This limited edition gaming mouse and mouse pad were launched just before The International 2019 and features Filipino artist Ced Alcalde's cute DoTA 2 art. Apart from the DoTA 2 art, the mouse is still a beast for gaming with its TrueMove3 + sensor with lift detection for that delicious, quick map scanning action. The Rival 600 also has split trigger mechanical switches rated for up to 60 million clicks. Both the Rival 600 and QcK Prism have RGB lighting so you'll be able to enjoy see and brag about the design of your mouse.
I know that I could never afford most of my wishlist that is why I'm appealing to my
kind-hearted ninongs and ninangs. I'm just kidding! Still, it doesn't hurt for a person to dream right?
Words by the Gadgets Team
Also published in GADGETS MAGAZINE November 2019 issue